Halloween Recipes
These recipes are especially curated for us by Executive Chef Anil Dahiya, Bristol, Gurgaon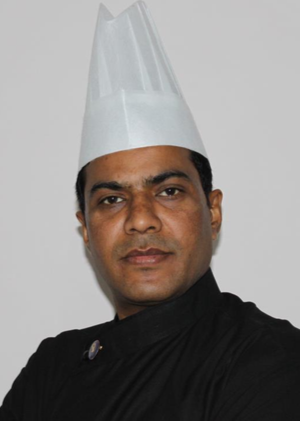 Born to a royal Jaat family where men were not commonly allowed into the kitchen, Executive Chef Anil Dahiya broke the rule and entered the culinary world with great enthusiasm. He started his hospitality journey in 1996, when he got his Diploma in Hotel Management from the Institute of Hotel Management , New Delhi. He began his career under their kitchen management scheme from the Oberoi hotels. He spent several years with the Oberoi hotels, followed by InterContinental Hotels Group (IHG), ITC and Lemon Tree Hotels. He is currently the Executive Chef of The Bristol Hotel, Gurugram.
Chef Dahiya has amassed a great deal of knowledge and developed numerous culinary skills, having worked with many renowned chefs such as Chef Vincent Joseph, Chef Michael Beechey, Chef Marshal and Chef Sadhu Rohilla.
He takes pride in creating and experimenting with new techniques and ingredients. Chef Dahiya loves to cook food in numerous ways, utilizing different unique techniques. He has appeared on various cooking shows on television such as "KUCH KITCHEN SE" on Sahara Samay on Sahara NCR.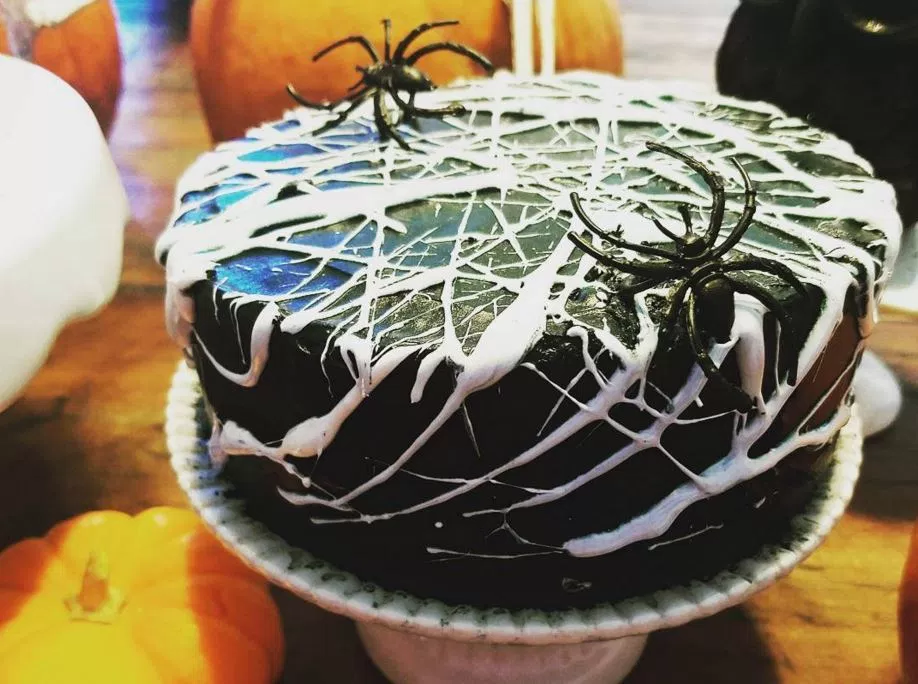 Spider Cake
Ingredients for Cake Quantity
Unsalted Butter 110 gm
Cocoa Powder 3tbls
Chocolate Stout 140 ml
Light Brown Soft Sugar 170gm
Vanilla Extract 1tsp
Large Eggs 3
Melted and Cooled Dark Chocolate 100gm
Plain Flour 280gm
Bicarbonate of Soda 2tsp
Ingredients for White Chocolate Buttercream Quantity
Large Egg White 3
Caster Sugar 40gm
Unsalted Butter 360gm
White Chocolate 200 gm
To purists, this is not chocolate because it is made only from the fat or butter of the cacao… melted and cooled
Ingredients to decorate Quantity
White Mini Marshmallows 100gm
Black Sugar Paste 25gm
Method
Heat oven to 180C/160C fan/gas
Grease three 20cm round cake tins and line the bases with baking parchment.
Put the cocoa in a bowl, add 280ml boiling water and whisk until dissolved.
Pour in the stout, mix then well and set aside to cool.
In a stand mixer or a large bowl using an electric hand whisk, beat together the butter, both sugars and vanilla extract until light and fluffy (about 5 mins).
Add the eggs little by little, mixing until fully incorporated before adding more. Once all the egg has been added, spoon in the melted chocolate and mix to combine.
In another bowl, mix the flour, bicarb and 1/2 tsp salt. Add this mixture to the butter mixture in three stages, alternating with the stout mixture (which will be very runny).
Pour the batter equally between the prepared tins and bake for 25-30 mins until a skewer inserted into the cake comes out clean.
Leave to cool in the tins for 10 mins, and then turn out onto a wire rack to cool completely.
To make the buttercream, put the egg whites and sugar in a heatproof bowl and set over a pan of gently simmering water.
Stir with a whisk until the sugar has dissolved and the mixture is warm to the touch. Remove the bowl from the heat and beat with an electric hand whisk on high speed until the mixture has tripled in volume and has cooled down.
Slowly add the butter 1 tbsp at a time while continuing to whisk. Once all the butter has been added, the mixture should look glossy and thick
To assemble the cake, put one of the cake layers on a cake stand and top with a layer of buttercream. Repeat with the other two layers. Spread the remaining buttercream all over the cake, using a spatula or palette knife to smooth the sides. Chill for 1 hr or until the buttercream is firm.
To Decorate
Melt the marshmallows in a heatproof bowl set over a pan of simmering water, stirring from time to time.
Remove from the heat and put to one side for a few mins until the mixture is cool enough to handle.
Use your fingers to grab a small amount of the marshmallow and stretch it out to form long strands (dipping your fingers in vegetable or sunflower oil will help!)
Drape the strands over the cake in a random pattern, so it's thoroughly covered.
Create a spider using the sugar paste (roll two balls, one bigger than the other, for the body, and thin strands for the legs) and place on top of the cake.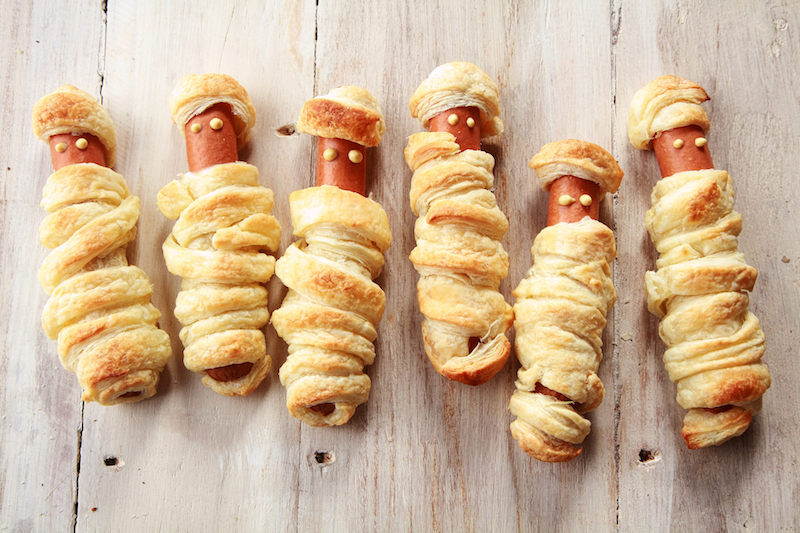 Mummy Dogs
Ingredients for Cake Quantity
Breadstick Dough Package refrigerated 11 Ounce
Hot Dogs 8
Mustard
Poppy Seed
Ingredients for Breadstick Dough Quantity
Warm Water 1cup
Brown Sugar 3tbsp
Salt 1tbsp
Oil 1⁄4cup
Bread Flour 3 cups
Yeast 2 1⁄2tbsp
Method
Make dough using your favorite method- bread machine, mixer or by hand
Preheat oven to 375°F Using 1 dough strip for each, wrap hot dogs to look like mummies, leaving an opening for eyes.
Place on ungreased baking sheet.
Bake 12 to 15 minutes or until light golden brown.
Place dots of mustard and poppy seeds for eyes and enjoy!