"Baithe Baithe Kya Karen.. Karna Hai Kuch Kaam.. Chalo Banayen Cookies.. Leke Prabhu Ka Naam"
Sounds familiar isn't it, ok whether you make cookies or not is a different thing, but during these days of quarantine, I guess we all are looking at ways to make our time more productive and cooking and baking have literally taken the centre stage. Everyone is becoming a home chef, even those who could not make a maggi are trying their hands and today making the trending things like Dalgona Coffee, Momos, or the Samosas.
Well, the internet is already full of them, so I am not doing any of those overhyped recipes, but sharing a very simple, healthy and delicious cookies recipe that I prepared today.
Two things led me to make these cookies today, one I was itching to do something because I was bored and secondly I was craving for cookies, so what better than to bake my own.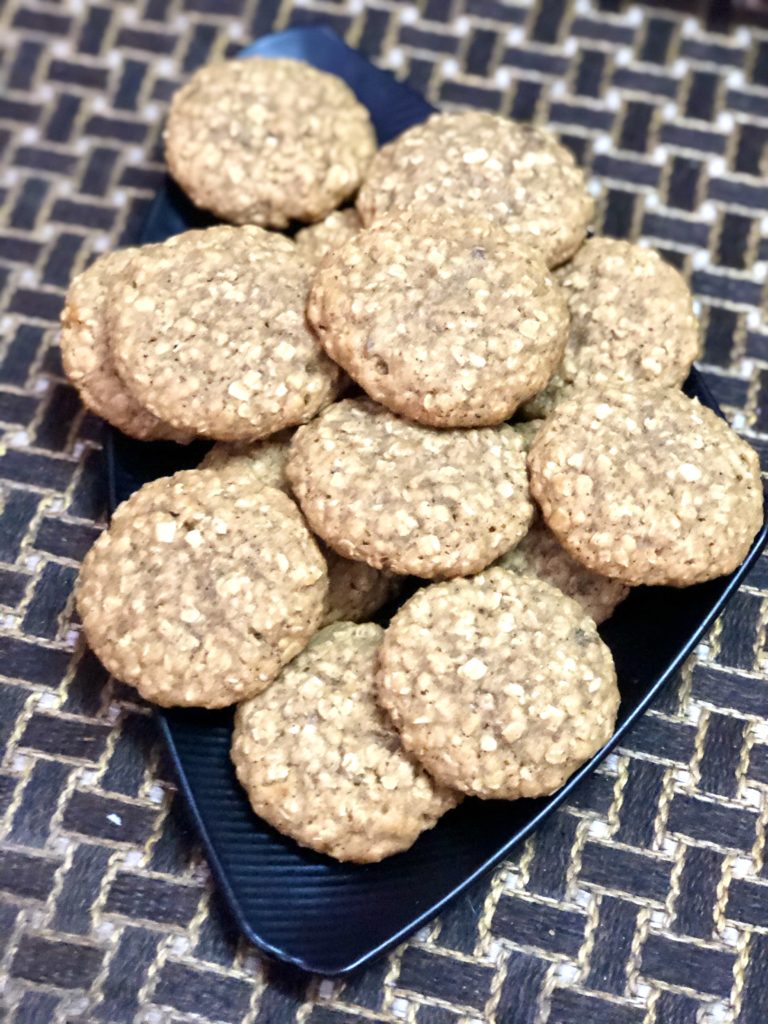 So this recipe of mine is perfect, tried and tested and uses all healthy ingredients like oats, honey and whole wheat flour. And since I am not very good at eggless baking and kinda don't believe into it, this one does have an egg and those who want an eggless cookie will probably not like my recipe. A tip for them- Search on the Google, I am sure you will find your recipe 😉
Also, don't forget to check my Millet Chocolate Pancake Recipe or the Mixed Berry Smoothie Recipe.
For those who have a sweeter tooth, there is the Shahi Kheer Recipe too!
---
Now let's get started- The Honey Oatmeal Cookies
Total Time Taken- 20 Minutes, 5-6 minutes preparation time, 12-14 minutes baking time
| | |
| --- | --- |
| Ingredients | Measure |
| Butter | 1/2 Cup |
| Sugar | 1/2 Cup |
| Honey | 1/2 Cup |
| Oats | 1 1/2 Cups |
| Whole Wheat Flour | 1 Cup |
| Baking Soda | 1/2 Teaspoon |
| Salt | 1/4 Teaspoon |
| Cinnamon Powder | 1/2 Teaspoon |
| Raisins or Chocolate Chips | A handful |
Method:
Cream butter and sugar together, till the mixture appears a little pale in colour. I use blended to do so, it makes it quick and easy.
Now add honey and a large egg to the sugar and butter mixture. The egg should preferably at room temperature.
Blend it for a minute and keep aside.
In a separate bowl sieve whole wheat flour, add quick-cooking rolled oats (I use quacker), baking soda, salt and cinnamon and mix gently.
Now add dry ingredients to the wet ingredients and give it a stir.
Add raisins or chocolate chips and give your mixture a final mix. The mixture will be thick, but not dough-like.
On a greased sheet, put a spoonful of mixture for one cookie and keep some space between cookies as they expand a bit. If you like shapely cookies, roll the mixture gently in your hands to shape like a ball and then place it on the sheet. Place the sheet on a baking tray and keep it on the second level from the bottom of the oven shelves.
Preheat the oven to 170 degrees and bake for 12-14 minutes.
Allow the cookies to cool down for about 4-5 minutes before removing them from the sheet. Let them cool completely before you transfer them to an airtight container.
This recipe yields about 18 medium-sized cookies and you can store them for a week or so, but I bet you can't because you and your loved ones will end up polishing them off really soon 🙂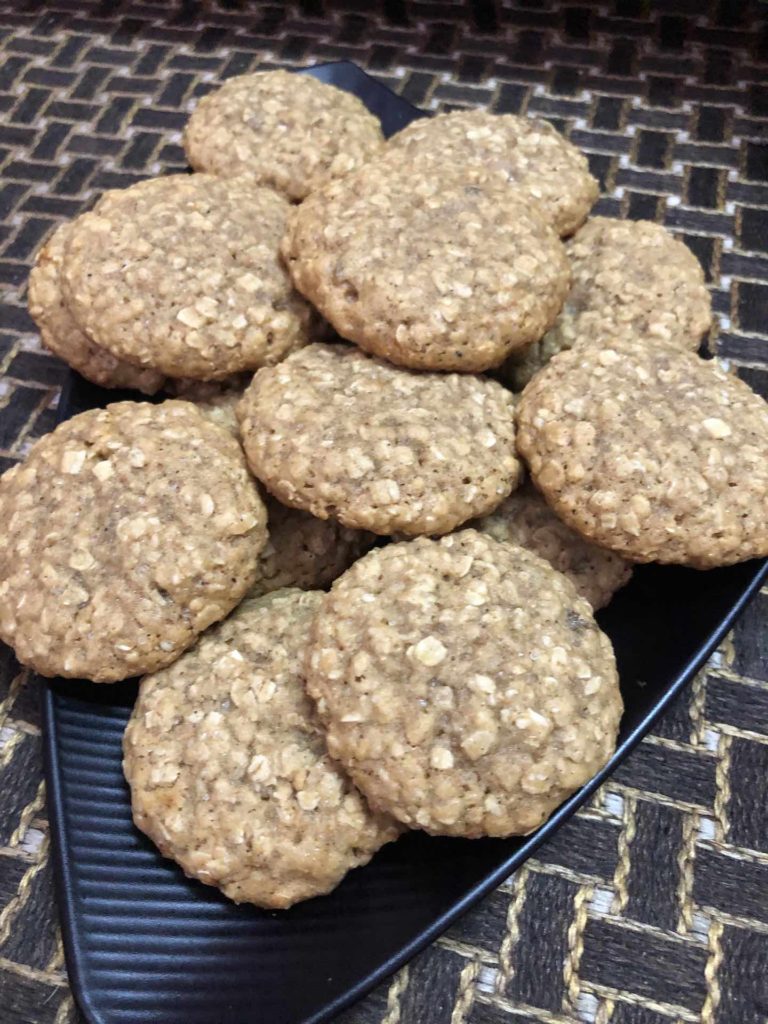 Do let me know how they turned for you, while I enjoy them with a cup of green tea!
---