Smoothies are a great option for breakfast or those in-between hunger pangs. They are healthy and super delicious too. I like to keep experimenting with my smoothie recipes and you can never have enough of them.
The mixed berry smoothie recipe is one of my favorites. It's very refreshing and I simply enjoy the taste. Takes just about 5 minutes to make and all thanks to the Greek Yogurt, its both filling and packed with proteins.
To share an interesting tip, in place of sweetness, try and use apple juice or any other fruit juice, it adds to the flavor and also balances the tanginess of berries. In case if you still feel like using a sweetener, go for either honey or jaggery instead of sugar. Using juice also helps in balancing the consistency of the smoothie, if using other sweeteners, add a bit of almond milk, toned milk, or coconut milk.
Now coming to the recipe
Ingredients
One and a half cup of apple juice/any milk
One banana sliced
One and a half cup frozen mixed berries
3/4th cup vanilla Greek yogurt
One tablespoon honey (optional)
Some berries and mint leaves for garnishing (optional)
Method
Place the apple juice, banana, berries and, yogurt in a blender; blend until smooth. If the smoothie seems too thick, add a little more liquid (1/4 cup).
Taste and add honey if desired. Pour into two glasses and garnish with fresh berries and mint sprigs if desired.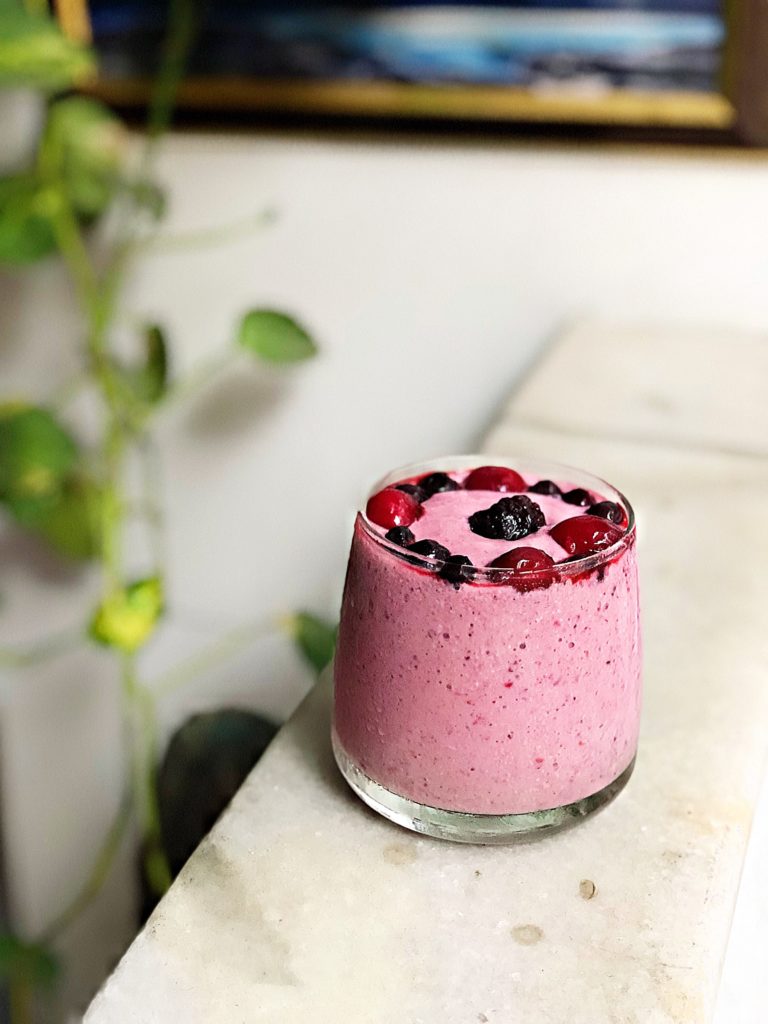 Nutrition
Calories: 221kcal | Carbohydrates: 52g | Protein: 6g | Fat: 1g | Cholesterol: 2mg | Sodium: 60mg | Fiber: 4g | Sugar: 41g
Hope you enjoy this smoothie as much as I do.