Well now that the holidays are over and my son has gone to Delhi, I am back to eating my healthy stuff. But today I was not in a mood to cook too many things so opted for this wholesome soup which has a perfect balance of proteins and carbohydrates and is super easy to make. Needless to say, it tastes awesome 😋
Here are the ingredients you would need:
Tomato Purée- 1 packet
Garlic Cloves-3-4
Olive Oil- 1 table spoon
Egg-1
Water- 1/2 glass
Oregano- 1/4th teaspoon
Dried Basil Leaves- 1/4th teaspoon
Paprika- 1/4th teaspoon
Brown Bread Slice- 1
Salt to taste
Tabasco- Optional
Fresh Cream- 1 spoon for garnishing
Method
Heat olive oil in a pan and add chopped garlic.
Sauté the garlic and pour the entire packet of tomato purée and then add water.
Let it cook for about 5 minutes on low heat.
Add the spices and simmer for another couple of minutes
Increase the flame and bring the soup to a boil.
While the soup is getting boiled, toast a slice of brown bread and cut it like croutons.
Beat the egg lightly in a bowl and once the soup starts to boil, hold the bowl over the top of the pan and slowly release the beaten egg, stirring the soup simulated.
You will get the egg drop threads in the soup and it's texture will change a bit.
Bring it to another boil and remove from flame.
If you want you can add a bit of Tabasco to give your soup a spicy and tangy flavour.
Pour it in a bowl, and top it with croutons and add a dash of fresh cream to garnish.
Serve hot.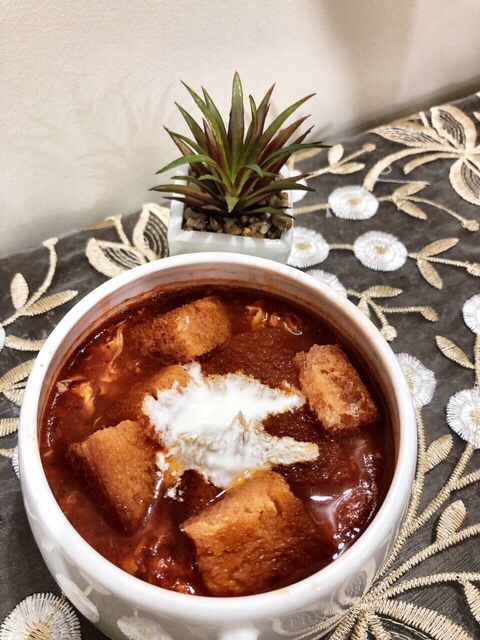 Note: This recipe is for one bowl of soup and you can multiply the ingredients as per the servings. Enjoy a complete meal.