The first thing you will notice about Toro Toro is its caravan bar that is visible even without entering the place and that alone is enough to make you curious about this tropical little cafe bar.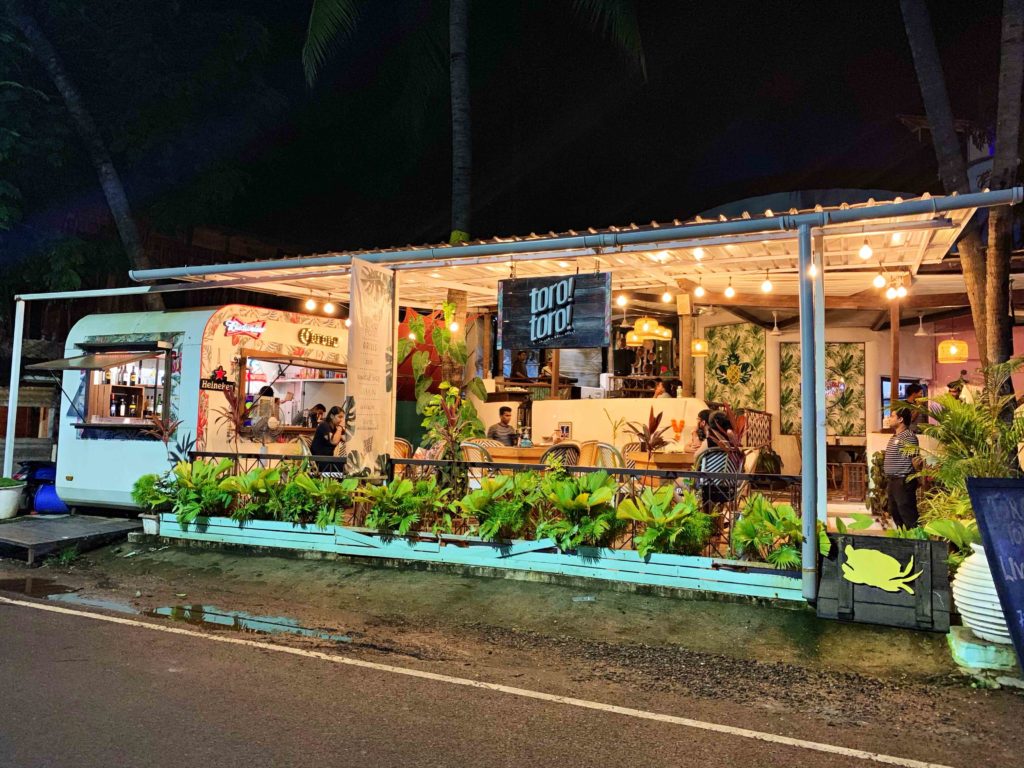 The huge flamingos, coconut trees, pineapples and martini glasses adorn the walls along with palm tree motifs that resonate well with the tropical ambience. The seating is spread across 3 sections and you can choose from high stools to comfortable benches in bold colours adding to the vibrancy of the place that oversees the Baga creek. The use of aqua colour is very evident in the decor and that enhances the troipcal charm all the more.
You will definitely end up spending a lot of time clicking pictures of the place and yourself, had I been here earlier, it would have surely made for my 12 Most Instagrammable Restaurants In North Goa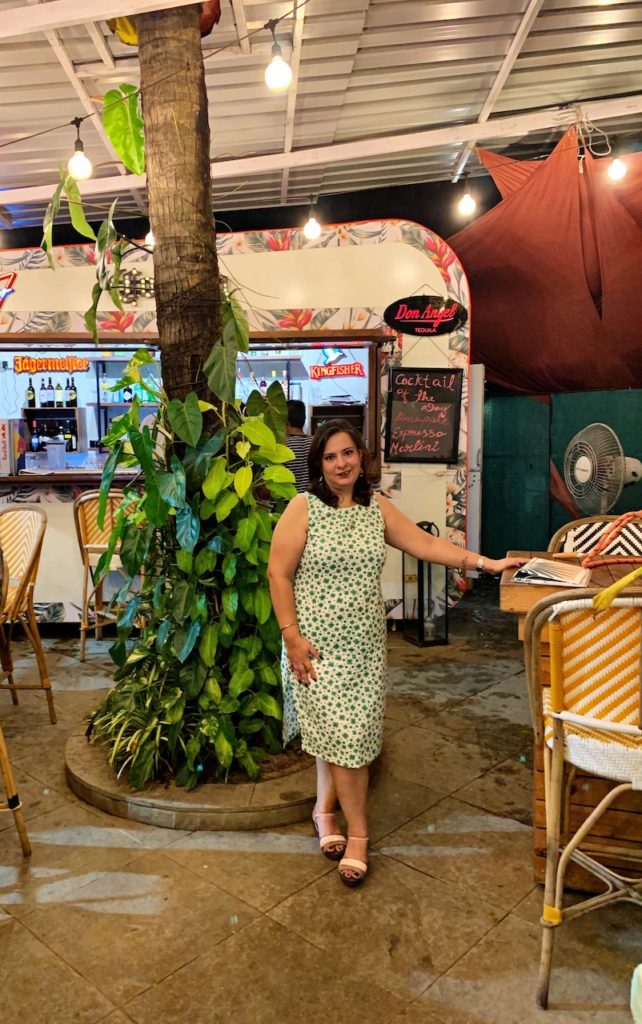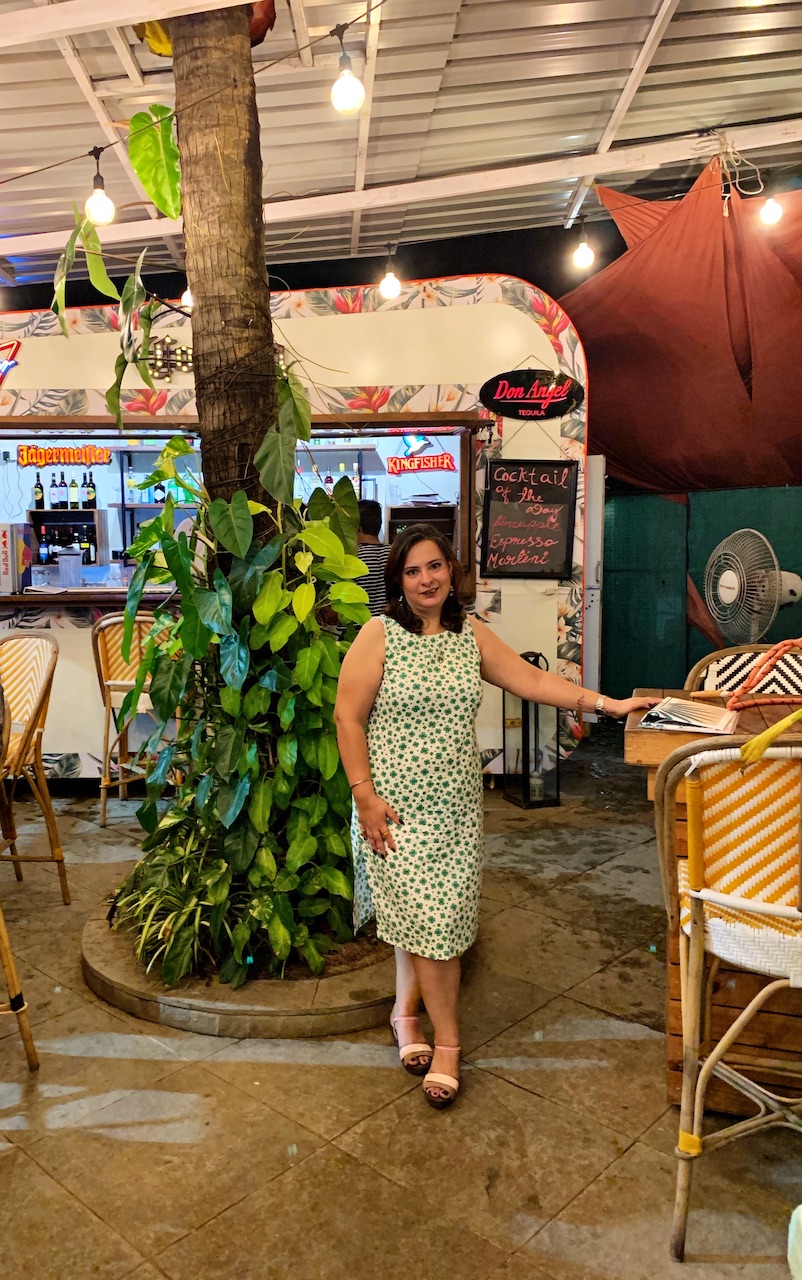 Apart from being so beautiful as a restaurant, I love this place also for the fact that it serves multi cuisine food which means each member of my family can satiate their cravings as per their individual palates and not bother about what the other wants to offer, although sharing is caring!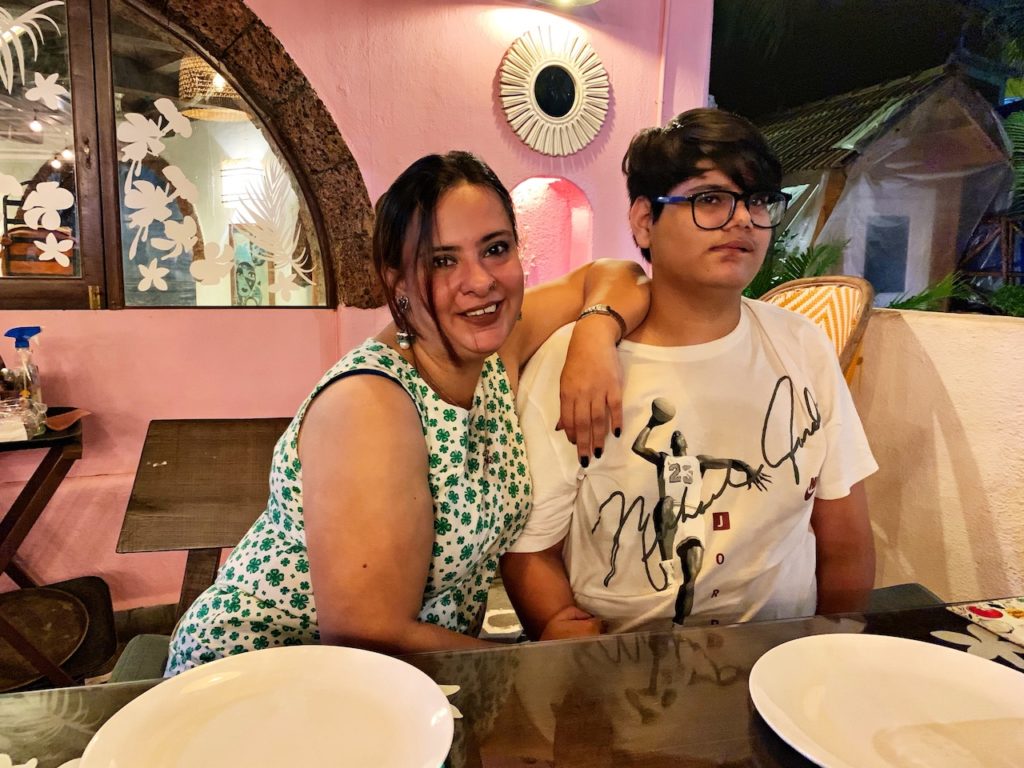 We went here on a Friday evening and the live music really helped to set the mood right for the weekend. From playing some latest numbers to old western classics, the band catered well to the needs of patrons of all age groups.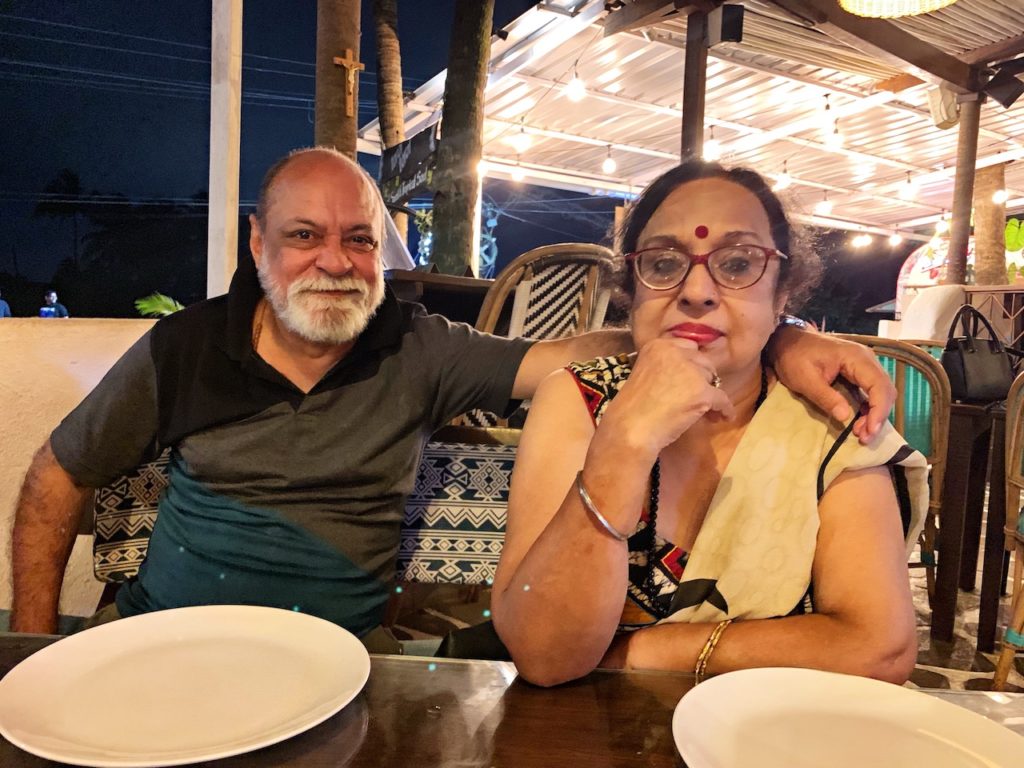 Coming to food, they serve Asian, Goan, Continental, Italian and Sushi, yes you read that right, they serve Sushi as well and surprisingly that's the first thing on the menu. Although for me that night wasn't a sushi kind of night, so I gave it a miss, but there is always a next time. The menu is indeed an elaborate one so be ready to switch between pages and get a little confused on what to order. After much deliberation and as per different choices, we ordered Nachos on Table, Chilly Paneer, Fish Baked and Wrapped in Banana Leaf and Pulled Pork Bruschetta for starters.
The Nachos came with Refried Beans, Salsa, Sour Cream, Guacamole and Pico De Gallo and they were nice and crispy but somehow I did not enjoy the dips much.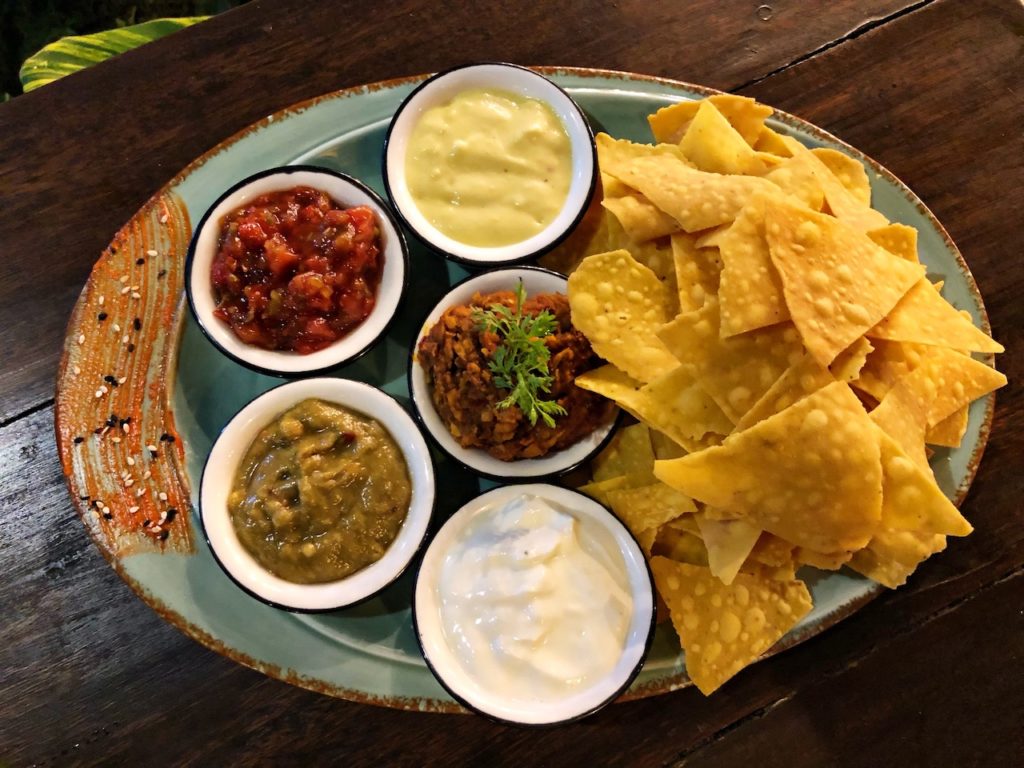 Chilly Paneer was perfect to the liking of my sonny boy who never leaves a chance to have one if the menu offers. He thoroughly enjoyed it and with the one tiny miny piece that came my way, I too can say that it was good.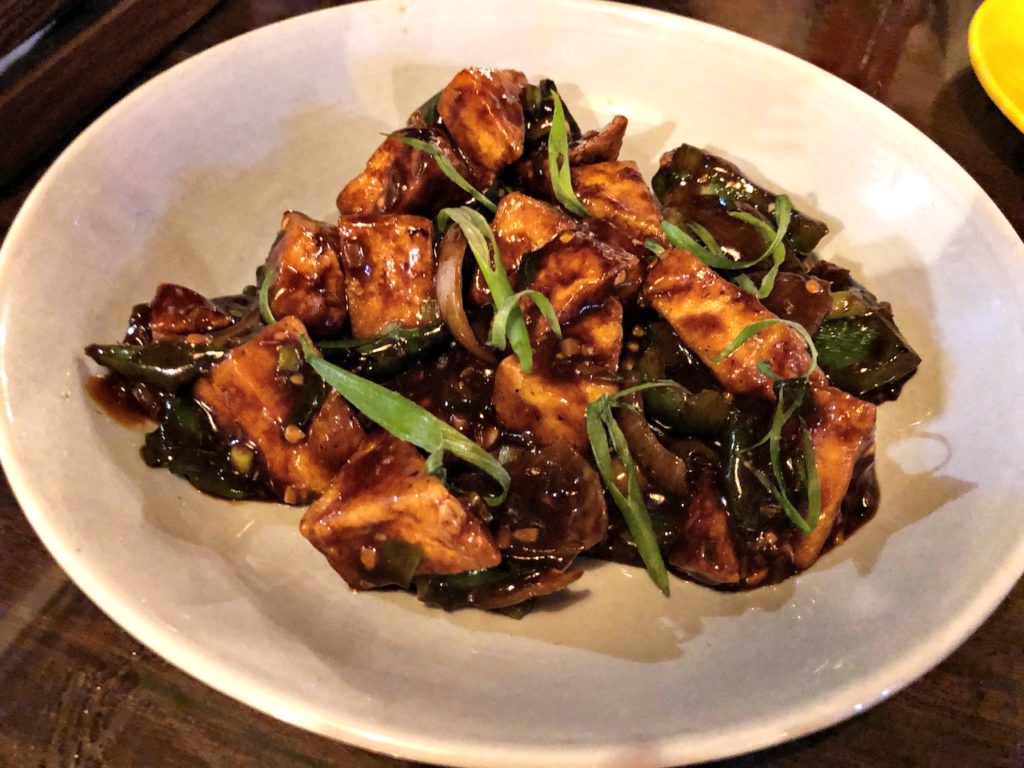 The Baked Fish that had Asian flavours was really nice, tender and juicy and the pineapple salsa topped on the fish added a lot to the flavours.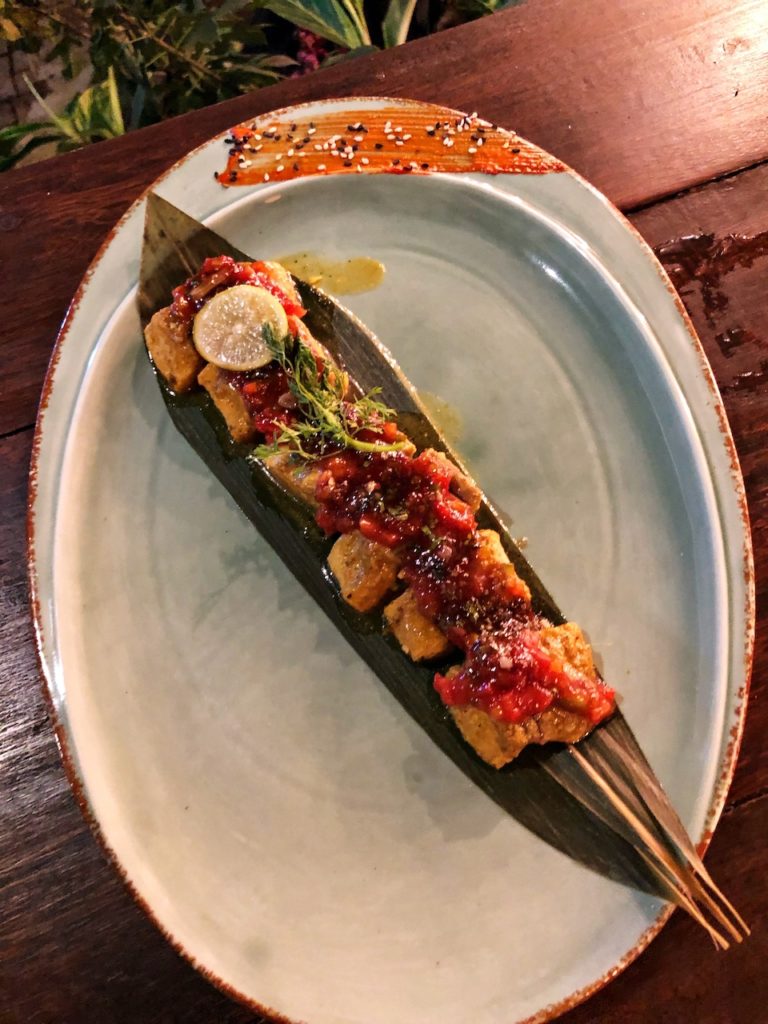 The Pulled Pork Bruschetta were interesting too. The pork was succulent and flavourful and the mozzarella on the top added to the magic.
For mains, we chose Masala Fish, the good old Fish N Chips, Chicken Braised in Star Anise, Five Spice Hot & Sour Sauce with HongKong Stir Fry Chicken Noodles.
Both the fish dishes were excellent and I loved them to the core. My dad is a big fan of Fish N Chips and he enjoyed his meal greatly. My mommy and sonny boy chose to go ahead with the Asian selection, but they did not turn out as good as other dishes that we tried. Taste-wise both the chicken and noodles were good, but both of them were rather salty and too much of salt kind of kills it. I am sure this was one of the rare chance occasions when some extra salt was added, but I am sure otherwise they would do it perfectly.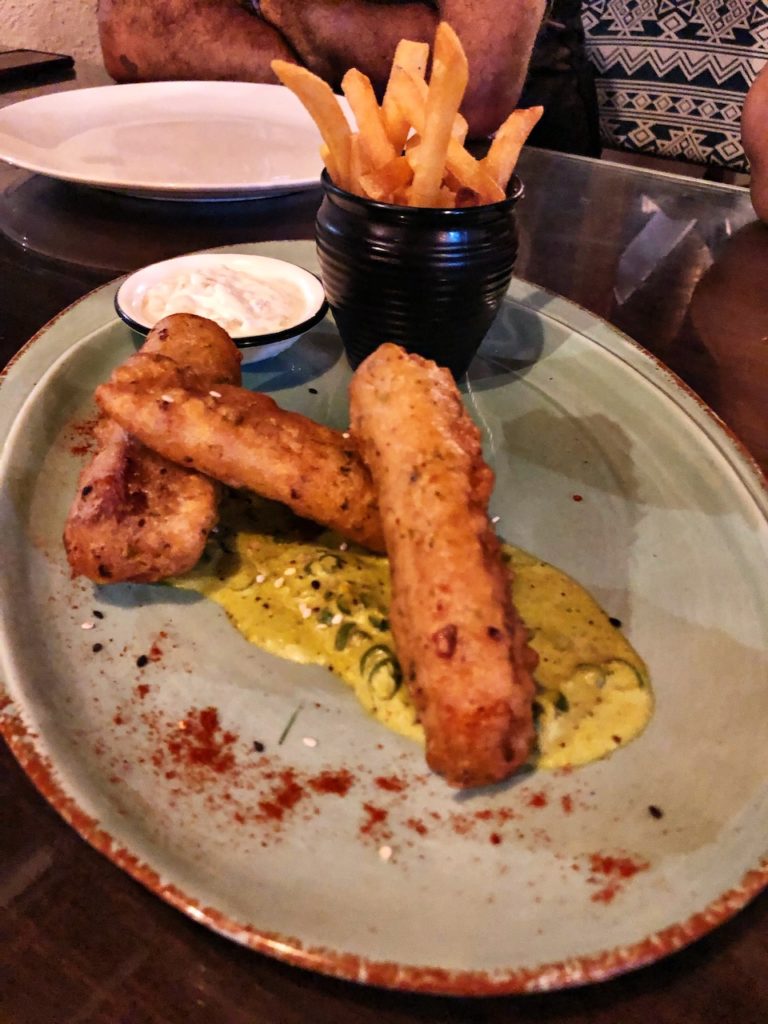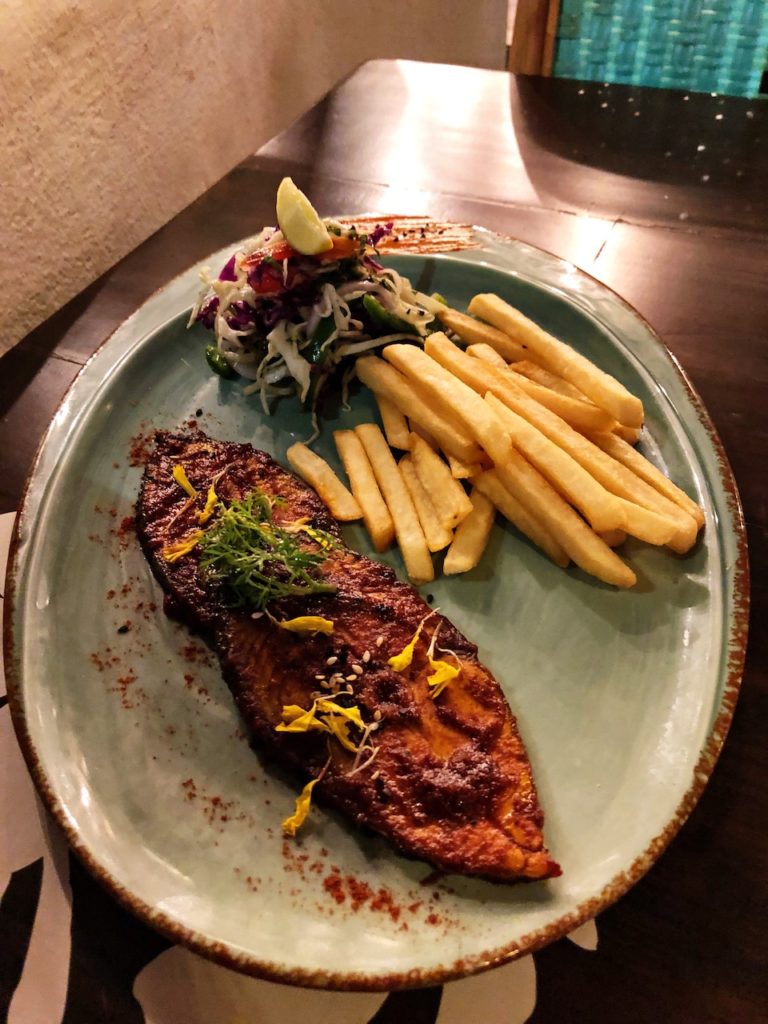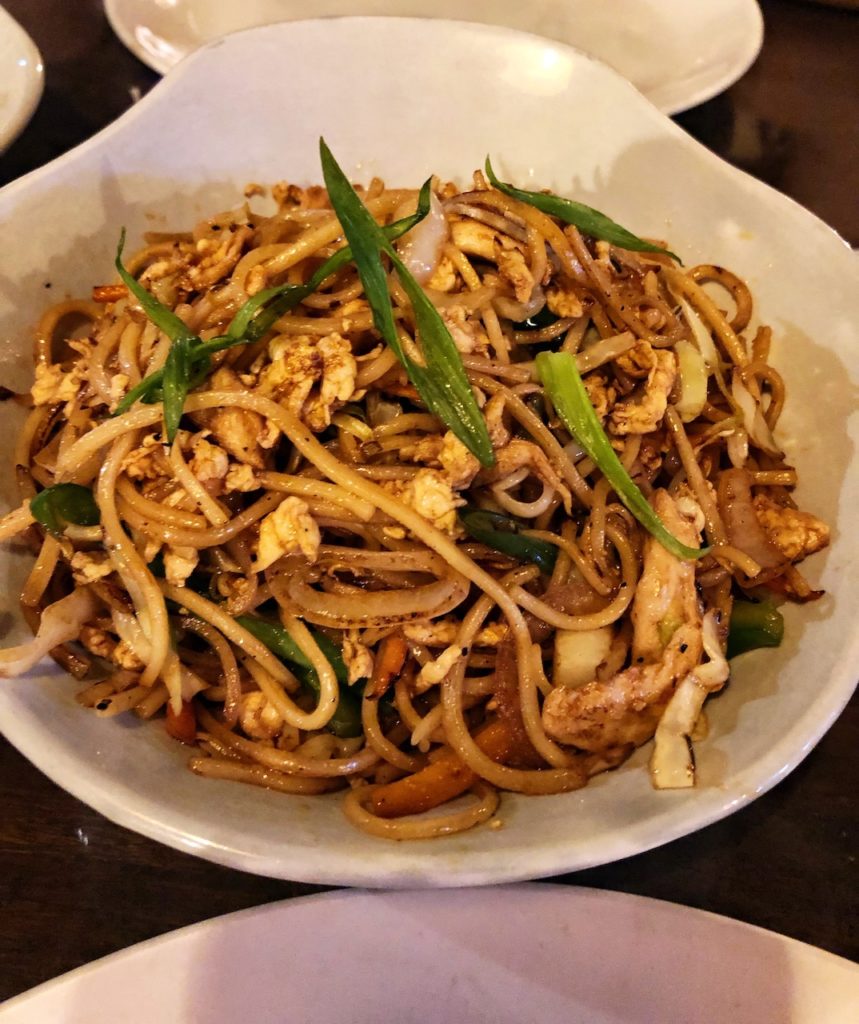 Whatever little disappointment we had in the Asian main course was so well made up for in the desserts. We literally hogged. The Banana Split Sundae was to die for. After a very long time, I enjoyed such a perfect banana split because sometimes people tend to go wrong with the simplest of recipes.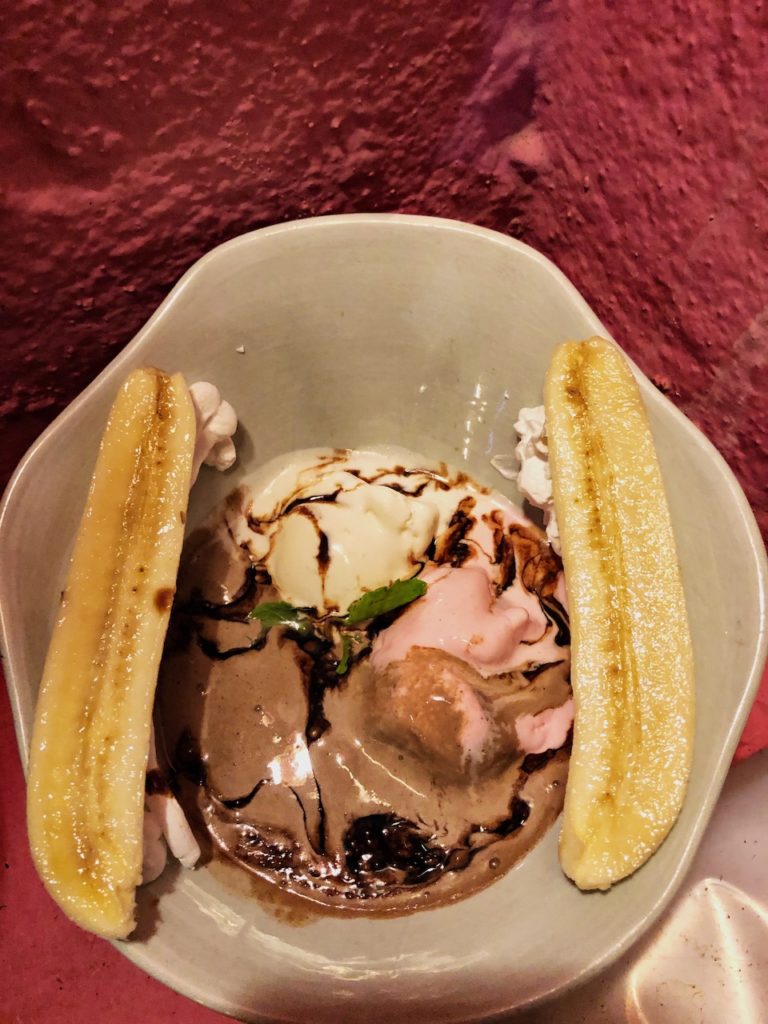 The Signature Chocolate Fondant with Vanilla Ice-Cream was another killer dessert. The hot chocolate lava cake with vanilla ice cream almost melted in the mouth and one could just go on and on with it.
The Homemade Chocolate Pudding with Viennese Short Bread was nice too, but in front of the above two, this one was a little weak.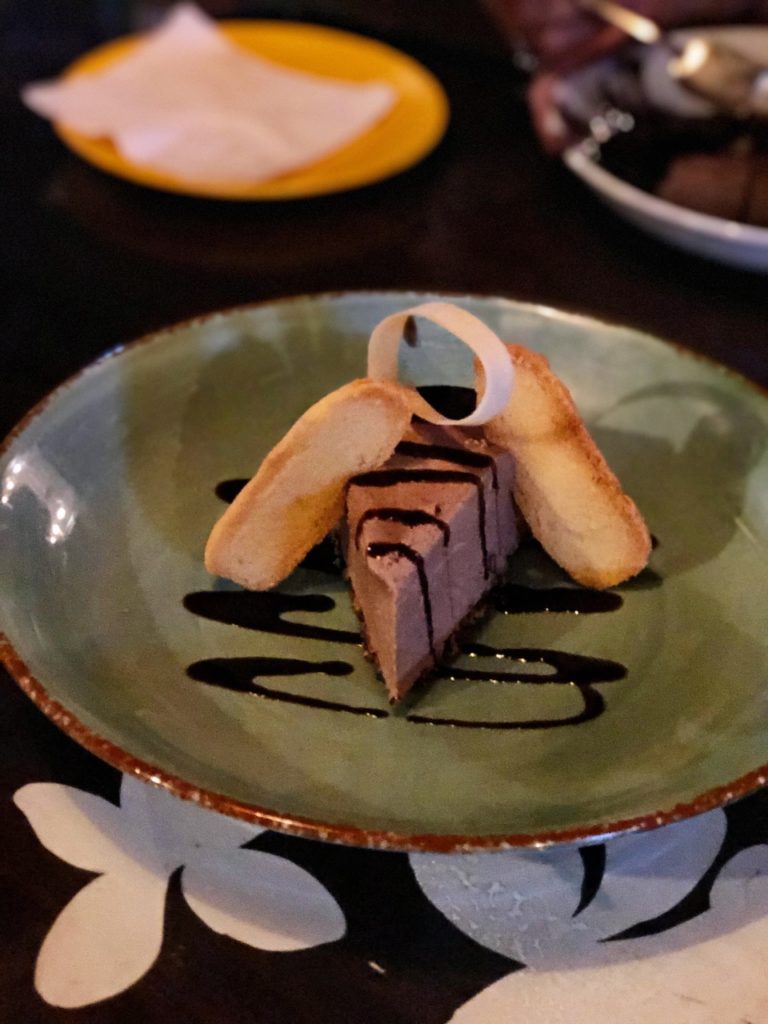 Well Well, it was an evening filled with fun times with my family over some great music, cosy ambience, scrumptious food and a couple of glasses of Bloody Mary and Baileys. If you haven't been to Toro Toro yet, you definitely should give it a try and I am sure you will love it.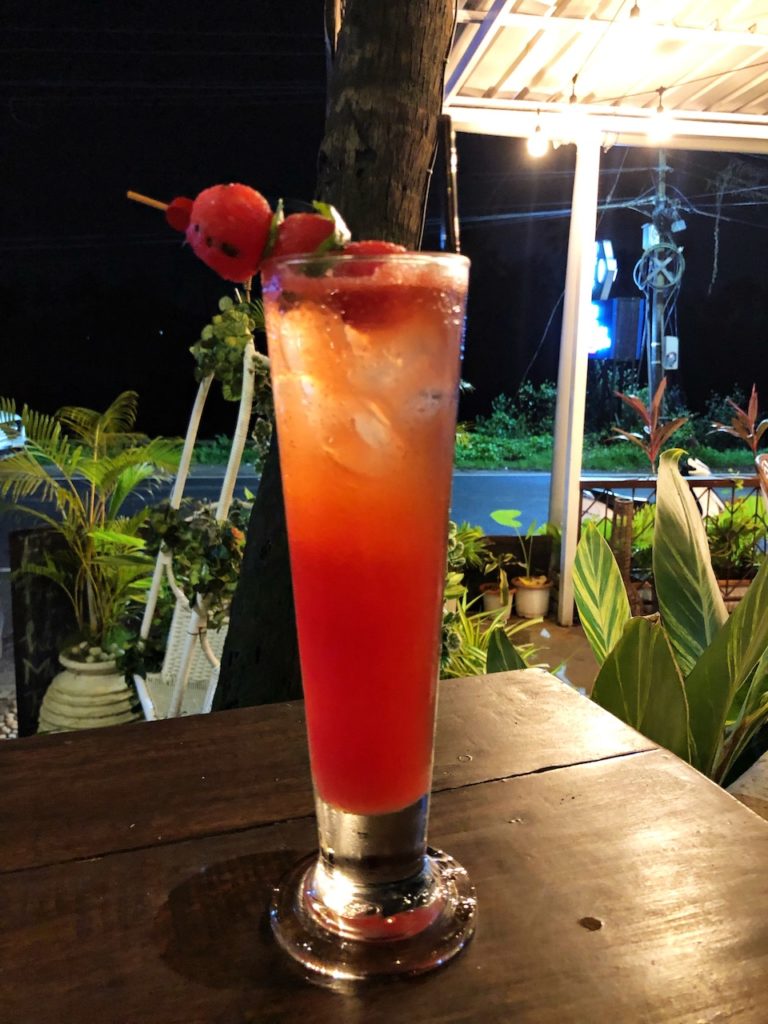 Phone Numbers
+91 9920539790
+91 9833200443
Table booking recommended
Cuisines
Asian, Continental, Goan, Coffee, Sushi, Pizza, Seafood
Average Cost
₹1,500 for two people (approx.) Exclusive of applicable taxes and charges, if any. ₹90 for a pint of beer (approx.) Cash and Cards accepted.
Address
Bagavaddo, Arpora – Baga, Bardez, Goa
P.S. They also serve a great breakfast and you can also take your furry friends to Toro Toro as its a pet-friendly cafe bar.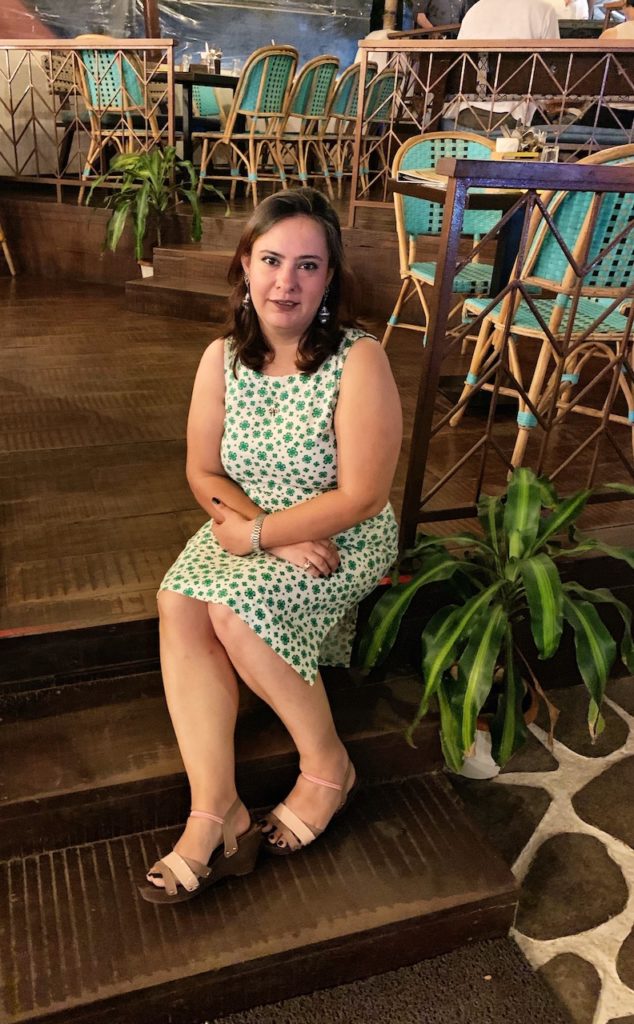 In the meanwhile, you can also read about my experience at Antares, Southi and Mahe!
XoXo