Healthy Easy to Make Winter Recipes
Pineapple Coconut Cashew Rice
Ingredients Quantity
Long grained rice 1 1/2 cups
Crushed pineapple chunks 1 (20 oz. Can)
(In the form of pineapple juice)
Unsweetened coconut milk 1 (13.5 oz. Can)
Sweetened coconut flakes 3tsp.
Thai red curry paste 1 tsp.
Garlic powder 1 tsp.
Onion powder 1/2 tsp.
Ground ginger 1/2 tsp.
Salt 1/2 tsp.
Pepper 1/8 tsp.
For Garnish
Ingredients Quantity
Lime juice 3tsp.
(According to taste)
Salted roasted cashews 1/2 cup
Chopped cilantro 1/2 cup
Freshly cracked salt and pepper
Method
Pour pineapple juice (collected from crushed pineapple) in a measuring cup. Add coconut milk in 3 equal cups – add water if necessary.
Transfer the liquid into a large pan and bring to a gentle simmer
Stir rice, coconut milk, sweetened coconut flakes, thai red curry paste and onion powder.
Bring it to a boil then cover and reduce heat to low (dial should be a little above lowest setting).
Simmer for approximately 20 minutes or until rice is tender, stir for 15 minutes and add water if necessary.
When rice is tender, remove the pan from the heat and let it rest for 5 minutes.
When ready to serve (not before), stir in lime juice, cilantro and cashews.
Taste and season with freshly cracked salt and pepper and additional lime juice to taste if desired.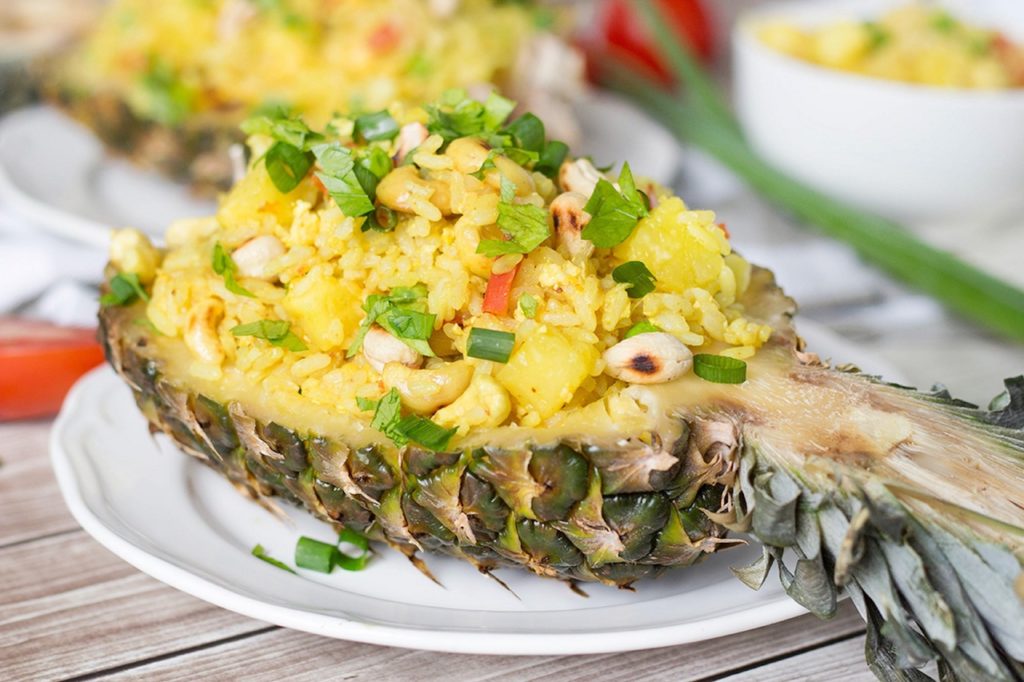 Tomato Halwa
Ingredients Quantity
Tomatoes 10-12
Sugar 2 cups
Ghee 1/2 cup
Cashewnuts 20
Raisins 2 tablespoons
Green cardamoms 6
Cloves 4
Tulsi leaves 1/4 cup
Rose petals 1/4 cup
Edible camphor (optional) 1 a pinch
Method
· Wash the tomatoes, remove the eye and make an incision on the lower side.
· Boil water and blanch the tomatoes for 2-3 minutes. Drain, peel, deseed and chop.
· Reserve the pulp with the juices. Grind the cardamom with 1 tablespoon sugar to a fine powder, sieve and keep aside.
· Heat 2 tablespoons of ghee and fry the Cashewnuts and Raisins to golden brown.
· Wash and shred the Rose petals and Tulsi leaves and reserve.
· Boil the sugar with ½-cup water and make a single-thread syrup and keep aside.
· Heat the ghee in a wide kadai (utensil), roast the cloves in it, till they start to crackle.
· Add the tomato pulp and cook till the liquid dries up. Cook on low heat.
· Increase heat and add the hot syrup slowly.
· Reduce to low heat, keep stirring to avoid burning and cook till it starts to leave the sides.
· Sprinkle the Cardamom powder, Rose petals, Tulsi leaves and the Camphor.
· Mix well
· Garnish the halwa with fried Cashewnuts and Raisins and serve warm.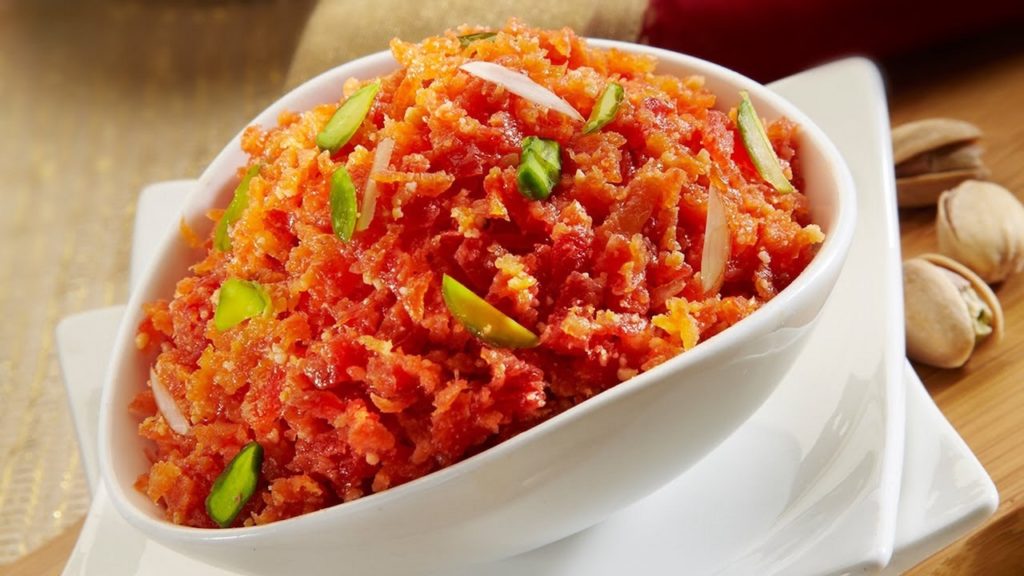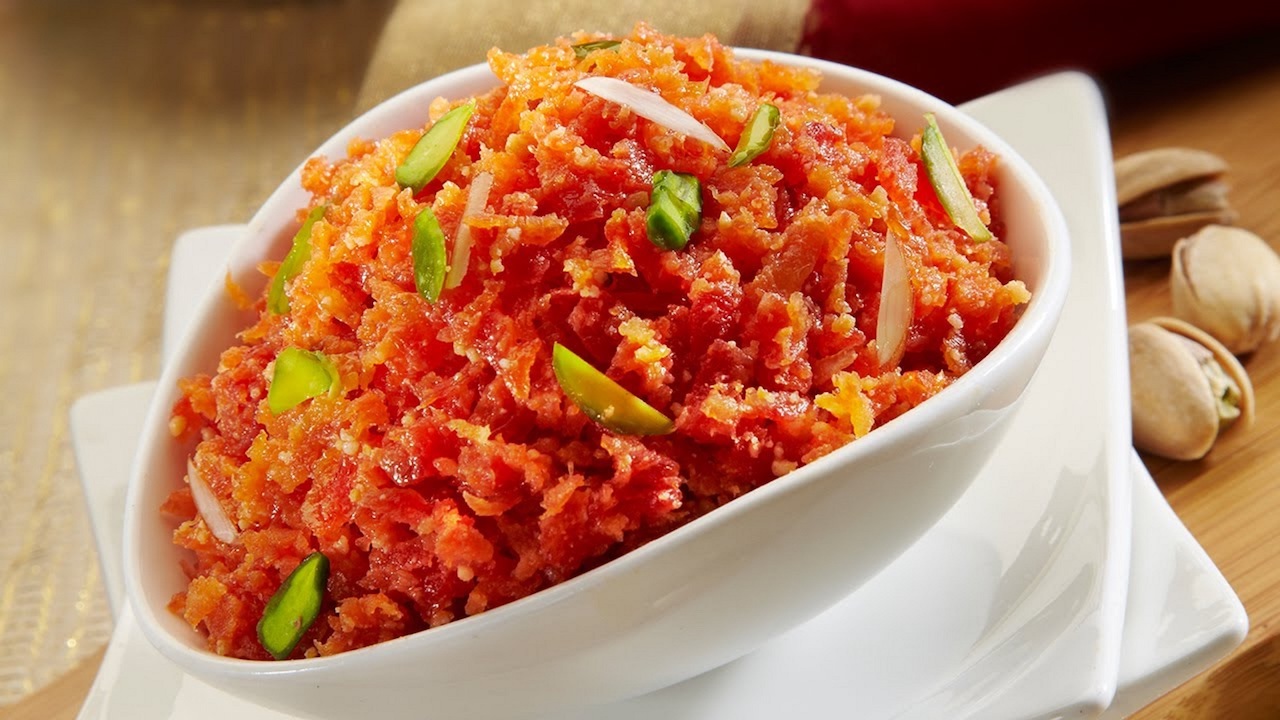 Bhutte ka Kees
Ingredients Quantity
Medium sized corns 4
Ginger 2-3 (1/2 inch)
Turmeric 1 tsp.
Chilli powder 1-2 tsp.
Mustard seeds 1 tsp.
Oil 2 tsp.
Milk 1/2 cup
Water 1/2 cup
Lemon juice 2 tsp.
Sugar 1/2 tsp.
Salt to taste
A pinch of Asafoetida (Heeng)
Chopped coriander and grated coconut for garnishing
Method
Grate the corn with a hand grater to make a coarse paste. (You can also use a food processor or mixer grinder but it will affect the taste. It tastes better if you use the hand grater)
Chop the ginger and green chilli finely.
Add oil in a pan. Add asafetida (heeng) and mustard seeds till it splutter.
Add green chillies and chopped ginger.
Add corn paste, turmeric, chilli powder and salt. Stir it occasionally to make sure that no lumps are formed.
Cook it for approx.10-15 mins until the liquid in the corn paste gets dried off and the colour of the mixture changes to golden yellow.
Add milk and water. Continue stirring till its consistency becomes like halwa or upma.
Add sugar and lemon juice.
Garnish it with chopped coriander, grated coconut and serve hot.