Crabs make for a really popular seafood item and are loved the world over. Fresh catches of crab are often a delicacy and looked upon as a heavenly delight by seafood lovers.
I personally like only stuffed crabs and crab meat and somehow cannot bring myself to go through the tedious process of breaking its shell and then enjoying the flesh, but I know for sure, that a lot of people love doing that and it is considered as one of the most satisfying experiences. Otherwise, I enjoy seafood a lot, be it fish, or prawns or lobsters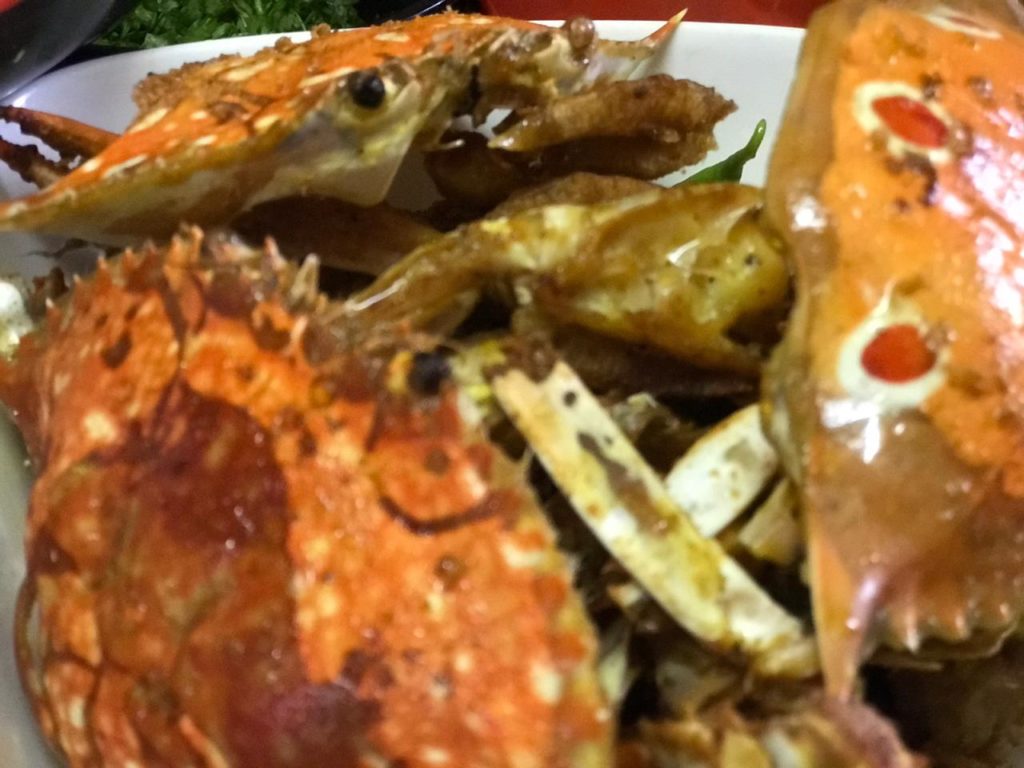 Now coming to this amazing recipe of Dhania (coriander) Chilli Crab recipe, its yet again shared by my very good friend and Executive Chef of Marriott Resort & Spa, Goa, Chef Dibyendu Roy. Its a simple and easy to make at home recipe and definitely a delicious indulgence.
| | |
| --- | --- |
| Ingredients | Measure |
| Vegetable Oil | 3 Tablespoon Divided |
| Onion Chopped | 1 Medium Sized |
| Coriander Seeds | 2 Tablespoon |
| Cumin Seeds | 1/2 Tablespoon |
| Dried Red Chillies Whole | 2-3 |
| Peppercorns | 5 |
| Bay Leaf | 1 |
| Ginger Chopped | 150 Gms |
| Garlic Minced | 100 Gms |
| Fennel Seeds | 1 Teaspoon |
| Degi Mirchi (Red Chilli Powder) | 1/2 Teaspoon |
| Tomatoes Medium Sized Chopped | 3 |
| Turmeric Powder | 1 Teaspoon |
| Cornstarch | 200 gms |
| Salt | To Taste |
| Crabs, Cleaned and Cut into Half | 2 |
| Fresh Coriander Leaves | Handful |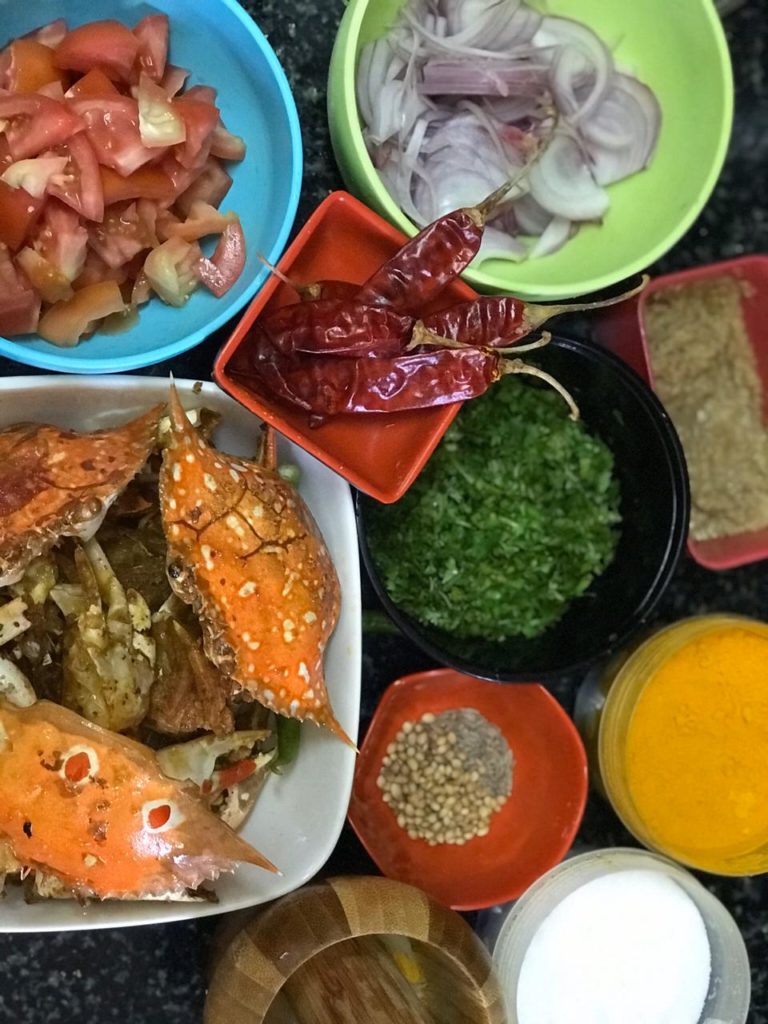 Directions
Marinate the cleaned cut crab with salt, cumin powder, coriander powder, turmeric, corn starch, flour and lightly fry them separately.
Heat some oil in a heavy-bottomed pan over low heat.
Add the cumin seeds, dried chilli, bay leaf and peppercorn.
Turn off the heat and add fennel seeds. Stir to mix thoroughly. Immediately transfer to the bowl of a blender or mortar and pestle and blend/pound until a fine paste is formed, scraping down sides as necessary.
Take a fresh pan and add sliced onion followed by ginger, and garlic. Cook, stirring frequently, add the roughly chopped tomato in it.
Add turmeric powder and the ground spice paste. Stir well to combine and continue to cook, stirring occasionally, until the oil separates and starts surfacing.
Add the lightly fried crab, degimirchi into the sauce and continue to cook for 10 minutes
Toss the crab, sprinkle with coriander leaves and serve immediately with steam rice or bread.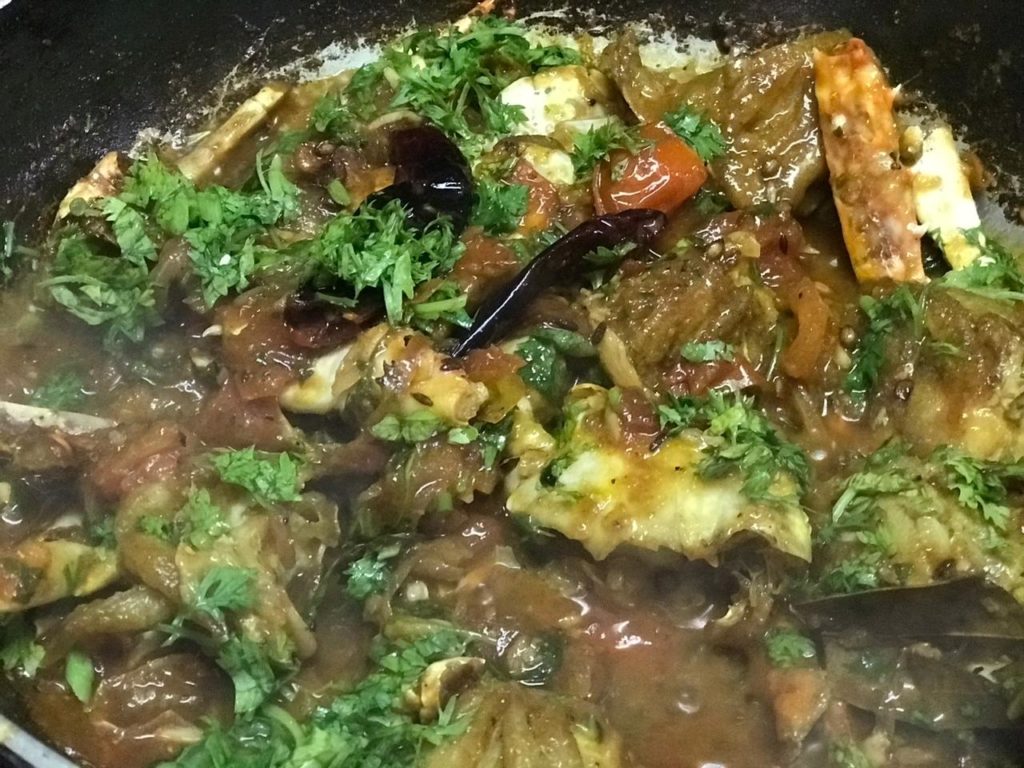 Do try the recipe and share your experiences with me. Also, let me know what other recipes you would want me to share and I shall post them soon.