For food enthusiasts out there, who like to experiment and enjoy different types of cuisines, World Tapas Day is just around the corner. A quick background on tapas; tapas are small bites of food – snacks or finger food which is accompanied by beer. In Spain, drinks are enjoyed in small glasses called "cañas" and this Cañas y Tapas culture is now becoming a favourite of Indians as well.
Tapas as a concept is similar to the snacking habit of Indians. It can range from authentic Spanish – paella, croquettes, patatas bravas to Indian small bites such as pakoras, paneer tikkas, and other tandoori snacks.
To honor and recognize this diversity of Spanish gastronomy – World Tapas Day is celebrated every year on the third Thursday of June across the globe. This year, it is being celebrated on 20th June, 2019.
Celebrate World Tapas Day by making your favorite tapas at home – there are so many different styles and choices. We suggest picking a few, inviting over some friends, and enjoying some tapas with chilled Mahou beer!
I am starting with the amazing recipe of Butter Garlic Prawns Served With Beer Battered Onion Rings, a recipe that helped me win the Mahou Maestra Chef Season 2.
Butter Garlic Prawns With Beer Battered Onion Rings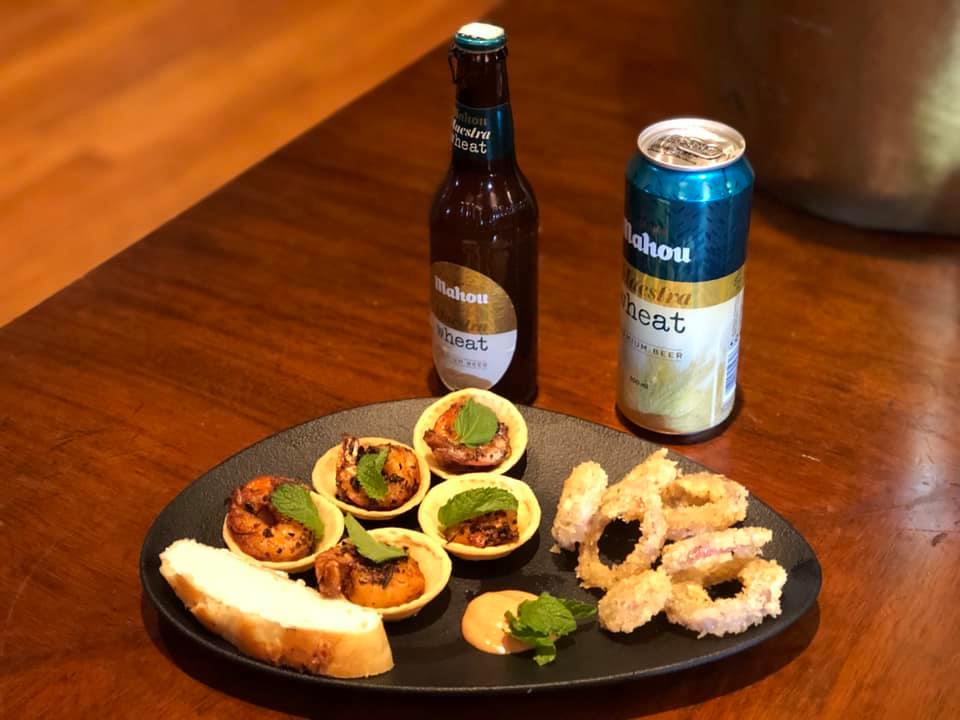 An extremely simple and delicious recipe, doesn't take too long and is an all time favourite.
Ingredients:
1/2 kg cleaned prawns, medium sized
2 tablespoons butter
6 garlic cloves, peeled and chopped
1 teaspoon mixed herbs
1 tablespoon olive oil
Small tartlets for serving
Mint leaves for garnishing
2 big onions cut into rings
2 tablespoons flour
1 tablespoon corn flour
3/4th pint of Mahou Wheat Beer
1/2 teaspoon mixed herbs
Salt to taste
Bread Crumbs
Oil for frying
2 tablespoon mayonnaise and 1 tablespoon tomato ketchup
Directions:
Heat butter and oil in a pan on a medium flame and add chopped garlic. Saute them for about 5 minutes and let the garlic turn a little brown. Be careful to not burn the garlic.
Add prawns and keep tossing them, add mixed herbs and saute them for about 6 minutes, till the prawns are cooked. Do not overcook the prawns. Since this recipe uses butter, you won't need to add salt, but in case you feel its less, just add a pinch of salt.
Serve the prawns in tartlets and garnish with mint leaves.
For the onions, combine flour, corn flour, herbs, and salt and make a batter using beer.
Coat the onion rings in batter and then coat them with breadcrumbs.
Let them rest for about half an hour in the freezer before you fry them.
Fry the frozen onion rings in oil at medium heat till they turn golden in color.
For the dip, combine mayonnaise and ketchup and enjoy with your onion rings and prawns.
2. Patata Bravas
A simple and easy to make the dish – Patata bravas is a common tapa native to Spain. Seasoned with salt – it is best served with smoky salsa brava sauce.
Ingredients:
1 tsp. hot smoked Spanish paprika
1⁄4 tsp. sugar
5 canned whole peeled tomatoes, drained
3 cloves garlic, peeled
1⁄2 small yellow onion, thinly sliced
Kosher salt and freshly ground white pepper, to taste
1 tbsp. olive oil
Olive oil, for frying
1 Kg. small waxy potatoes, quartered
1 cup mayonnaise
Minced parsley, for garnish (optional)
Directions:
Pulse paprika, sugar, tomatoes, garlic, onion, salt, and white pepper in a small food processor until coarsely ground. Heat olive oil in a 2 -qt. saucepan over medium-high heat. Fry tomato mixture, stirring occasionally until slightly reduced, about 5 minutes; set bravas sauce aside
Heat 2″ olive oil in a 6-qt. saucepan until a deep-fry thermometer reads 220°. Add potatoes all at once to oil; cook until tender and pale golden, 35–40 minutes. Using a slotted spoon, transfer potatoes to paper towels to drain; chill 30 minutes. Remove oil from heat.
Return pan of oil to heat until a deep-fry thermometer reads 350°. Working in batches, fry potatoes until golden brown and crisp, 4 –5 minutes. Using a slotted spoon, transfer potatoes to paper towels to drain; season with salt. Drizzle potatoes with the reserved bravas sauce and mayonnaise; garnish with parsley if you like.
3. Ham Croquettes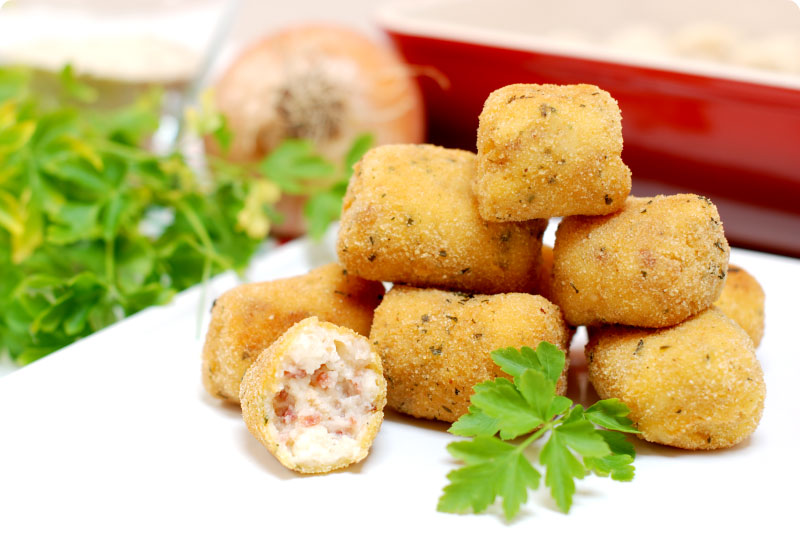 Traditionally known as croquettes, they are small fried breadcrumbed rolls, usually containing ham, cheese, mashed potatoes, ground meat or veggies as the main ingredient. One of the most available tapas in Spain, it is best enjoyed with thick bechamel sauce.
Ingredients:
1 tablespoon extra-virgin olive oil
2 tablespoons flour
1/4 liter of milk
1 egg
100 grams of breadcrumbs
Nutmeg
150 grams of cooked ham or Serrano cut in tiny pieces
Salt
Directions:
Pour the oil in a pan and place it on the fire. When hot, remove from the heat and with a wooden spoon add the flour, stirring until it becomes a paste.
Place the pan on the stove and add the milk slowly, stirring the mixture until it is done and has a good consistency.
Add nutmeg, ham, and salt until the mixture thickens.
When the mixture has thickened, place it on a tray or bowl and let it cool down.
Beat 2 eggs in a bowl.
When the croquette mixture is cold, cut into pieces and give a long oval shape.
Dip the croquettes in beaten egg, making sure they are covered completely.
Now cover the croquettes in breadcrumbs.
Fry the croquettes in olive oil (the oil should cover the whole croquettes). When they are golden, remove them from the fire and serve them.
4. Stuffed Bell Pepper bites with Beer Barbeque Braised Chicken Keema
Ingredients:
2 bell peppers insides scraped and cut into wedge shaped pieces
Chicken mince 250g
Barbeque sauce 1cup
Mahou maestra wheat beer 100ml
Jaggery 1/2 teaspoon
1 Onion chopped fine
5-6 garlic pods grated
Red Chilli powder/paprika 1/2 teaspoon
Salt and pepper according to taste
Olive oil 1 tablespoon
Grated cheddar cheese 1 cup
Directions:
Preheat airfryer to 200 degrees. In a bowl combine the beer, barbeque sauce,jaggery
In a wok take olive oil and sauté the onions and garlic
Add the chicken mince and cook for 5-10 min.
Add the liquid mixture to this and cook till thick and beer cooks out.
Add salt and pepper.
Brush the bell peppers with olive oil, place grated cheese at bottom.
Top with cooked braised chicken mince and jalapenos.
Airfry for 10 min or so till peppers are just soft.
Sprinkle some parmesan and chilli flakes on top before serving!
5. Tapas Salmon with Egg and Mayonnaise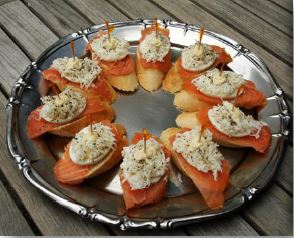 This type of tapas on long bread is another commonly found Tapas. Loaded with smoked salmon, a slice of hardboiled egg, a small dot of mayonnaise, and held together by the traditional toothpick.

Ingredients:
(10 portions)
5-6 ounces of Smoked Salmon, thinly sliced
10 slices of Hardboiled Egg
2 Hardboiled Eggs, grated
A bit of Black Pepper
Little amount of Mayonnaise
10 slices of Long Bread, as fresh and crispy as possible
Toothpicks
Lemon juice


Directions:
Put all ingredients and plates etc. in the fridge for an hour or so to cool down before you start
Load a slice of bread with the salmon and slice of egg
Use a teaspoon to put a dot of grated egg white over the slice of hardboiled egg
If you like, a few droplets of lemon juice or lime juice over the salmon
If you like, a dash of ground black pepper over the egg
Next comes a nice little dot of mayonnaise for garnishing
Stick a toothpick through all ingredients to keep things together.
6. Crispy Beer-Battered Fish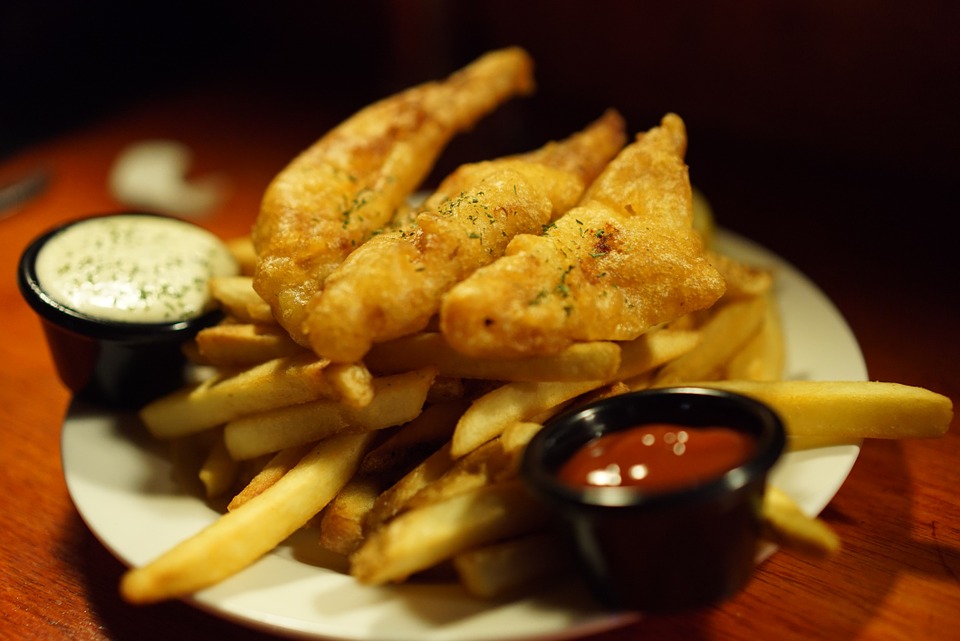 Seasoning it with wheat beer adds subtle nuances of the hops and makes the batter even lighter. It is best made with Mahou Maestra heat, the recently launched wheat beer that adds the tangy taste to the fish. Fried until golden brown and crispy, beer battered fish is a classic dish you can't go wrong with.
Ingredients:
1/2 cup cornstarch
1/3 cup of Mahou Maestra Wheat beer
1-1/2 teaspoons baking powder
3/4 teaspoon salt
1/2 teaspoon Creole seasoning
1/4 teaspoon paprika
1/4 teaspoon cayenne pepper
1 cup all-purpose flour, divided
1/2 cup 2% milk
2 cups crushed unsalted top saltines (about 40)
4 cod fillets (6 ounces each)
Oil for deep-fat frying
Directions:
In a shallow bowl, combine the cornstarch, baking powder, salt, Creole seasoning, paprika, cayenne, and 1/2 cup flour.
Stir in milk and Mahou Maestra Wheat beer until smooth.
Place crackers and remaining flour in separate shallow bowls.
Coat fillets with flour, then dip in batter and coat with crackers.
In an electric skillet or deep-fat fryer, heat oil to 375°. Fry fish in batches for 2-3 minutes on each side or until golden brown.
Drain on paper towels.