Wearing the right workwear is essential for safety, especially in environments that are naturally dangerous, such as the construction industry. With regulations to adhere to and the general comfort of your employees to bear in mind, it can be difficult to know where to start. But, there is no need to fret, as we have everything covered for you below.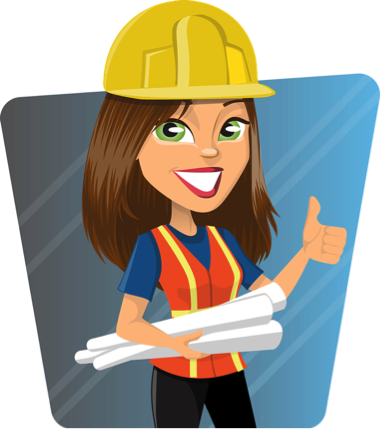 https://pixabay.com/en/woman-engineer-work-worker-lady-1455991/
SAFETY FOOTWEAR
Let's start at the bottom – footwear! Ask yourself the following…
• Is there any risk of nails, or any other type of sharp object, penetrating the sole of the shoe?
• Is there any risk of materials being dropped on employees' feet?
If you answered yes to either question, specialist footwear is a must. Boots with mid-soles and steel toecaps are needed as a standard. If there is the risk of burns from wet cement or concrete, it's essential to wear wellington boots. Otherwise, employees could suffer severe burns, as cement content becomes extremely corrosive when mixed with water.
TIP: Look for footwear with slip-resistant soles for extra protection.
EYE PROTECTION
There are numerous scenarios whereby eye protection is required, including to protect against:
• Chemical splashes
• Ultraviolet radiation from welding
• Sparks, for example, when disc-cutting
• Flying objects
It is important for an employer to have an additional supply of safety goggles and spectacles so that they are readily replaced if any become defective or lost. Derrick Law Firm's team of injury lawyers can help you to make a claim if you have been injured because such safety equipment has not been provided. It may be necessary to invest in a visor for full-face protection if you are safeguarding from corrosive splashes but remember this is your employer's responsibility.
HARD HATS
The risk of falling materials is one that is present on virtually all sites, which is why a hard hat is a must for construction workers. Of course, there are other tactics that need to be deployed, but effective head protection is a necessity. In short, if there is any chance of someone hitting his or her head or being injured by falling materials, a hard hat is a must.
Some examples of hazards you are protecting yourself from:
• A scaffolder dropping a fitting while dismantling or erecting a scaffold.
• Materials falling off goods being carried via a truck or site dumper.
• Materials falling off a load being lifted by a crane.
• Materials falling from a scaffold platform.
• A loose material being kicked into an excavation.
There are many hard hats to choose from nowadays, some of which come with extra features, including a soft harness or a sweatband for the forehand. While these hard hats may cost a little bit more, they are worth it if they will enhance the comfort and consequent safety of the user.
TIP: Make sure hard hats are inspected on a routine basis for deterioration, cracks, or dents, and replace if necessary.
GLOVES
Safety gloves can protect against a whole host of hazards, including:
• Splinters and gloves when handling wood, steel, and bricks.
• Solvents, wet concrete, and dust – such as cement, which can cause dermatitis.
There are different types of hand protection available to suit a variety of jobs and workers. For example, there are insulated gloves and sleeves for workers exposed to electrical hazards, welding gloves for welding, and heavy-duty rubber gloves for concrete work.
HIGH VISIBILITY CLOTHING

If someone cannot be seen, an accident is waiting to happen. When there is poor lighting or bad conditions, high visibility clothing is a necessity. Ask yourself the following…
• Do workers need to be seen by others to ensure safe operation? For example, a crane driver needs to any signallers assisting in the operation.
• Could a vehicle run down an employee?
If so, Hi-Vis garments are required.
Not only does this clothing need to be worn, but also it needs to be kept in good condition too, ensuring it's effective.
OUTDOOR CLOTHING


Last but not least, we have outdoor clothing, which, of course, is a concern for construction workers. Construction workers often work outside, and thus they need clothing that can shelter them from the weather. The sun can cause significant damage. Protection from ultraviolet rays is a necessity. If you are working outside for an extended period of time, make sure you do the following:
• Keep a close eye on the condition of your skin
• Cover your legs and arms
Hopefully, you now have a better understanding of the workwear that is required in the construction industry. It is important to choose with care. Unfortunately, there are a lot of fake helmets and footwear, for example, on the market, which is why you need to buy from a reputable supplier that meets the applicable safety standards.