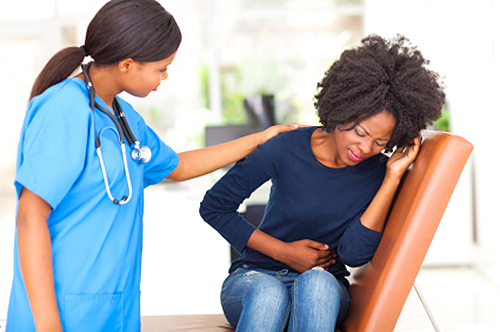 The unfortunate thing about stomach pain is that it can often be difficult to work out exactly what is going on in there and whether it's just an average stomach upset or something more serious. This can lead to many people ignoring their tummy troubles when they really shouldn't
If you've been experiencing stomach pains recently, check out these stomach complaints and they're symptoms, to ensure you get the help you need:
Acid Reflux
Acid reflux occurs when the stomach acid finds its way back up your digestive system to your throat. Symptoms of this very common stomach complaint include a burning just below the breastbone, which tends to rear its head after eating and is often worse when you're in a reclined position.
Take Action: To solve the acid reflux situation, simply take some antacids, such as tums when the pain hits. Even better, try to determine the foods that cause your issues and avoid them. If your reflux is really bad, it might even be worth seeing a Gastroenterologist to rule out GERD. The good think about acid reflux is that it is usually pretty easy to treat!
Appendicitis
Appendicitis is a condition where the appendix becomes inflamed. If the area around your belly button starts to feel uncomfortable, and the pain spreads to the lower part of your right abdomen, and that pain is worse when you walk, there is a good chance you could be suffering from appendicitis.
Take Action: Should you experience these symptoms, you should get yourself to the emergency room right away. An inflamed appendix needs to be removed quickly, or you could risk it rupturing or introducing lots of life-threatening bacteria into your body.
Gallstones
Gallstones are one of the most painful tummy conditions of all, and all of the trouble is caused by small stones of hardened bile and cholesterol that form in the gallbladder and which are usually caused by a diet that is very high in fat. Symptoms of gallstones include a sharp, searing pain in the upper mid-abdomen area, which spreads to the right side. You may also suffer from diarrhea and sickness if you have gallstones.In serious cases, fever may also be present.
Take Action: When gallbladder pain hits, take an over the counter pain medication to relieve the symptoms. If it doesn't work, or if the pain goes on for more than two hours, and definitely if you're vomiting with a fever, you will should get yourself to a doctor. Chances are you will need to have your gallbladder removed.
Crohn's Disease
Crohn's disease is an inflammatory bowel disease that usually affects the colon and small intestine. Symptoms of crohn's include persistent pain in the abdominal area, weight loss, and diarrhea.
Take Action: There is currently no treatment for this particular disease, but if you think you may have it, it is essential that you see a doctor who can prescribe things like steroids and anti-inflammatories to help manage the condition.
If you think you have any of the illnesses discussed here, it's always a good idea to seek the further assistance of your doctor, who is the best person to help you.