Fontainhas is an old Latin quarter at the Altinho foothills in Panjim. It's one place in Goa where the Portuguese influence is still very evident, so much so that this is the only place in Goa which has Portuguese as the main spoken language.
The name 'Fontainhas' was derived from a natural spring, Fountain of Phoenix that sprouted in 1770 and is present to date. Fontainhas was founded in the late 18th century by a wealthy Portuguese named Antonio Joao de Sequeira. He used this land for coconut plantations. But, in the early 1800s, due to the spread of epidemic in the Old Goa, the Portuguese government headquarters was shifted to Panjim. As a result, this area was transformed into the residential area for Portuguese administrative officers and rulers. In 1984, UNESCO recognized Fontainhas as a Heritage Zone.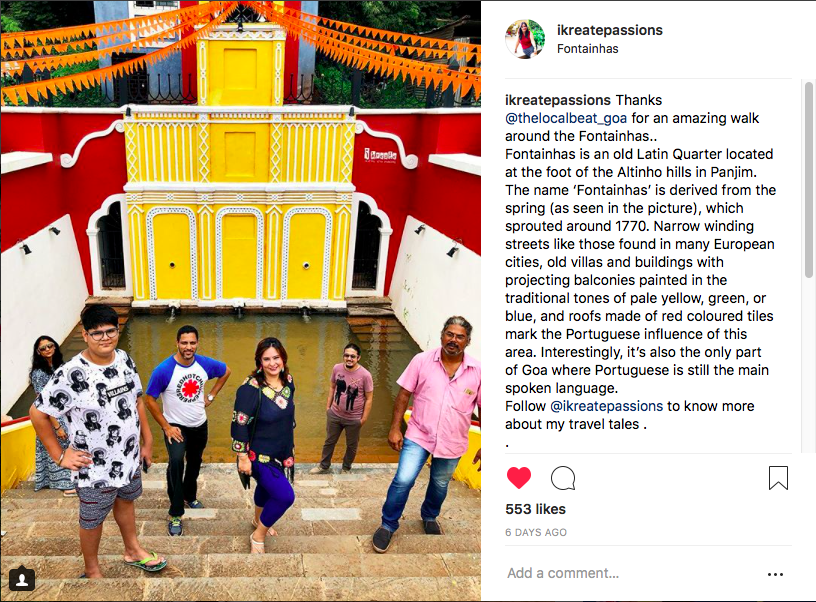 Narrow lanes, bright and vibrant houses, small cafes, old bakeries, art galleries and every nook and corner that tells an interesting Goan story are some of the characteristics of this amazing place. Even within the hustle bustle of Panjim city, Fontainhas has maintained its serenity and quaintness. All thanks to The Local Beat Goa, I recently enjoyed a heritage walk of mixed with lots of fun and facts about the place. After grabbing a refreshing glass of watermelon juice from the Mamaramma Cafe, just next to the St. Sebastian Chapel, we started off by driving through the uphill lanes of Altinho and the Maruti Temple became our first halt.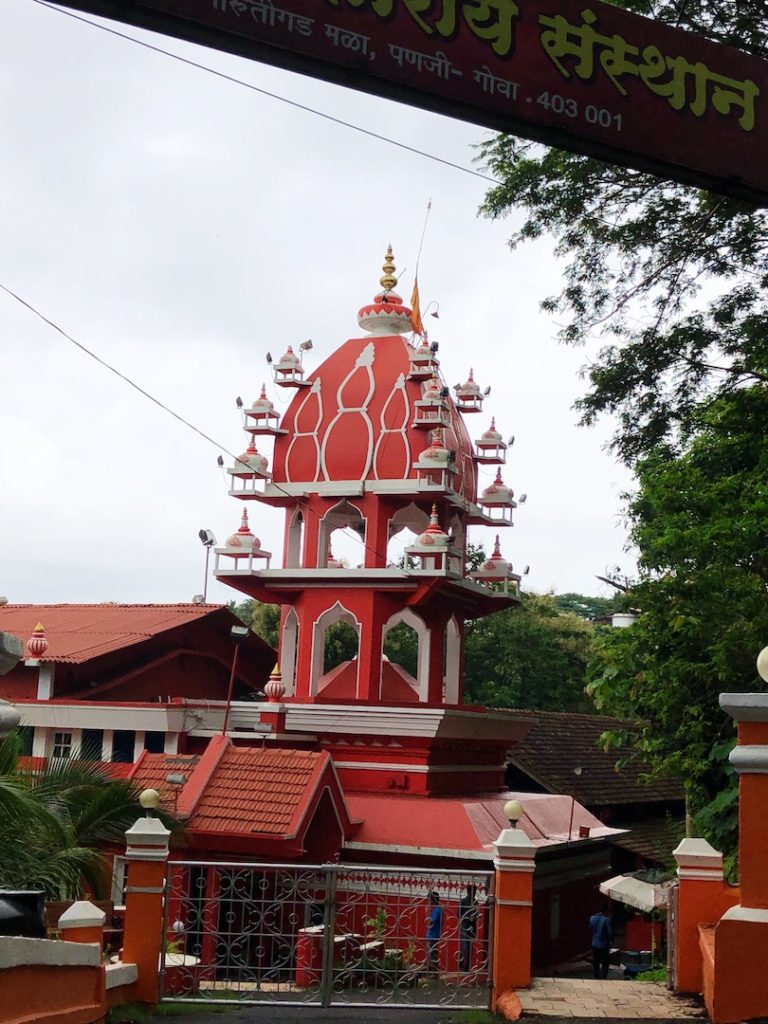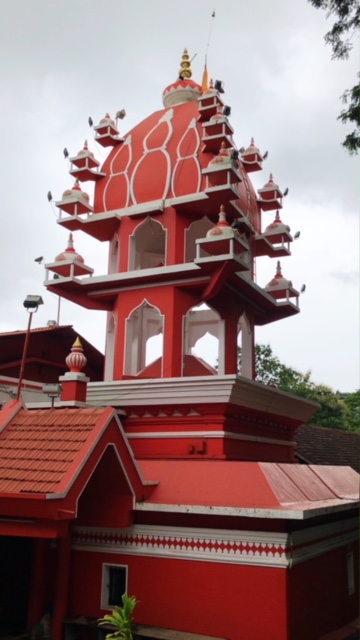 Coloured in bright hues of orange, a colour that represents the monkey god 'Hanuman', the structure of the temple is a perfect mix of modernity and ancient heritage. As I moved in, I came to know that the temple has two idols of lord Hanuman, and even without climbing up to the main temple, one can see the bigger idol through an opening in the lower floor wall. Well I bowed down my head in front of both, the main idol which is housed in a big hall looks majestic.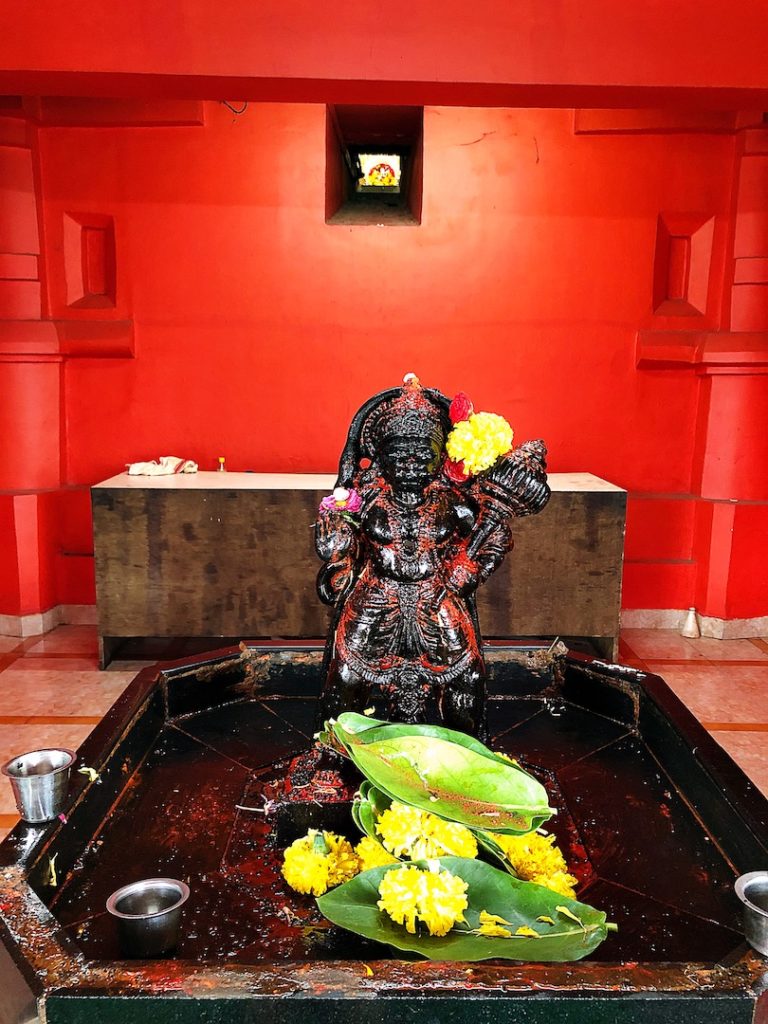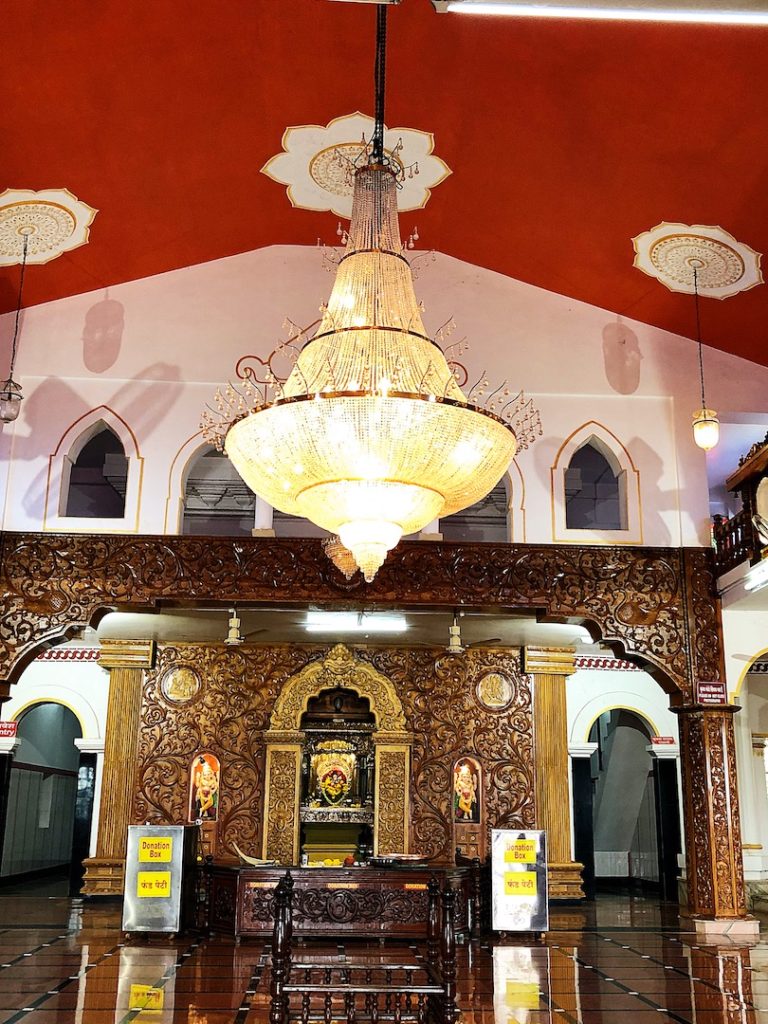 The prayer hall is huge and a big chandelier in the centre makes it look magnificent. There is a lot of open space around the main temple and the view from the top is breathtakingly beautiful. You can practically see the entire Fontainhas area from there and especially the spring.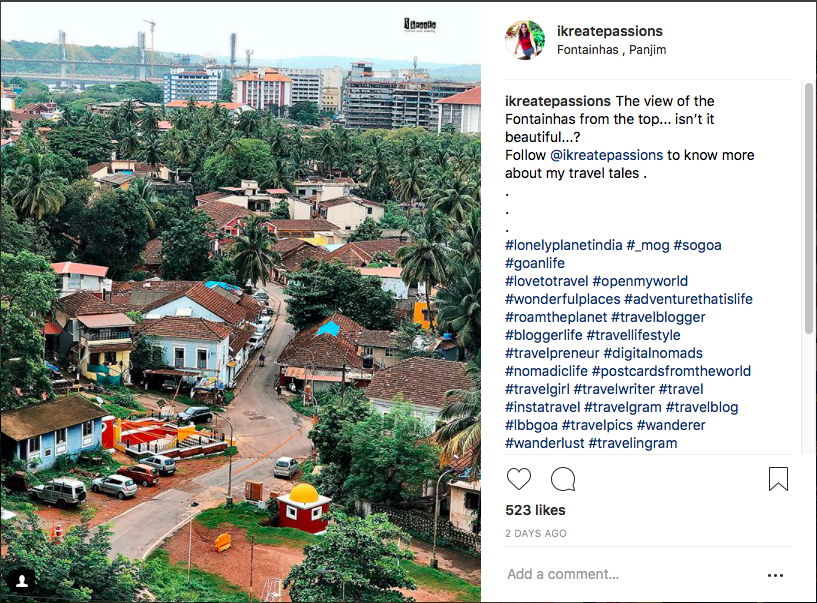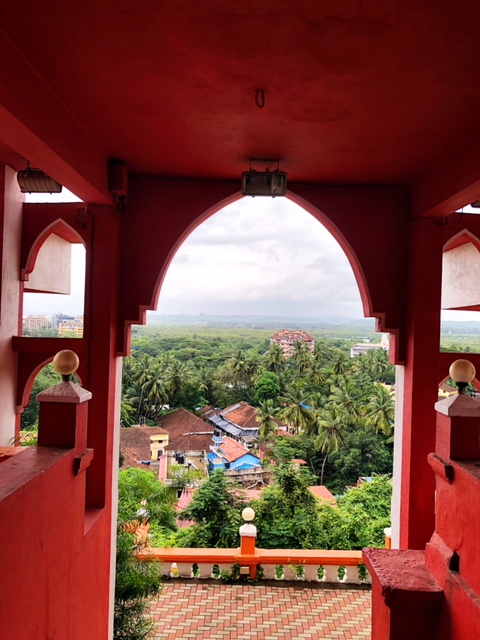 We climbed down the stairs that lead to the Fontainhas spring. It is believed that there was a tunnel from the temple till that spring, which now stands closed, and the door was sealed with a cross. The two structures that line around the spring used to provide light in that tunnel, are mosque like structures and hence this place becomes a wonderful amalgamation of 3 religions.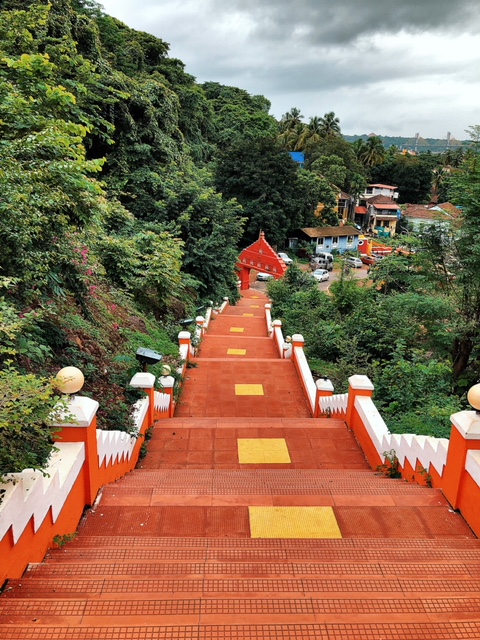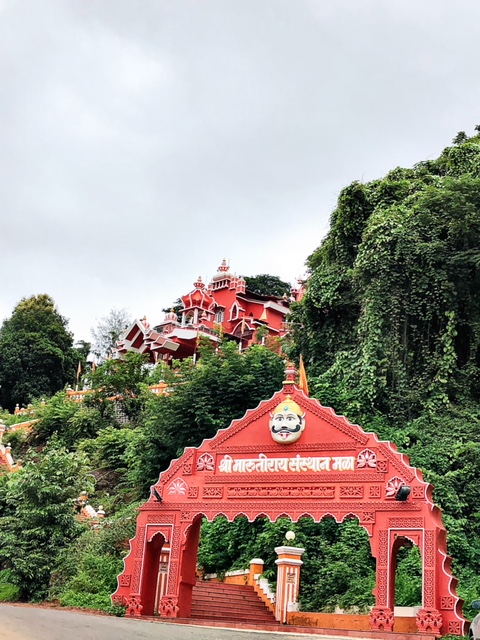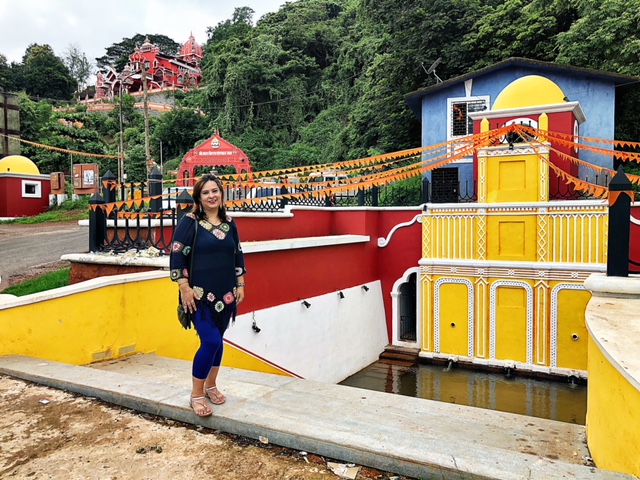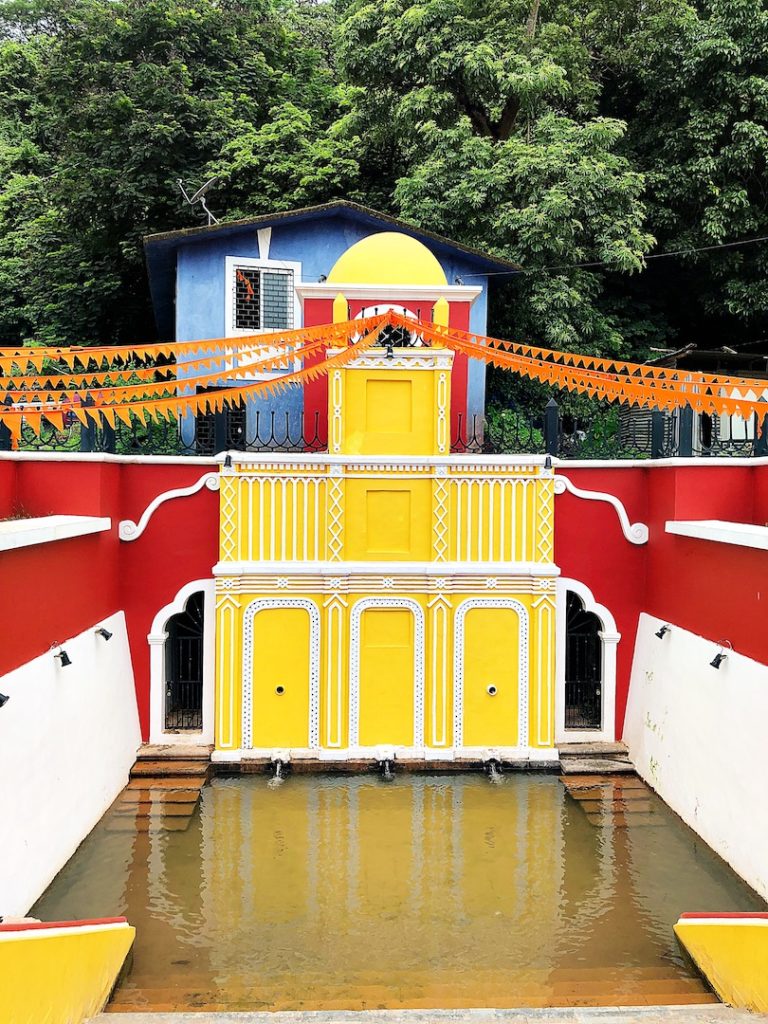 From there on we strolled through the lanes of Fontainhas, visiting a few art galleries, which house some of the best art that leave you awestruck. Its so interesting to see these old world charm buildings, you know the windows in some of the old houses use shells in place of glasses, as glass wasn't available back then. And trust me they look so amazing that given a chance I would want my windows to be made of sea shells.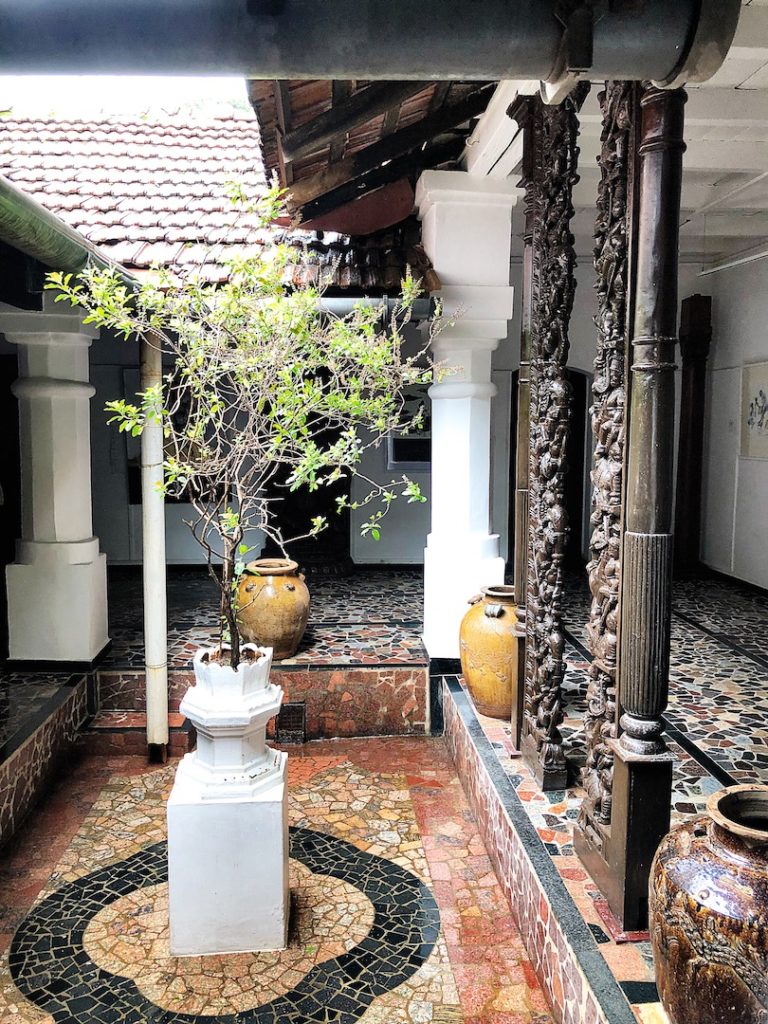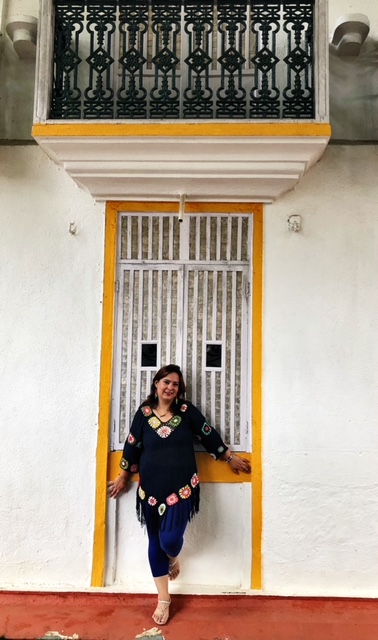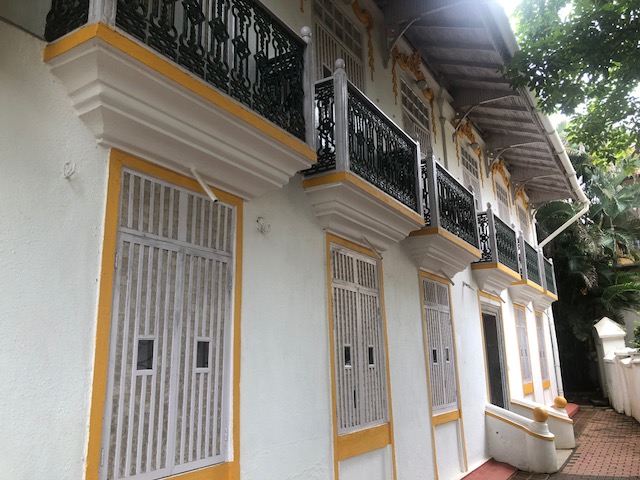 We also visited one of the oldest bakery, named Confeitaria 31 De Janeiro, it still uses the old stone clay oven and bakes some amazing stuff. I tried the french rolls and it really took me back in time, normally don't get that kind of taste anymore. They were so fresh and delicious. The name 31 De Janeiro holds a significance in history, Rua 31 de Janeira (31st January Road) is named after the day when Portugal got independence from Spain on January 31, 1640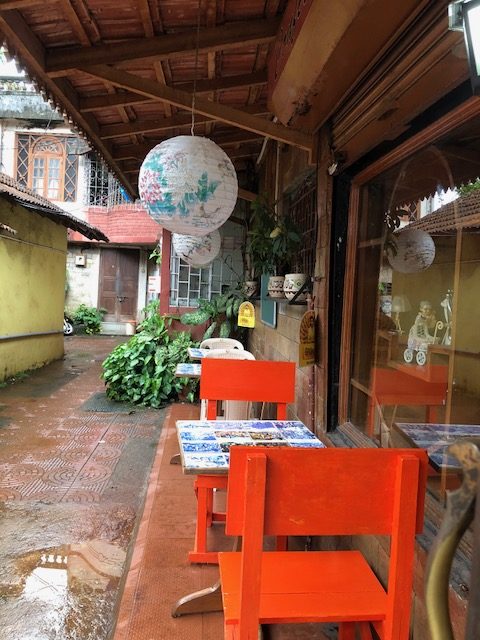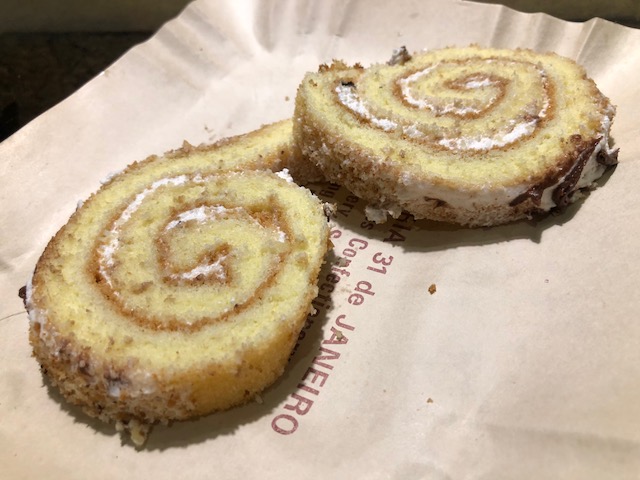 From a light drizzle to thunder shower, monsoons made the walk even more interesting and beautiful. I also learnt that the houses in Fontainhas still need to get painted after every monsoon, it was a rule laid out in the Portuguese time but is followed till date. This keeps the beauty and vibrancy of this place in tact year after year. One of the historic houses that I came across had big well in front of it, though the well is not in function now, but the serenity and peace of the place is inexplainable. You can really spend some quiet time there breathing the natural and man made beauties together.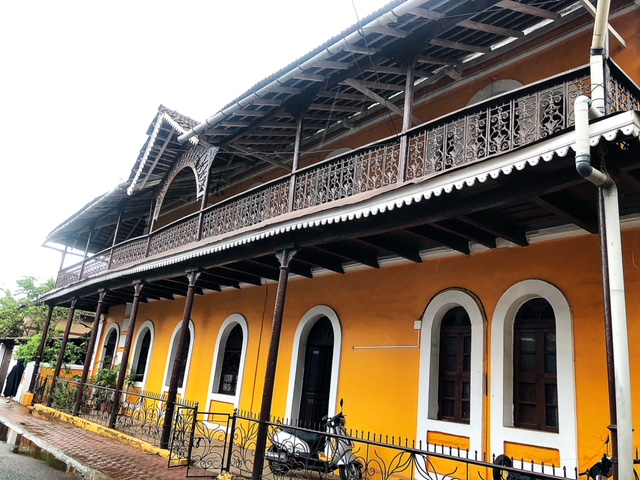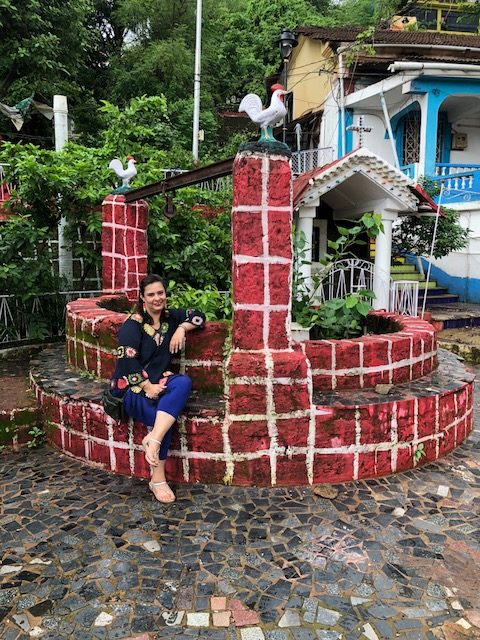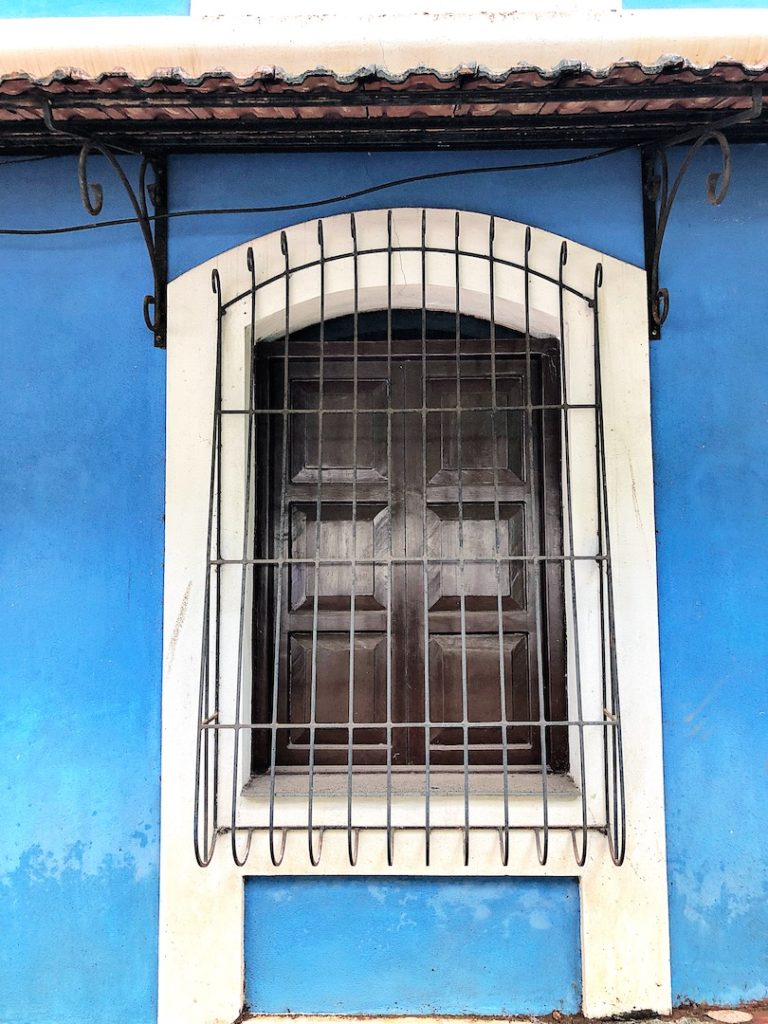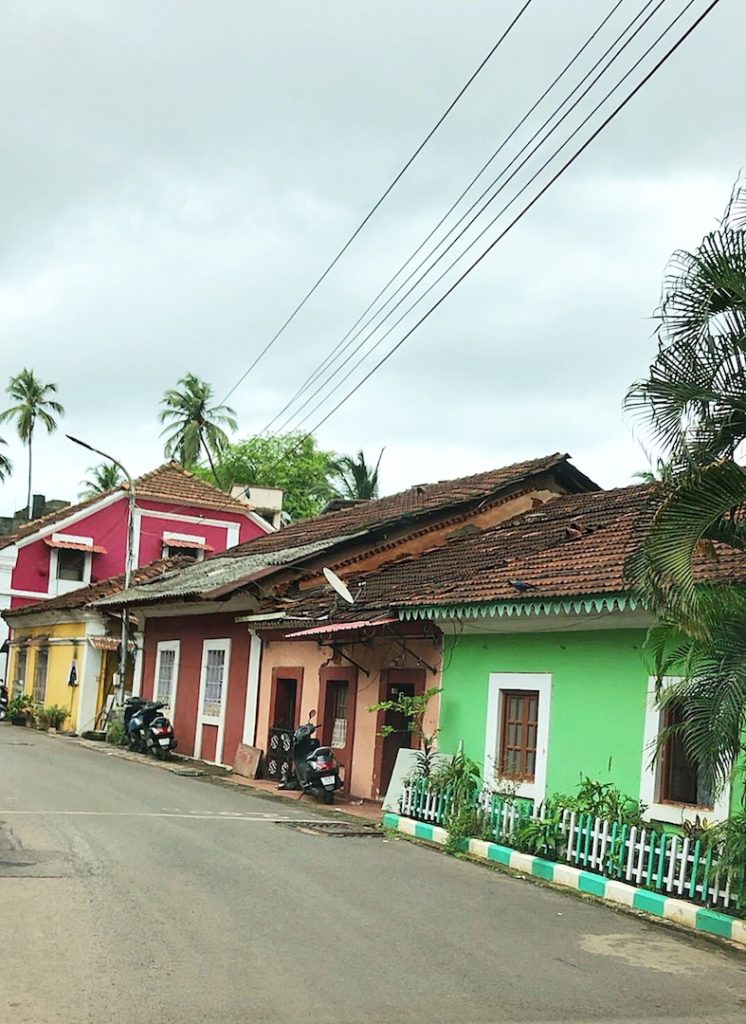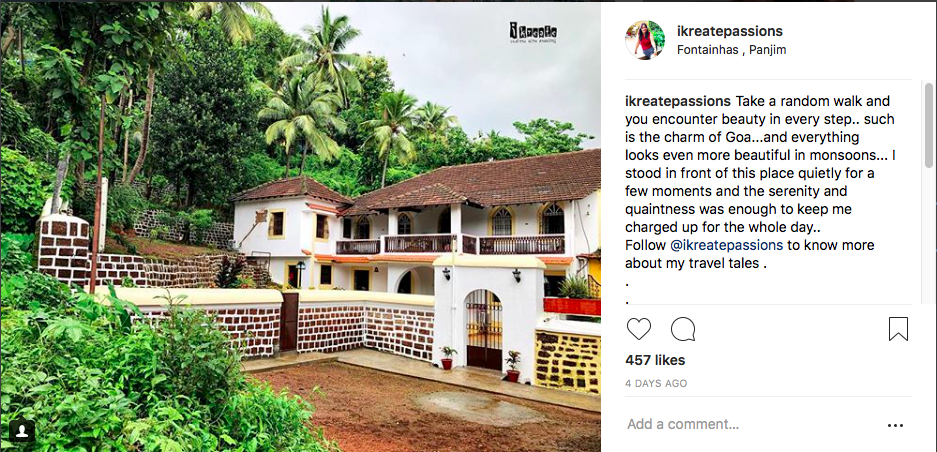 Another place where you can sit back, relax and enjoy some great coffee and snacks is the Bombay Coffee Roasters. The front wall of this cafe is quite a popular one with photographers. The mosaic is really worth a look and the place offers calm and comfortable interiors, has wi-fi and is ideal to spend some quality time alone and get some creative work done, or simply chill out with friends.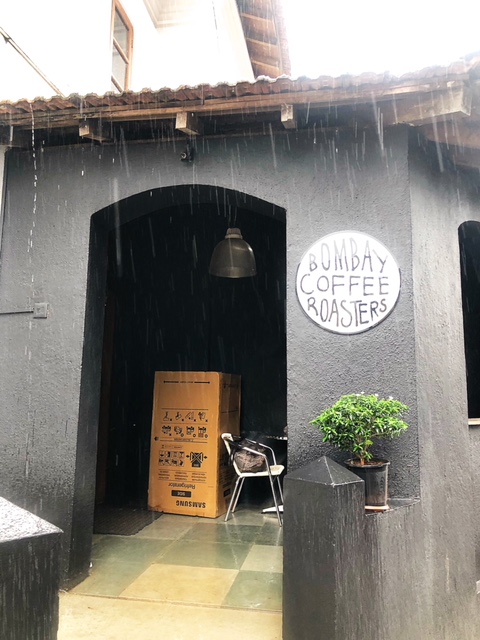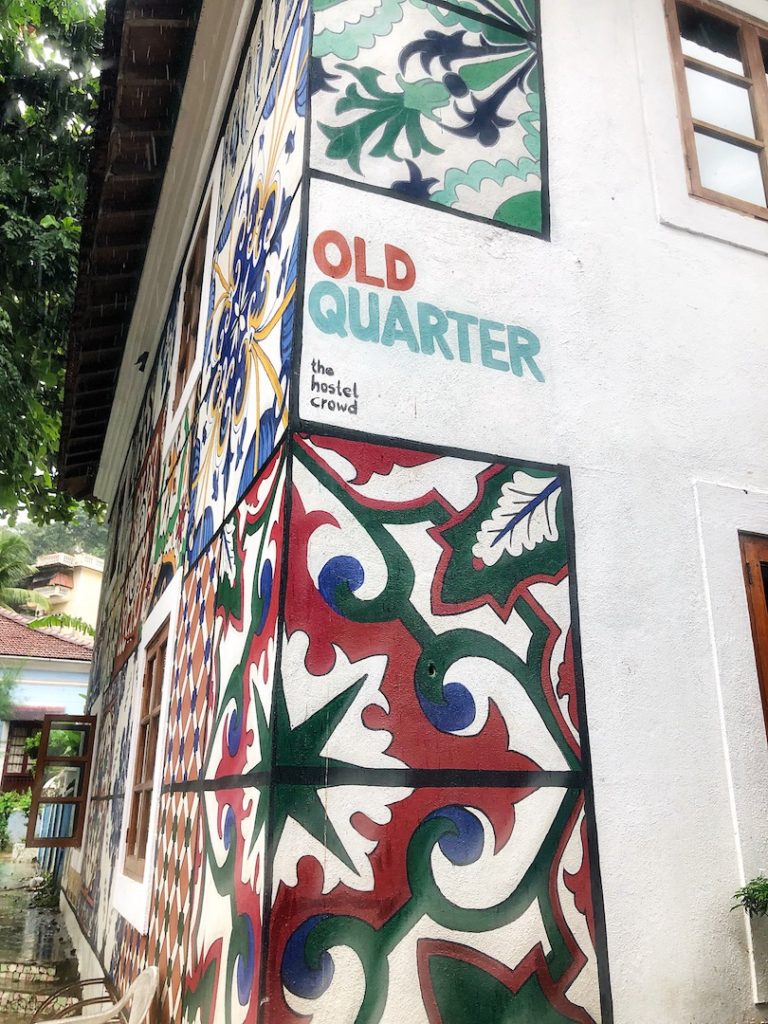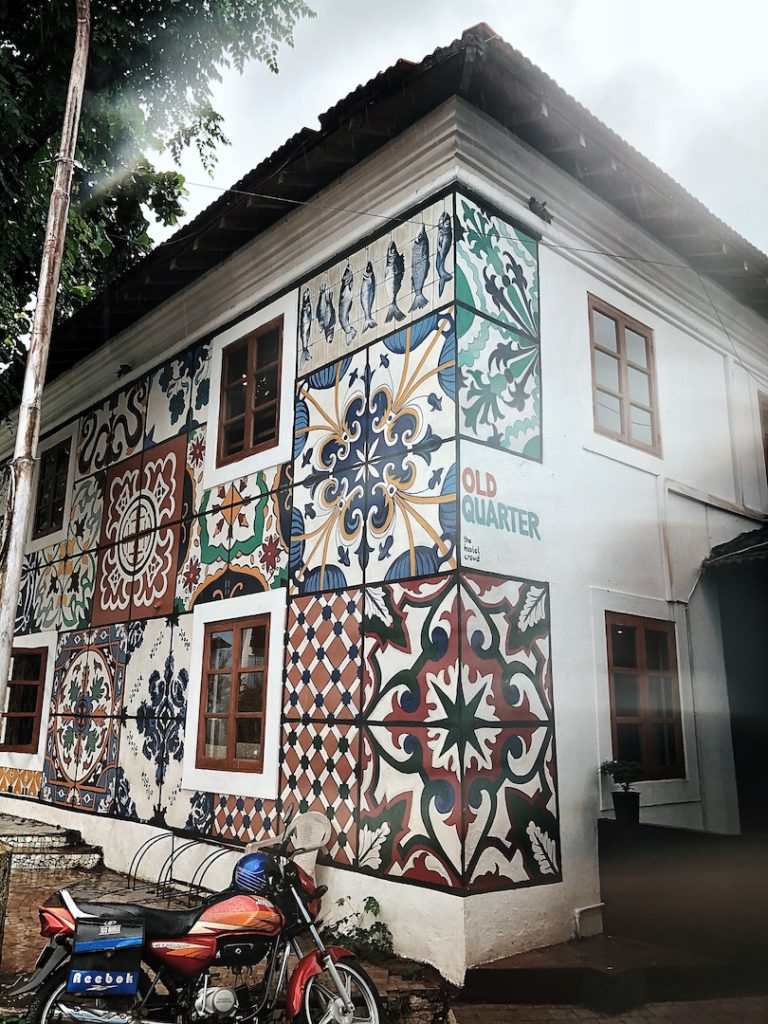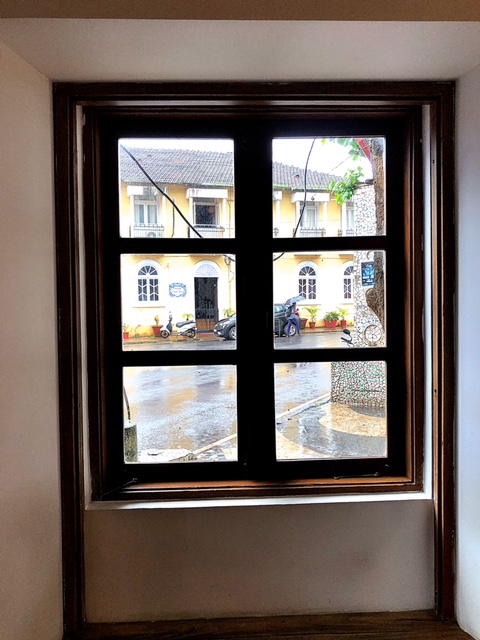 Talking about mosaic, its not just about the wall of Bombay Coffee Roasters, but this tile art is one of the most significant characteristics of Goa and especially the Fontainhas. Azulejo is the Portuguese name for these beautifully hand painted ceramic tiles. This art originated in the 15th century and travelled to India when the Portuguese settled in Goa. Though back then these Azulejos were imported from Portugal, and there were no Goan artists to do it, the art from literally died. It was brought back by a man named Orlando De Norohna, who had a 5 year degree in commercial art from Goa college of arts. He went to Lisbon to get himself skilled with guitar and came back with Azulejos. Since then the art has been fully revived and many students took interest in learning the same. Today Goa is the only state in India where these tiles are made. Take a walk around Goa and you will see these Azulejos as a part of its landscape. From name tiles to murals, each Azulejo tells a Goan story. Azulejos De Goa in Panjim, is one of the best shops to hunt for these stunning hand crafted tiles.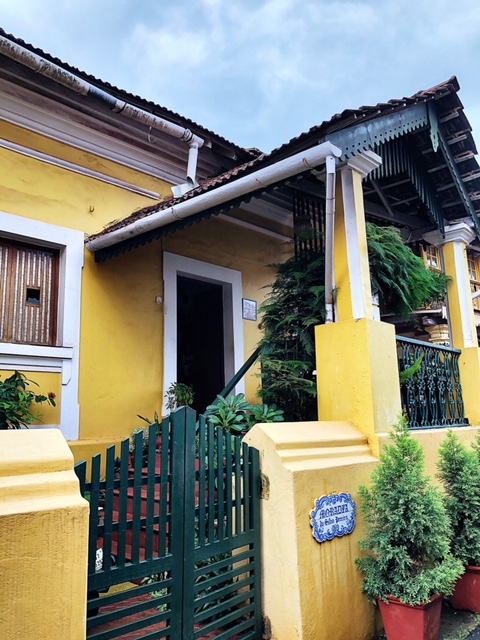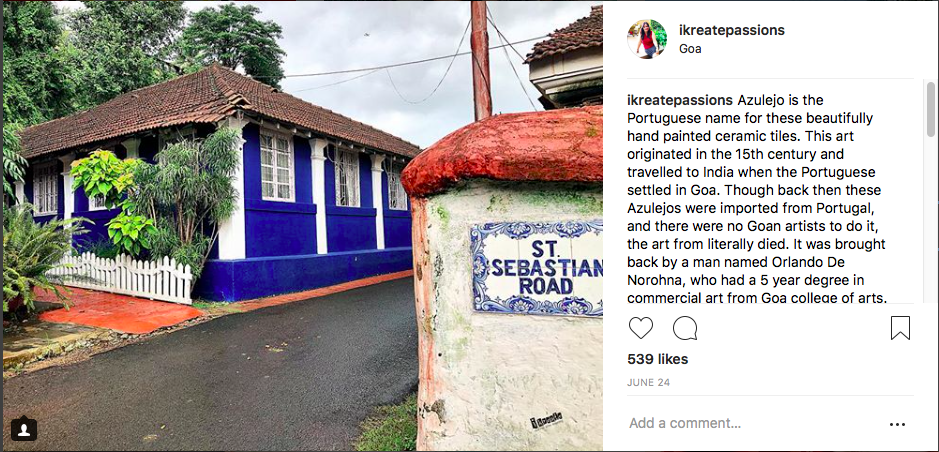 Moving on, we came to one of the major landmarks of this old quarter of Goa, the St Sebastian Chapel. It was also the point from where we started and the point where we concluded our lovely heritage walk. The Chapel of St Sebastian is a popular tourist attraction in Goa, built in 1818. This chapel is dedicated to St. Sebastian.In earlier days, when people were troubled with the disease of pests and plagues, they turned for help to St Sebastian who treated them through his mediation and miraculous interventions.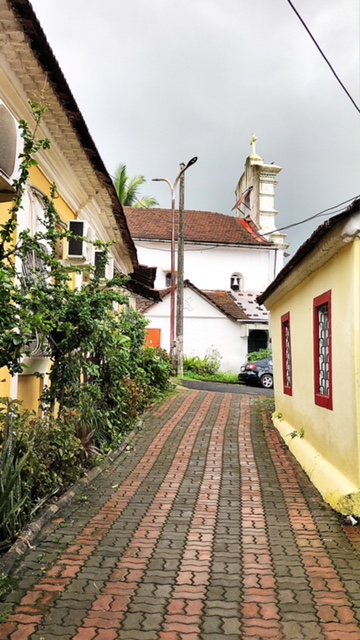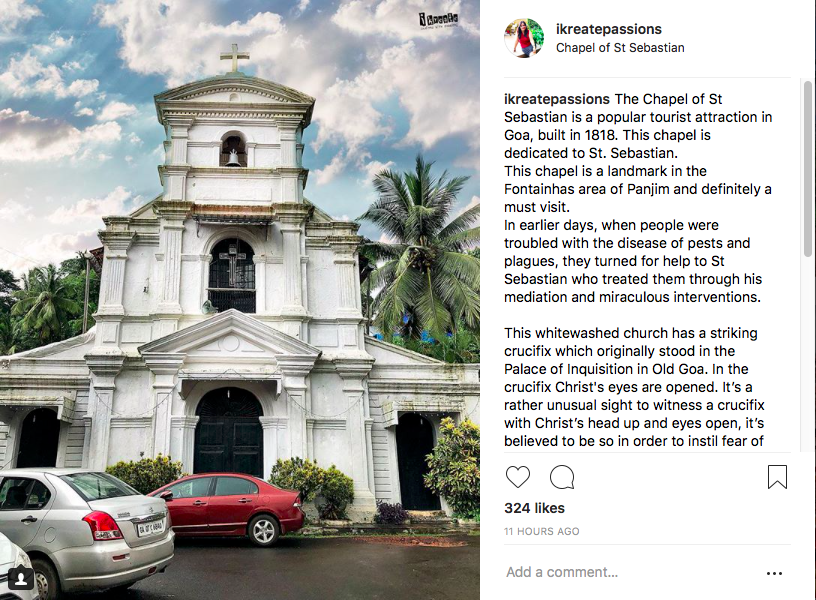 This whitewashed church has a striking crucifix which originally stood in the Palace of Inquisition in Old Goa. In the crucifix Christ's eyes are opened. It's a rather unusual sight to witness a crucifix with Christ's head up and eyes open, it's believed to be so in order to instil fear of god. The god is watching those who are troublemakers and they shall be punished for their sins. The Chapel also houses a statue of the Virgin Mary, two marquetry chests and three elaborately carved screens from a church in Diu, which once formed part of the colony of Goa.
This heritage walk of Fontainhas filled me with so much information and beauty, that the memories will last a lifetime. All I could do is capture it in my camera in order to cherish and relive these moments again and again. This is one thing that you should definitely not miss when in Goa