Anmol Industries, formally known as Anmol Bakers is a well known name when it comes to Biscuit brands in India. Today Anmol Biscuits is amongst the top 5 biscuit brands of India and shares a great market share. From the very beginning the main motive of the brand has been quality product in affordable prices and this is what makes it very popular with the masses.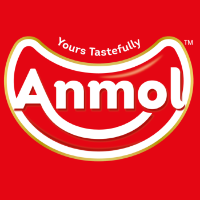 I recently got a chance to visit the factory in Greater Noida where the biscuits are produced in tonnes every single day. With more than 400 people working in the factory, this unit alone produces 54000 ton and with an average of 165000 packets of biscuits per hour, isn't that humungous.
Can you imagine the ton of Maida and Sugar used everyday in the factory..? Take a guess… its 120 tonnes of Maida and 40 tonnes of Sugar daily.. OMG..
Though this factory is partially automated and uses a lot of human labour, its still wonderful to see things happening seamlessly one after the other.
We explored each and every nook and corner of the factory, right from the warehouse where raw material is offloaded, to then seeing the movement of big grinders, grinding the sugar and mixers, mixing the dough. Then we witnessed how the prepared dough goes in the hot ovens and is baked as per the design and flavour, then the people lift stacks of biscuits and out them on other machines where they are packed and sealed. I mean the whole process is so mesmerising and also one respects and regards the people who work in these extreme hot conditions and put in so much hardwork and efforts to get us the most yummylicious biscuits.
[easy-image-collage id=7819]
We even went to see the lab, where in expert professionals continuously strive to provide the best quality product. Random raw material checks, finished product checks and scope of improvements are the things that keep these experts on their toes.
[easy-image-collage id=7827]
Though Anmol enjoys a 4th position in top biscuit brands, it has all possibilities of further climbing the ladder in near future. Upon being asked about the future marketing plans, the clear answer was- Anmol has decided to increase its investment in brand building and has roped in actor, Akshay Kumar as their brand ambassador to help in creating greater awareness of the brand. In addition to the new brand ambassador, Anmol will significantly increase its investments in advertising and sales promotion activities to cater to wider audiences.
"On the basis of extensive consumer research, we have undergone a complete change in terms of our logo and packaging to be seen as a young contemporary Indian brand, which is in line with the aspirations of the youth. The new Anmol logo is a reflection of Anmol's values of spreading joy and warmth and has been designed to appeal to its core target audience. We aim to increase our turnover from Rs 1200 crores in 2016 – 17 to Rs 2000 crores by 2020", said Mr Bimal Kumar Choudhary, Managing Director.
Guided by strong principles of Quality, Ethics and Brand Promise, Anmol has evolved as one of the most trusted and responsible brands in the packaged food industry in terms of hygiene, quality and taste. Hygiene and cleanliness is served first in all the production units. Usage of head-caps is mandatory for everyone entering the unit. They have given emphasis to provide innovative products as well as sound health regimes suiting the Indian consumer palate.
Anmol is also venturing into fruit cakes and some premium range of biscuits, and yet the price point is maintained. We sampled a few of them, and they were delicious.
[easy-image-collage id=7832]
I really had a very exciting day spent at the factory and this experience is gonna remain with me for a lifetime. Also I really wish I am able to once visit their fully automated plant and see how biscuits are made totally with machines.