Baaya Design has launched the 'Anantaya' concept studio, Jaipur based décor brand in Mumbai. Anantaya Décor products will now be available exclusively at Baaya Design Store, Lower Parel. 'Anantaya' fuses the art of master artisans with the keen eye of award- winning designers. The final effect is a timeless masterpiece that beautifies any space it adorns. An institution of global repute, 'Anantaya' is committed to the development of ideas, and understands the importance of preservation of traditional crafts as well as the need to innovate. Using unusual yet traditional materials and processes, the designers present a fresh twist to design with an array of cutting edge artefacts, accessories, textiles, lighting solutions, furniture and many more utility products.
Representing Indian sensibilities in a contemporary context, Anantaya products appeals to the discerning, quality conscious minds that like to make a statement. Working with crafts people and artisans from Rajasthan, 'Anantaya' supports local craft traditions and technologies by providing capital, technology and design and marketing interventions, which at the same time showcase the uniqueness of the state and its crafts people.
Lift Top Lau Diya Br Oil Lamps:
Lau, (the flame), a double walled oil lamp made in copper and brass by the Thathera artisans of Jaipur, is an exquisite utilitarian object. Designed by Ayush Kasliwal, the first version of this lamp is gilded with gold and silver leaf. This version of the Lau Diya is simplified with the top detachable. Lau Diya has been awarded with the UNESCO Seal of Excellence for its' innovative sustainable design. Available in three sizes, it is to be lit using liquid paraffin lamp oil only such as Amaya Luminessences. Before lighting, ensure that the wick is trimmed and not more than 1 mm above the wickholder. It is natural for the products to have subtle variations from piece to piece. Due to the nature of the materials used, there may be some tarnishing or aging of the material. This is a natural process and may require you to clean or polish the material.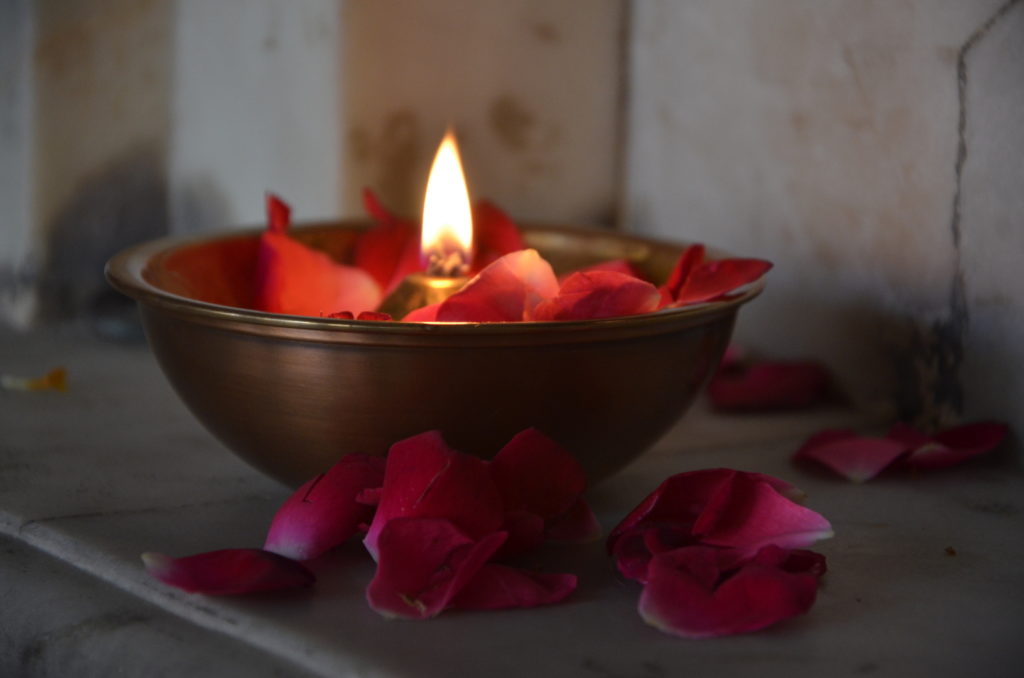 Trinetra 10 Set of 3
An elegant trio of hand-hammered brass bowls inspired by Shiva's third eye of enlightenment are a modern twist to the Thathera craft of Jaipur. These appear like mystical eyes, with lit marble tea light holders- an "eyeball" reflecting Lord Shiva's inner light and spirit. Use all three pods strung together with hanging rods, in multiples as an installation or use them individually as vases, bowls. Trinetra is the artistic vision of the designer Ayush Kasliwal, a visionary Indian industrial designer who is keeping the traditional skills of local craftsmen alive with the creation of modern objects having a global impact. It is the winner of the UNESCO Seal of Excellence.An elegant trio of hand-hammered brass bowls inspired by Shiva's third eye of enlightenment, are a modern twist to the Thathera craft of Jaipur.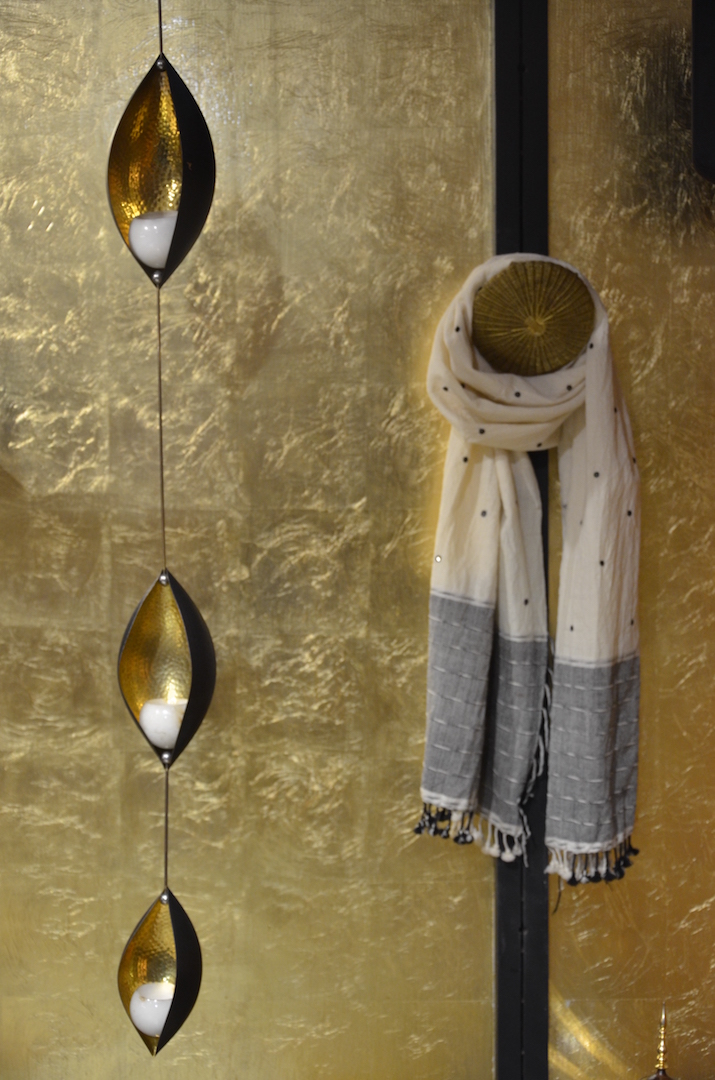 Crescent Thaali Set Full
The Crescent Thaali Set inspired by classic pearl earrings from Deccan is wonderfully versatile. Configured as a crescent moon nestling a full moon with a built in carrying handle, this set is a piece of art. Made of sturdy brass hand hammered by the Thathera metal artisans, with traditional 'kalai' hand-tinning for food safety, this thaali set will serve directly from the kitchen, become an intriguing welcoming tray, or a presentation of delectable appetizers for your guests.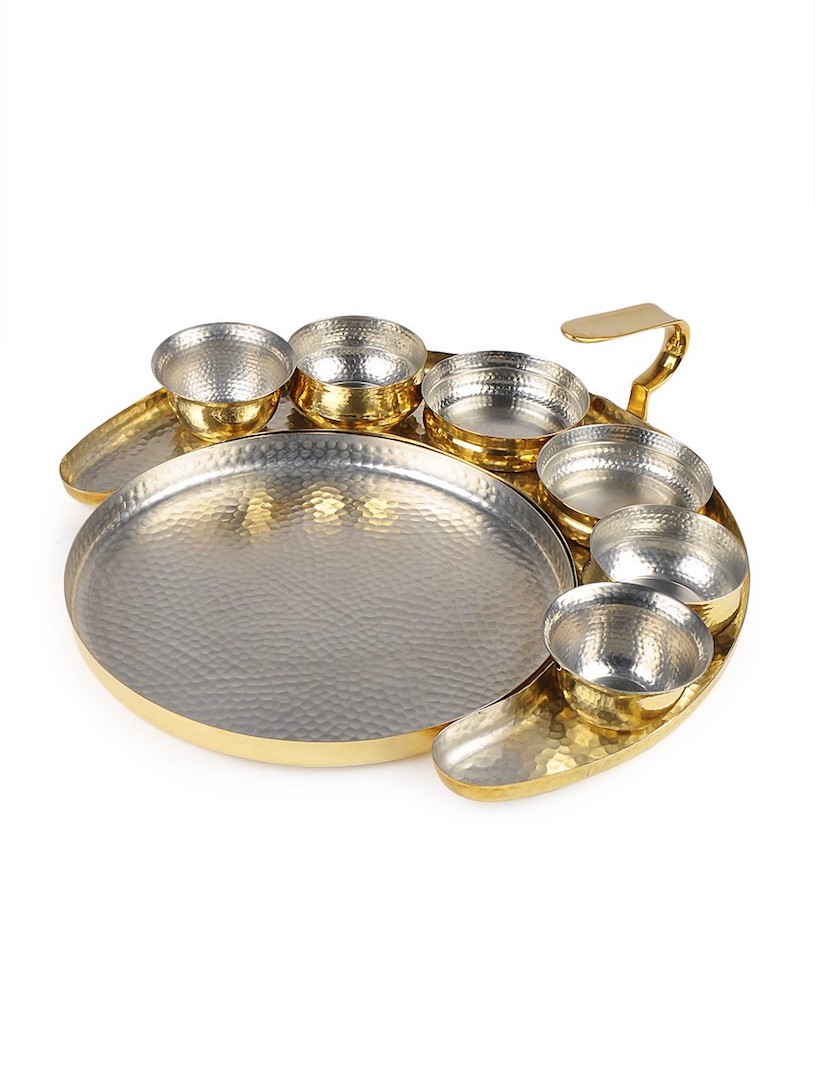 Shiva Jug
Shiva, the Auspicious One, has the water of the Ganges flowing from his dreadlocks. And so, healthful water will flow from this brilliantly designed handmade copper pitcher with an elegant balanced lid. Like the 'Khamandalam' a Yogi's copperAyurveda water vessel, copper has healing properties contributing to longevity and restorative health. To complete this experience, an elegant copper tray is paired with copper glasses offset from their round bases to hug the form of the Shiva Jug. To clean, scrub with sponge and liquid detergent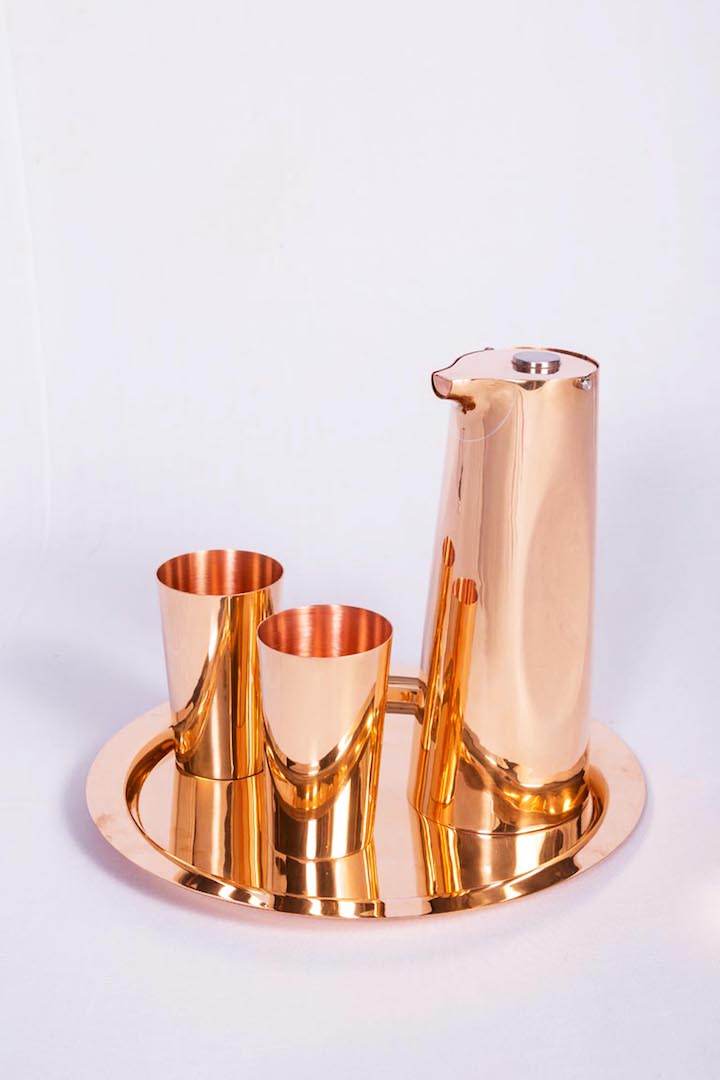 Kalam Table- Maharaja
Kalam or pen is one of the tools used by the miniature painter who decorated this multifunctional reinterpretation of the wooden lacquer trays used in traditional Indian kitchens. In this painted table tray a Bhisthi is watering the garden while the Maharaja and his advisor look on. This example of functional art can be detached and used as a colorful food safe tray to present guests with dry delicacies. The table collapses for easy transport across the globe.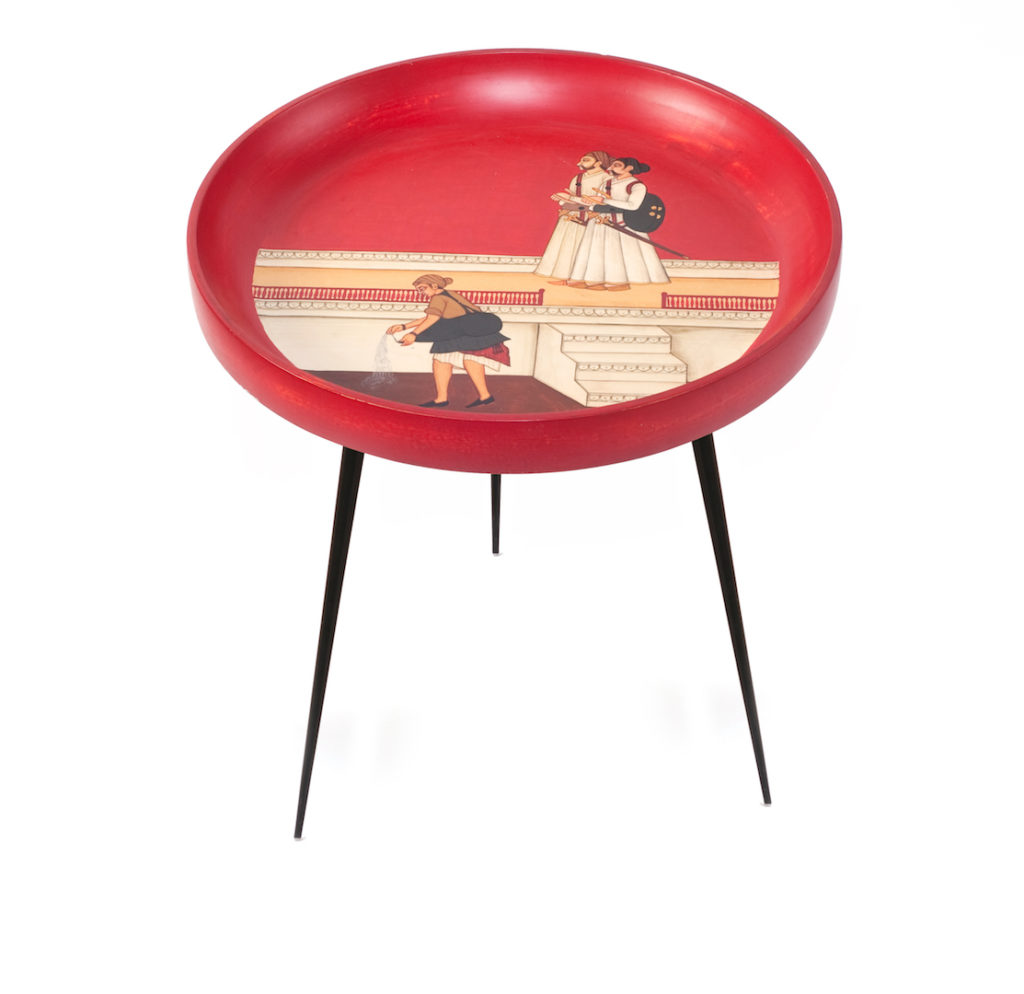 Rumi Tea Light holder
Like the Sufi whirling dervishes.. the Rumi range is remniscent of the inner light and spiritual oneness…12 varieties of designs span the arches and motifs across the silk route. Can hold tealight candles too.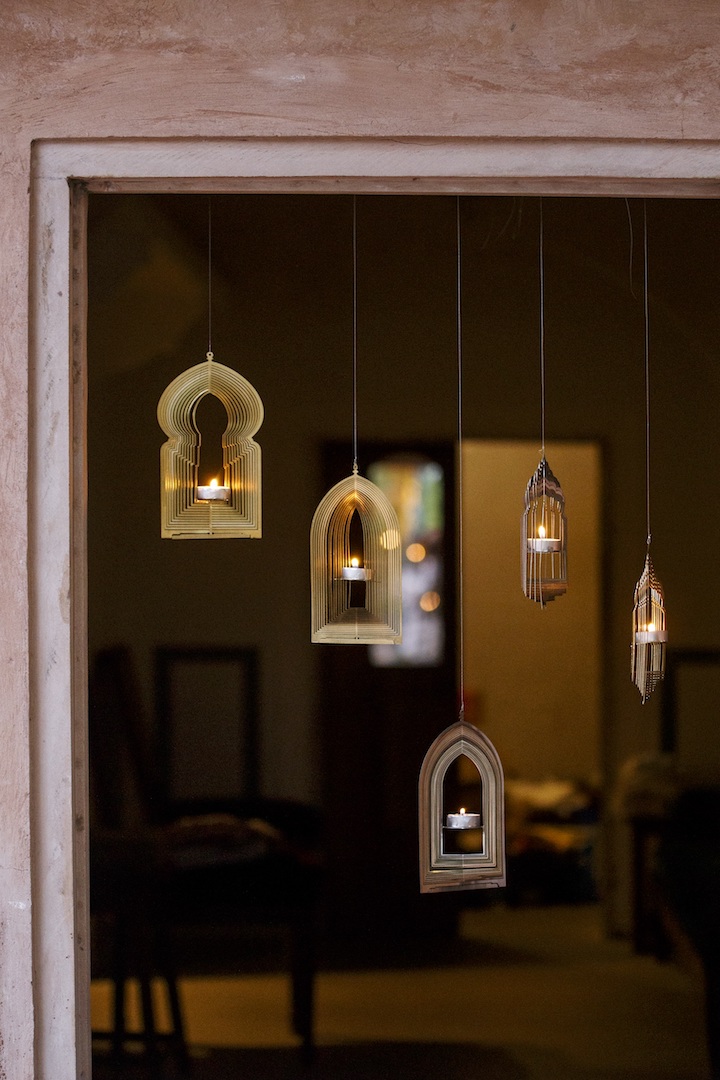 About Baaya Design:
'Baaya' in a local Indian language refers to the weaver bird that weaves its nest in a rather unique way. The store brings you the best in Indian Tribal art and craft which combines paintings with textiles and other craft forms to make each piece unique. Baaya Design aims to showcase the natural beauty and workmanship in Tribal Art by presenting them in contemporary colors, style and form. By doing so, it offers original art that all of us can relate to. And with every painting that is purchased, you can bring income to a highly deserving individual – the artisan of India. The store provides customized design and implementation of traditional murals for interior and exteriors of homes and corporate offices.
Baaya Design studio offers a completely unique range of customized, Folk & Cultural Art, Art Installations, Murals, Lights, Accessories and Furniture that can transform any space into energized, living environments. The studio offers expertise to residences, commercial spaces and the hospitality industry. Designer Shibani Jain works with architects and interior designers to create optimized and aesthetic solutions for interiors. Faced with the challenge of customizing Indian Folk art in modern lifestyle spaces, Baaya Design has evolved numerous methodologies and processes to innovate and bring in the versatile skills into urban interiors.
Baaya Design, Pratamesh Tower, Raghuvanshi Mills, Lower Parel, Mumbai – 400013 Tel: 022 022- 65210165 Visit: www.baayadesign.com