For most blushing brides, finding the dream dress is the number one priority. Shopping for dresses is exhilarating and it can be a hugely emotional process, but the fun doesn't stop here. Once you've decided on a gown, it's time to turn your attention to those all-important finishing touches. Here are some tips to help you find the perfect accessories for your big day.
Shoes
Many people choose to buy beautiful, elegant, understated shoes to match their dress, but you don't have to follow in the footsteps of others or embrace tradition if you don't want to. A growing number of brides are choosing to make a statement with a bolder choice of shoe. If you have a shorter gown or you've opted for a theme, your shoes may be an important part of the overall look you're hoping to achieve. If your shoes are on show, it's critical to ensure that you're thrilled with them, so try different styles and see what they look like with your dress. As well as choosing a shoe that looks the part and complements your gown, it's wise to use your head, as well as your heart. You're going to be wearing your wedding shoes for a long time, so comfort is key. Wear your shoes around the house before the wedding day so that you can get used to them, and take a pair of flats to change into if you're keen to dance the night away.
Wedding rings
One of the most important decisions you'll make before your wedding day is which wedding band to choose. Wedding rings come in a vast range of styles, and you can also custom-design a ring if you're looking for something unique. When you're looking for inspiration and shopping for rings, take the aesthetic of your engagement ring into account and try different styles on with your engagement ring. You want both rings to look perfect on your finger, and bands can look very different in a shop window. If you have a 1 carat diamond ring, you could choose between a simple, understated plain gold, silver or platinum band or opt for a ring that is adorned with small diamonds, for example. It's best to match the style of your rings. If you have a vintage engagement ring, opt for a traditional band. For more modern engagement rings, go for a contemporary design. You can personalize your rings to make them unique with dates or initials.
Jewelry and hair accessories
Every bride wants to look incredible on their wedding day. When it comes to accessories and details, you can either go for modest accents and let your gown do the talking or use your accessories to enhance or finish off the look. If you have a simple gown, you can turn heads with a statement necklace, a hair crown or jeweled pendant earrings. If your dress is very detailed or ornate, it's best to stick to stud or small drop earrings, a fine chain or some elegant bangles. If you're thinking about using hair accessories, such as an embellished band or a flower crown, take the accessory to your appointments so that your stylist can see what they are working with and try different looks before your special day.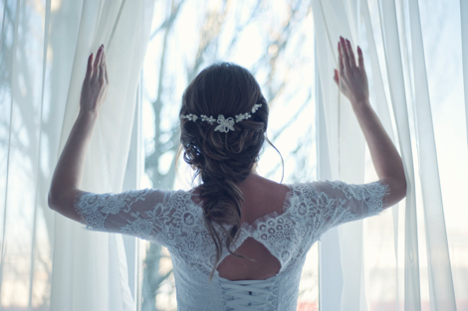 There are few things more exciting than planning a wedding. If you're on a mission to find the perfect accessories for your wedding day, hopefully, this guide will point you in the right direction.