The Coronavirus is affecting one and all, one doesn't have to test positive to feel the effects of this pandemic which has engulfed the world at large. These are difficult times and precaution is the only cure. We all have to be safe and by staying at home ensure the safety of others as well.
For some people this 'Stay at Home' part is becoming frustrating as they don't know what to do. As for me, I have been working from home for over 3.5 years now and thus it doesn't appear as a big challenge for me to stay indoors. I generally enjoy being at home and try and be as productive as I can. But yeah, due to the nature of my work, I do get to step out a lot, travel to new places, explore new eateries, meet a lot of people and have a good balance between staying at home and also going out.
But under the current circumstances, we all are going through the quarantine period and advised to stay completely indoors for a coming few days and this results in a lot of time in hand sitting at home. So how do we make this time interesting and less of a burden, how can we start seeing something positive in this time of extreme distress, how can we find our calm amidst this chaos? Let's hear it from some of my fellow bloggers and friends on how are they coping up with the situation and keeping themselves occupied and how these tips can give you more than one reason to be productive and creative during these tough times.
Nolan Mascarenhas, the most popular food and travel writer in Goa, a columnist and mixologist says, "Productive during the time of Quarantine is not an alien concept from my day to day routine in general. Low interference with many people around on average has me all set for my Museum tour of 2020 set across 10 museums virtually via the Google Arts & Culture collection of virtual tour museums. I've already visited the National Museum of Anthropology, Mexico City in the comfort of my bedroom focussing on Mayan civilization across its 23 rooms to the Van Gogh Museum, Amsterdam. I have 9 more museums underway before this quarantine ends. Another productive tool is working around last year's batch of urrak infused with different flavours and aged to play mad scientist for my next house party the minute this Corona pandemic is done and dusted with. I'm currently curating 9 garrafaos ranging from citric blends to thyme and sage with chilli orange zest and hopefully, these will turn out to be the toast of my next party. Everyone is invited."

To check out the kind of crazy food and travel article this guy writes, check out his blog
"Declutter, separate all old stuff and clothes that you have not used since 4-5 years and Donate it. Stand in Sun for 15 mins, most of us in cities have Vitamin D deficiency as we don't get sunlight. Meditate for minimum 30mins Daily. Watch NEWS only 3 times a day, negative thinking brings more Negative situations. So stay positive. You are alive", shares Vickrham Vicky, a well-known blogger from Delhi.
"Catching up on your hobbies – whether finishing pending blog posts, learning to play a new song on a musical instrument or reading a new book. We don't get time for these on a daily basis and it's a great time to dedicate your energy back on creative outlets.
Gardening – grow some flowers, fruits, veggies or care for the ones you already have. Most of us live in houses with gardens yet we don't have the time to look at the plants, water them or care for them on a daily basis. It's a good way of creating a habit of getting close to nature right in your backyard and once you invest the time to plant something during quarantine, you'll naturally continue caring for your plants when normal times resume", says Jade, a very popular food and travel blogger from Goa. You can also check out all the interesting stuff that Jade writes, on her blog.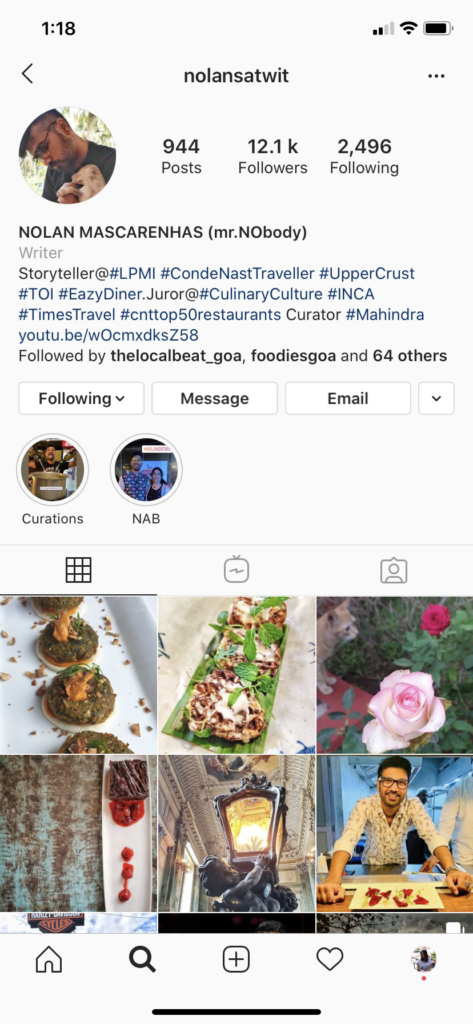 Jigyasaa, a young and gorgeous travel blogger from Goa shares, "I'd suggest taking a break from reading the news as that will only lead to more anxiety and panic and instead, you can:
Learn a skill online from the many free courses or endless YouTube videos available. You can learn photography, styling, cooking, anything you'd like.
You know how you've been wanting to clear the clutter, now is a perfect time. You can start by cleaning your wardrobe and getting rid of things you haven't used in the last 6 months." And of course, if not news, Jigyasaa's blog surely makes for an interesting read.
Kuheli, a mommy, food blogger and a doctor shares, "Be fit, it's time to start yoga, Suryanamaskar is a great whole-body workout. Or join any YouTube fitness videos, of Zumba, Tabata, Pilates etc. Be positive and mindful, start journaling and writing what you did in the day. While at home every day seems to look the same, and boredom sets in. When you journal your best moments of the day you can recall about them and feel happy." This woman does a lot of things and her blog surely is as interesting as the woman herself.
Armaan, one of the youngest bloggers in Goa shares a youthful and yet meaningful thought, " We may not be able to meet our friends in person, but it's surely a good time to pick up that phone and reach out to your friends who you don't get a chance to speak often because of each one's busy schedules. So I am doing a lot of that catching up, and also since I have more time on hand, I am using it from preparing my Instagram content beforehand.
Nicole Suares, an entrepreneur, journalist and lifestyle blogger shares how she wishes to spend her isolated time. "Staying positive is my key to staying healthy. The best recipe is to learn, read and stay connected with friends and loved ones. I've got a list of skills I need to update, books were gathering dust, but I've got plenty of time to read and recipes that I can now try out." Since Nicole has some great content on her blog, you definitely must read.
Bhavya Narang, a food and lifestyle blogger from Delhi shares, "It's a great time to be close to your family members. Do things that you always wanted to do but never got time like reading a book, writing a blog, watching a movie, cleaning your room."
Sharing the same sentiment, Sneha, a fashion and lifestyle blogger from Goa says, " This is the perfect time to start caring for your health and planning to work on your body .. I have started exercising and it makes me feel rejuvenated. Yoga is also a good option to begin to feel fit and prepare yourself." For all you fashionistas, when at home, you can pick up several tips from Sneha's blog and keep yourself busy.
Nadia, who is one of the most popular names in fashion blogging in Goa says, "Well my family has used this time to connect play cards talk we don't even have a proper internet connection at my mom's house and network sucks so very little use of phones and no Netflix. My mom also runs a huge veg garden at home so I think it could be nice to start growing your own veggies together as a family. I've personally taken this time to also plan for the next 30 days.. three to 4 activities and to kind of master them, I recently bought a ukulele and I'm trying to learn it properly, also practice my bachata dance and yoga." Nadia also has a lot of interesting stuff for you to read, on her blog
Last but not the least, coming to me, I am of course working from home, as usual, spending more time with my family, Netflix and chilling and at the same time, trying to make my time more productive by pursuing a passion I wanted to since long, which is learning how to play the guitar. I am also checking out some survey and content writing websites that pay for online work since we all need the extra buck at this hour. And on a lot of persuasion by my son, I am planning to start writing a book too.
Some of the interesting reads on my blog could be SURPRISING CAUSES OF STRESS AND HOW TO COMBAT THEM, THE PROBLEM WITH FAD DIETS or watch this famous recipe from O'Coqueiro, the Chicken Cafreal With Odette Mascarenhas or the Mallu Mai Tai Cocktail Recipe from Mahe with Nolan Mascarenhas
It's for sure a difficult phase and together we shall all overcome, but take a moment and think, if we really want, we can make time for all this without quarantine as well. Even when things return back to normal, try and make time for things you love, spending time with family shouldn't come as a result of staying at home forcefully. Lockdowns should not be a reason to pursue a passion or to work towards a healthier lifestyle. We might have started some of the things taking an excuse of the extra time in hand, but let's try and continue this even otherwise, for a better tomorrow. It's all about balancing and valuing time, valuing our passions, valuing nature, our body and most of all valuing our loved ones.