With the serene Nerul river flowing next to it, Lazy Goose stands true to its name and makes for a perfect place to laze around, and to make the experience even more worthwhile, there is delicious food and some amazing drinks on the offer too.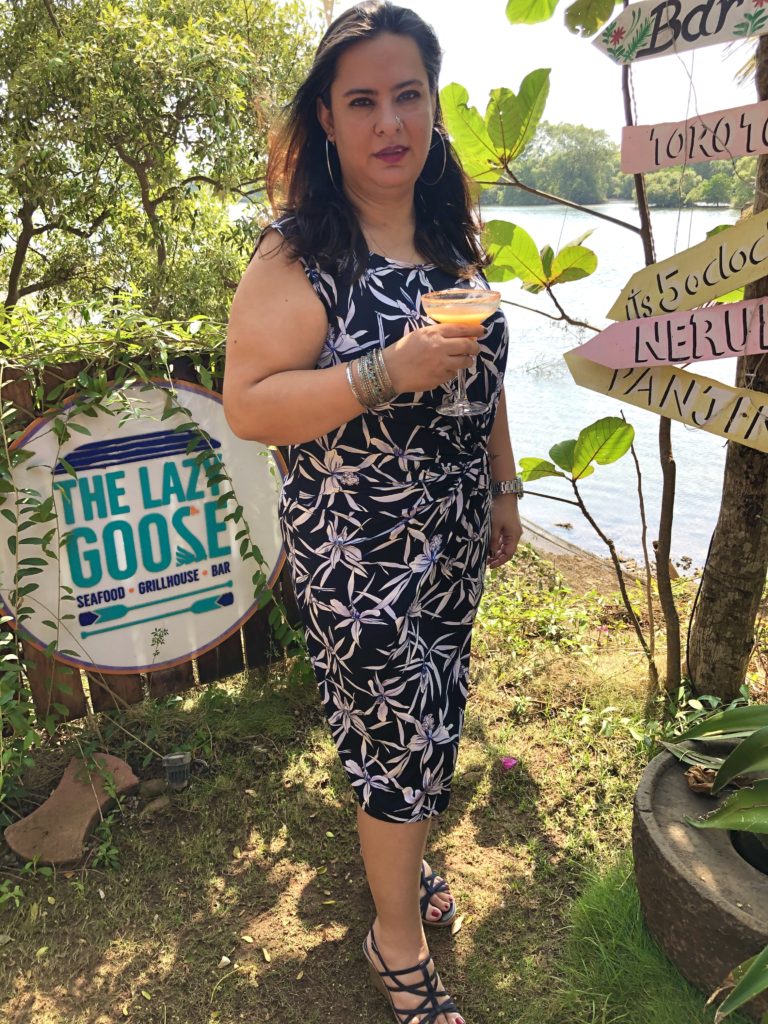 Chef Rohan has literally put his heart and soul in curating a menu that caters to the needs of both the tourists as well as the locals. You can say that Lazy Goose offers comfort food that most people can relate to but with the chef's personal twists and touches of course.
You can also read about my experience at Noaa Social Dining and check out what to eat there.
To begin with, we ordered a cheese fondue which was served with a generous helping of potato wedges and garlic bread bites and it was simply amazing. This dish almost lasted through our entire duration of stay at the restaurant with one extra helping of wedges and I don't think there could be a better starter than this for a place like Lazy Goose. Overlooking the river, wherein you can feel the water flowing by and a sense of calmness taking you over, a gentle breeze that gushes through your hair, touches your skin and leaves you completely refreshed, this dish makes for a perfect companion.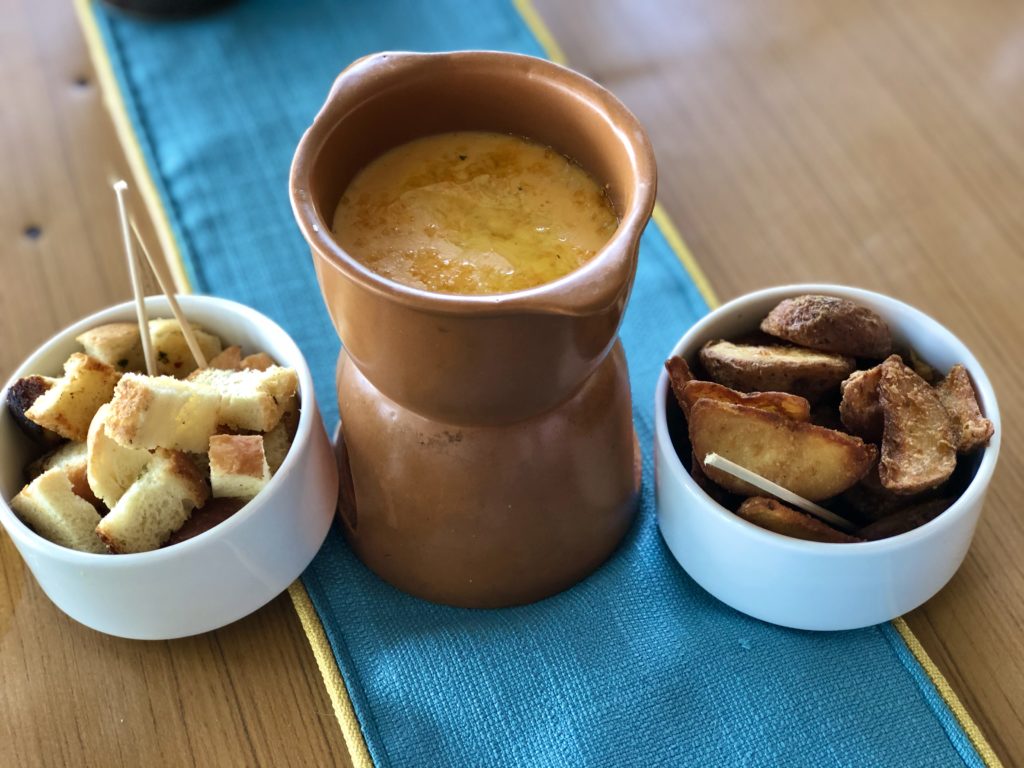 On the chef's recommendation, the raw papaya and tender coconut salad was next on my table. Thin slices of raw papaya, tender coconut with some glass noodles, cherry tomatoes and loads of greens tossed in a Thai dressing, this salad had amazing flavours.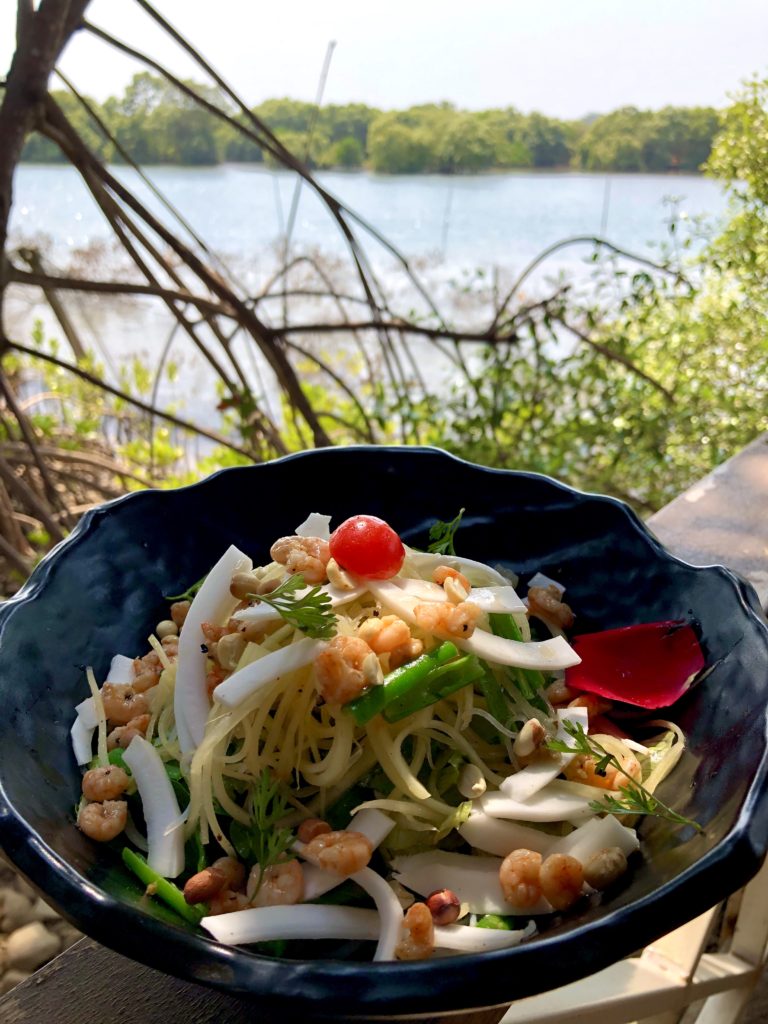 You can also try the Thai BBQ Chicken Skewers. These pan-grilled chunks of chicken cooked in BBQ sauce are served with a spicy peanut sauce and make for a perfect starter. I also tried a small portion of Yellow Corn Tacos stuffed with Goan Sausages. It was a true delight and a perfect fusion creation that gives you best of both global and local flavours.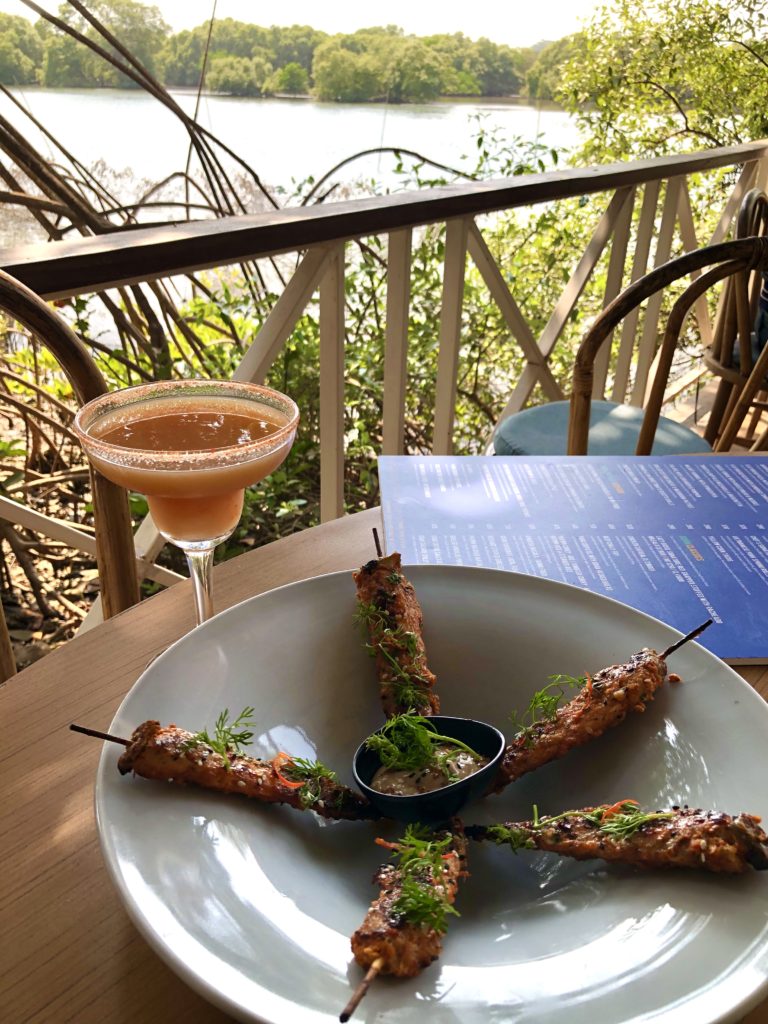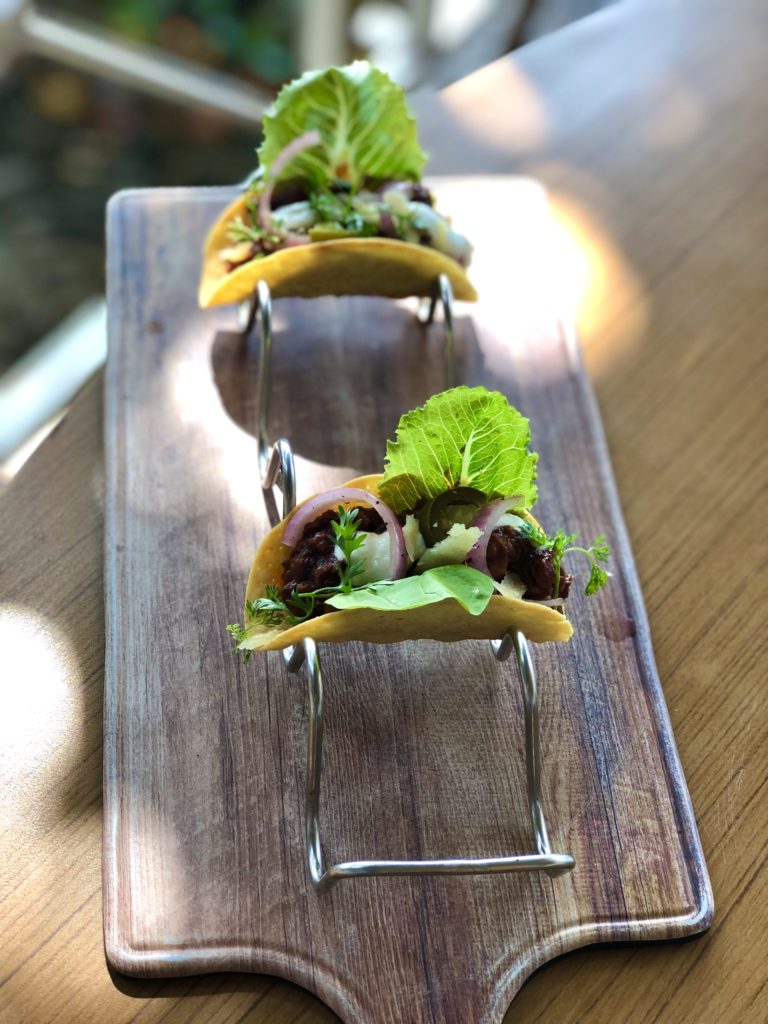 For cocktails, I relied completely on the ever so hospitable staff of Lazy Goose and I think they brought the best of the drinks possible. Lemongrass and Ginger Martini, the Lazy Goose Sling and Spicy Guava Margarita, I loved them all.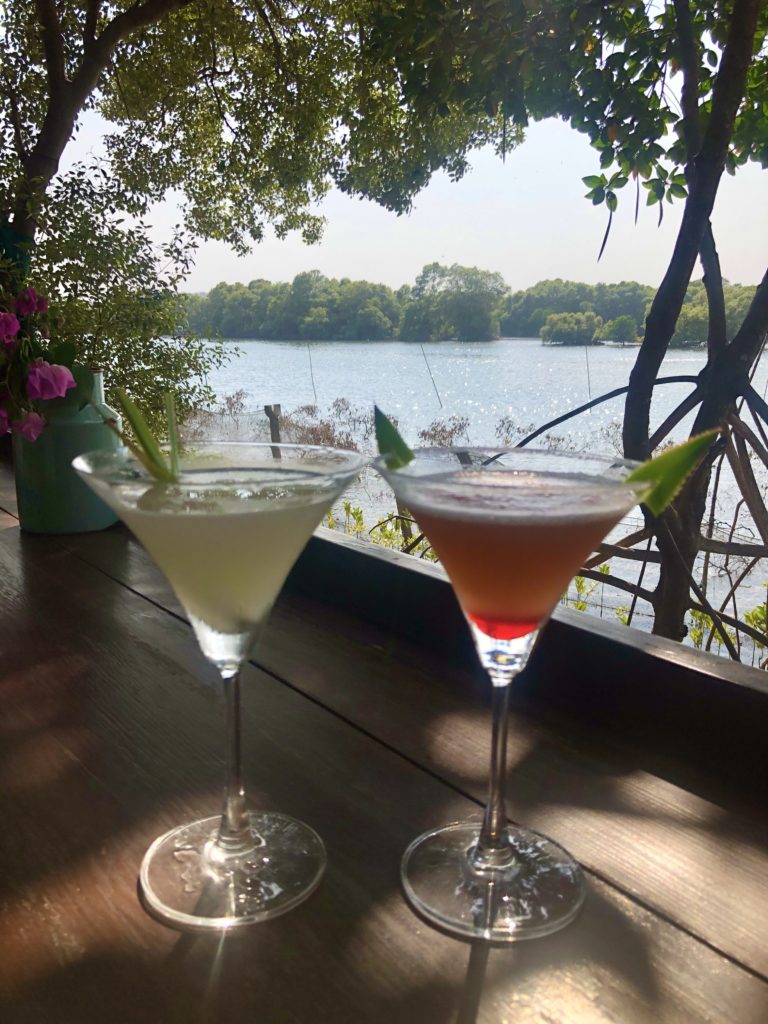 After eating all this beautiful food, we were too full to try the main course and I love the fact that it gives me a chance to visit the place again in order to give some more dishes a try as I had a lovely time at Lazy Goose.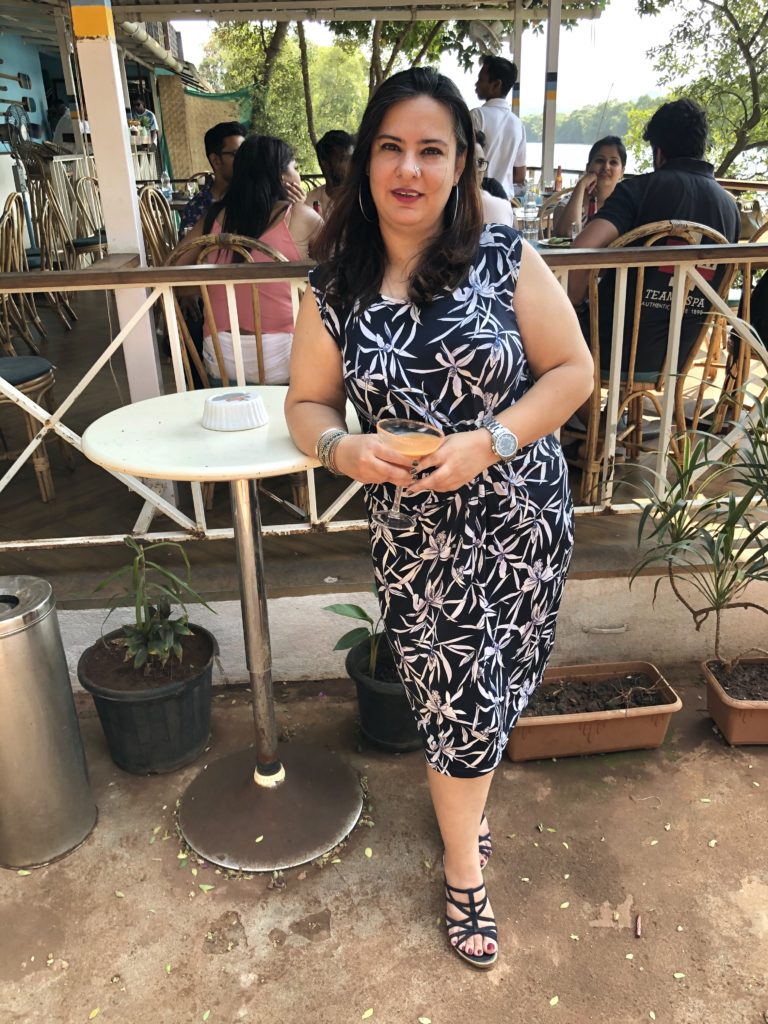 If you have been there already, do tell me what has been your most favourite dish and when are you visiting again, and if you haven't been there yet, you definitely must!
Restaurant Details
Phone Numbers
+91 7775958419
+91 9923634970

Cuisines
Average Cost
₹1,500 for two people (approx.) Exclusive of applicable taxes and charges, if any, ₹100 for a pint of beer (approx.) Cash and Cards accepted
Address
Below Nerul Bridge, Nerul Road, Nerul, Goa