Bento is traditionally a single-portion takeout or home-packed meal, common to Japanese cuisine. A traditional bento box holds rice or noodles, fish or meat, with pickled and cooked vegetables.
Its extremely popular form of a lunch box and usually women spend a lot of time and energy making bento boxes for their spouses and children. It is also considered as a perfectly balanced meal because of the presence of all vital elements. From proteins to carbs, salad, starters, main course and a dessert, a bento box is a wholesome meal.
Taking the concept ahead, but with a twist, Wan Hao, the Pan Asian cuisine restaurant at Marriott Miramar, Panjim has started the Bento Box promotion from 18th July till month-end. The twist lies in the fact that the concept may be Japanese, but the bento box here comprises of Chinese and Thai dishes only and nothing Japanese about it in that sense.
It has about 4 pre-set menu combinations, 2 veg, and 2 non-veg, but you can mix and match your preferences from within those menus. All menus include a salad, 2 starters, 1 rice or noodle, 1 main course gravy, and 1 dessert. The best part about this bento box is unlimited refills, you can literally eat to the content of your heart. Although the portion size of each item is more than enough for a single person, if you wanna indulge, no one is stopping you. You also get a glass of soft beverage or a beer along with your bento box meal. Priced at Rs 999++ for veg and Rs 1099++ for non-veg, it's definitely worth every penny you spend.
I tried the bento box which had fish in mustard sauce and chicken spring rolls for starters. The fish was delectable and the crispy chicken spring rolls were perfect. The kimchi salad was indeed my favorite and I did take a couple of refills for the same. The Kung Pao Chicken with Chicken Noodles made for my main course and I ended the meal with a Chocolate Mud Cake for dessert. It truly was a wholesome experience and I thoroughly enjoyed myself. Don't miss this feast, you will definitely like it, so go for it while the promotion is still on!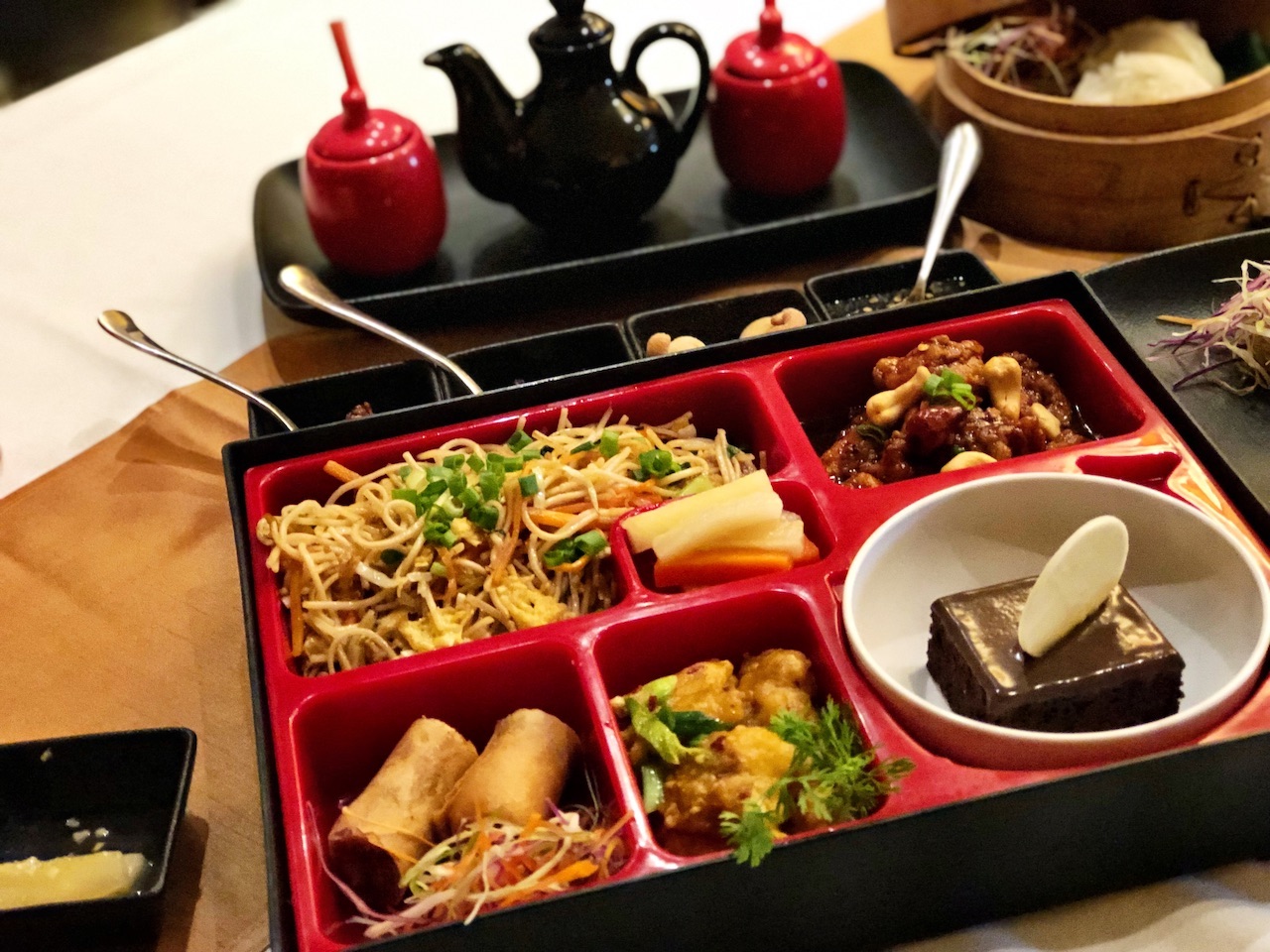 Restaurant Details
Phone Numbers
0832 2463333
00 841187868
Table booking recommended
Cuisines
Chinese, Asian
Average Cost
₹1,500 for two people (approx.) Exclusive of applicable taxes and charges, if any. Cash and Cards accepted
Address
Goa Marriott Resort & Spa, Miramar Beach, Panaji, Goa