It is said that a child's smile can brighten up anyone's day – imagine what would happen when 550 innocent smiles light up a place. This was the view that greeted attendees at NCUI Auditorium, August Kranti Marg, on November 19, 2017 on the launch of Smile Foundation's 'The World of Children' initiative. Approximately 550 children from privileged and underprivileged background were present for the landmark event, which was graced by the Guest of Honour, His Holiness the Dalai Lama, amongst other prominent dignitaries.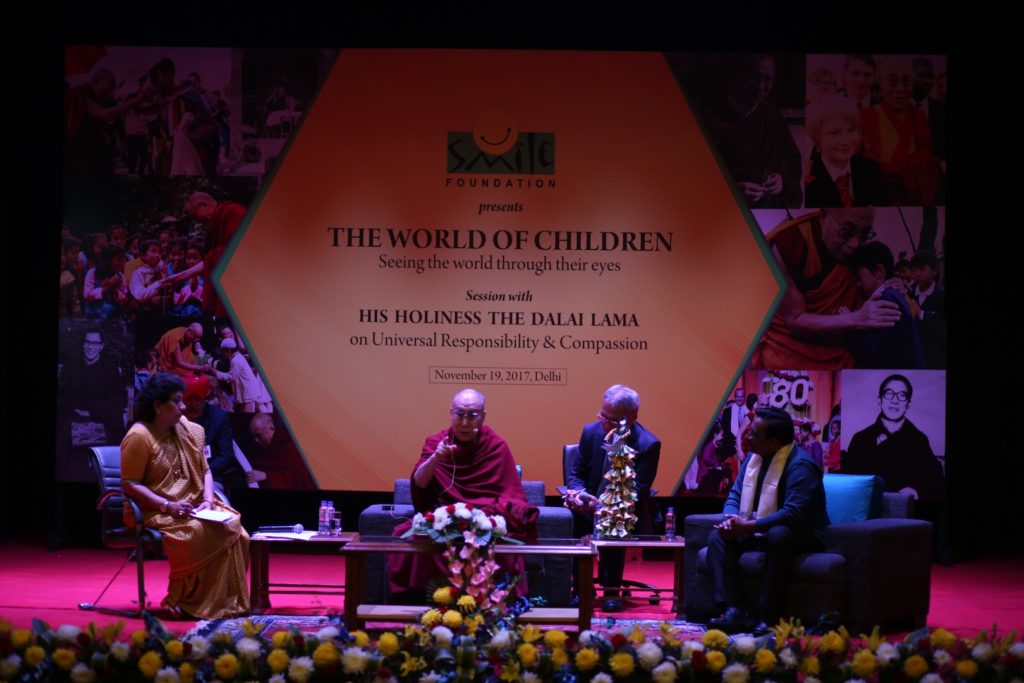 The event witnessed the launch of the initiative – 'The World of Children'. Conceptualised as a one-of-its-kind platform that brought together children from diverse socioeconomic backgrounds, 'The World of Children' is aimed at enabling children to discuss their issues challenges, and ideas with each other, as well as youth icons and inspirational leaders from the world over. The initiative is aimed at helping children and adults understand the problems that plague today's youth and to find the right outlet for their energy and enthusiasm through meaningful, thought-provoking discussions, relevant advice, and guidance.
The event kicked off with the introduction and formal welcome of His Holiness onto the stage, followed by an address by His Holiness to the children in attendance. It was followed by another address and Q&A session between His Holiness and the students. Children from Gramin Vikas Samiti, Nai Disha, Ina Raja Memorial Education Trust, Neev – Mission Education centres of Smile Foundation and from the privileged schools – Bharti Public School (Swasthya Vihar), Bharti Public School (Mayur Vihar), Mount Carmel School, Queen Mary School, Kothari International, Victoria Public School, Mother Global Public School, and Ahlcon International School were the schools participating at the event.
Reciting anecdotes from his life and experience and laying emphasis on self-creation, His Holiness The Dalai Lama said, "I see much development in the field of education in the recent years. One can change the way of thinking in order to reduce the gap of rich and poor, both of them have the responsibility to bring in education. I always stress, you should develop self confidence. I would like to contribute to the task taken up by the Smile Foundation and take the mission of equal education and infrastructure to all and bridge this gap. Self creation is very important and you can become a great person through will-power, hardwork and dedication."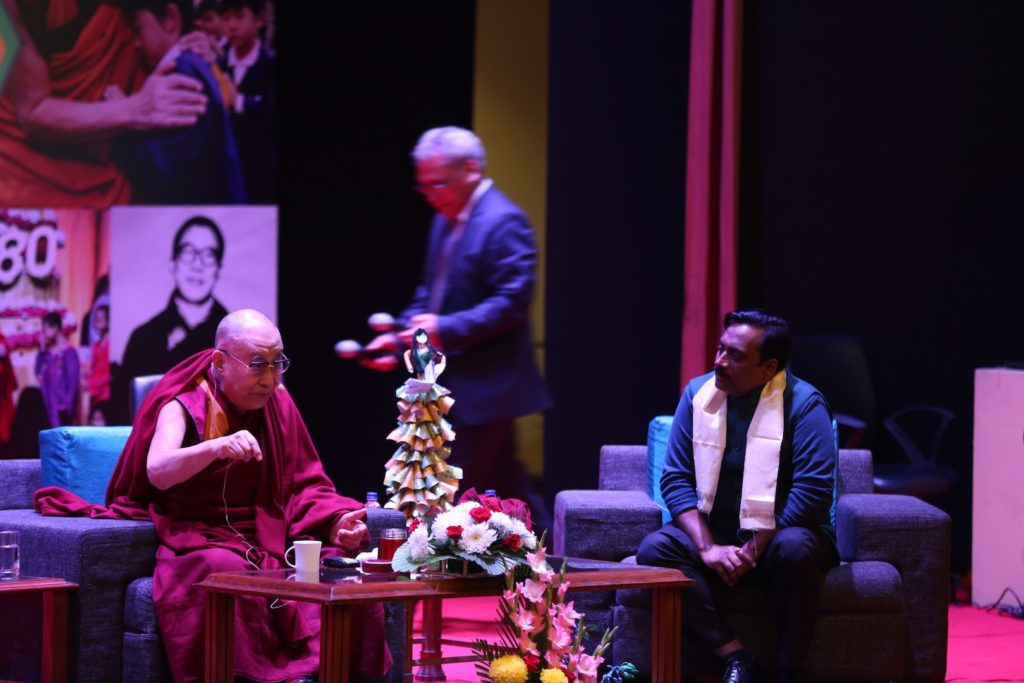 Citing India, His Holiness The Dalai Lama said, "India is my home, both physically and mentally, since last fifty years and I am a student of the Nalanda tradition. In this tradition there is a lot of emphasis on reasoning, logic, and experiment and not faith. Ancient knowledge of India is more meaningful today, today the world is going through a crisis; it is highly developed but there is no inner peace. Inner peace comes from training of mind and not temporary shortcuts."
His Holiness in his message to the children concluded, "It is your responsibility to build this 21st century into a better, compassionate and peaceful generation. In order to build a better world you need determination, strictly secular education, universal responsibility."
Speaking on the launch, Mr. Santanu Mishra, Co-founder & Executive Trustee, Smile Foundation, said, "The children today – whether privileged or underprivileged, need support, advice and guidance to help them realize their true potential, make the right choices, and discover a meaningful purpose in life. The lessons that are learnt in childhood tend to stay with us throughout our lives. We believe that the wise words, advice and guidance of real-life achievers such as His Holiness – the Dalai Lama will positively influence the thought-process and decision-making of the children and will be cherished by them all their lives. We are extremely thankful to His Holiness to grace us with his presence and enrich us with his thoughts. The only objective of "The World of Children" is to ensure that the young minds of our country grow up as good human beings and responsible change-makers committed to build a better world for all."
In today's world, depression amongst children the world over is on the rise, as are other critical issues such as loneliness, insecurity, and anxiety etc. This has resulted in a rapid increase in drug abuse, violence, and suicide amongst school-going children of all ages. What's worse is that these issues often either get swept under the rug because of the fear of social rejection, mistaken for a lack of will, or ignored.
"Ignoring this problem will not make it go away, which is why we are looking to address it with our latest initiative, 'The World of Children'. Through this unique, one-of-its-kind outreach programme, we are looking to encourage children from various socioeconomic backgrounds to openly discuss their problems with their peers and elders, and to find solutions to those problems through their own experiences, learning, and observations. This will not only help in raising greater awareness about the various issues that plague children today, but also in creating a supportive and nurturing environment that can help them in overcoming challenges, making the right life choices, and realising their true potential," added Santanu.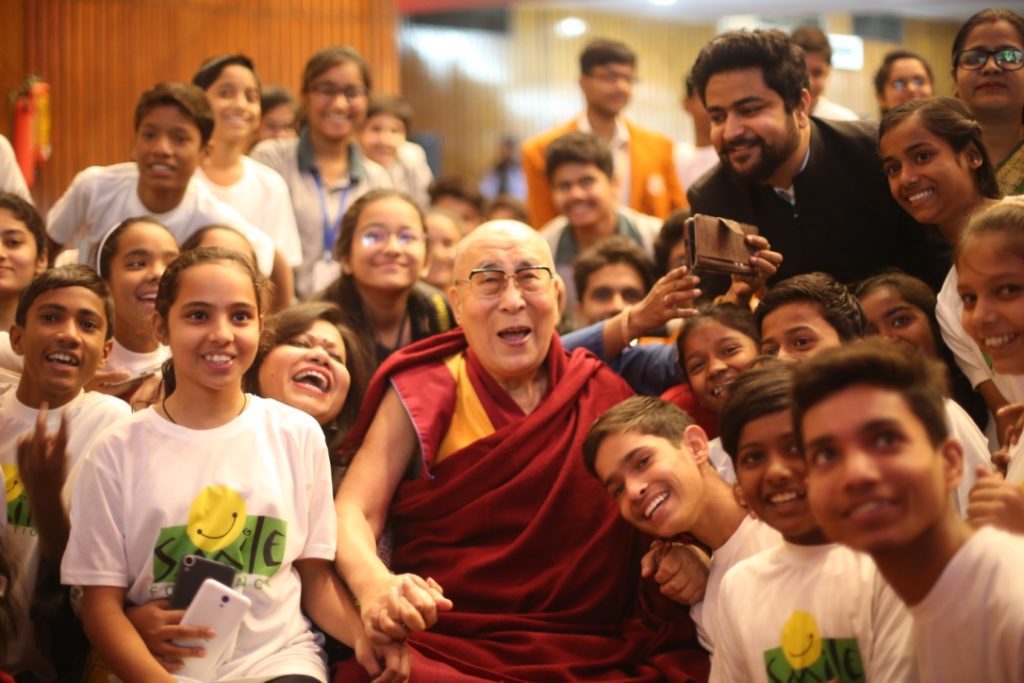 Established in 2002 to effect a positive change at the grassroots level, Smile Foundation has been ceaselessly working towards alleviating the problems and challenges faced by underprivileged children, their families, and their communities. Smile Foundation has won widespread recognition and accolades for its pioneering work in the field of child empowerment over the years, engaging and empowering underprivileged children, youth and women through relevant education, innovative healthcare, and market-focussed livelihood programmes.
About Smile Foundation:
Smile Foundation is a national level development organization benefitting over 400,000 underprivileged children, their families and the community directly through 158 welfare projects on subjects such as education, healthcare, livelihood, and women empowerment across 25 states of India. Adopting a life cycle approach of development, Smile Foundation focuses its interventions on children, their families and the community.
Website: http://www.smilefoundationindia.org/
Facebook: www.facebook.com/smilefoundationindia.org
Twitter: https://twitter.com/smilefoundation