Rent or buy? – The question has troubled most of us at some point of our lives. It's a tough question to answer since both renting and buying have their own advantages and disadvantages. Moreover, the choice between renting and buying depends on various variables such as your income and expenses, family profile, income stability and growth, financial outlook, future needs and plans, etc. Which city you are in also impacts the choice for renting or buying. Here team of NewsPatrolling.com did a survey and on the basis of collected facts sharing some key things to consider prior to making the decision for renting or buying.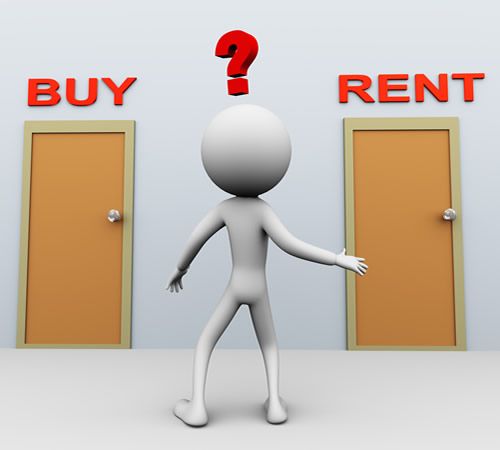 Down payment vs. security deposit: When buying a home, you need to pay 10 to 20 percent of the property cost as down payment, while the remaining amount will be covered by your home loan. For example, if the property cost of a 2BHK apartment is 50 lakh, you will have to arrange around 10 lakh for down payment. You need to have adequate funds to arrange this large amount. Also, it would not be wise to empty out your entire bank balance for the down payment. You need to have at least 5 to 10 lakh left in your bank account after paying the down payment. On the other hand, if you choose to rent, you will have to pay anywhere between 1 to 2 lakh as security deposit for a 2BHK flat. However, the deposit amount will essentially be unproductive since you will not be getting any interest on it.
Income stability & growth: How secure do you think your job or profession is? If your income is stable and growth opportunities exist, you could consider buying over renting. If not, then it would be better to go for renting. When you buy a home and take a home loan, you have to pay Home Loan EMI every month. This is not a problem when your income is stable, but if anything goes wrong, things can get difficult. On the other hand, renting would not create such problems since you can always shift to a cheaper accommodation if you are facing financial issues.
Family profile: How many members are currently there in the family? Are you planning to start a family? More members would mean more expenses and it could affect your monthly budget. Choose to buy a home when you are sure that you will not be overburdened by new additions in the family. You need to be able to maintain your quality of life rather than just surviving through the Home Loan EMIs. A home loan is usually for 15 to 20 years, so it would not be a good idea to keep struggling for such long. Considering all other things equal, renting turns out to be cheaper in the short to medium term.
Future possibilities: Does your job or business require you to be on the move constantly? If so, then you could choose renting over buying. If not, then you can choose buying over renting, since it will be profitable in the long run. The rent you pay is basically an expense, but when you buy a home, it is an investment since the value of the property is consistently increasing. This would be applicable when you have finalized to settle down in a particular city.
New EPFO rules favor buying: EPFO (Employees' Provident Fund Organization) subscribers can now withdraw up to 90% of their savings in EPF accounts to fund the purchase or construction of their house/flat or for buying land. Also, monthly PF (Provident Fund) contributions can be used for repayment of home loans. These new EPFO rules have tilted the balance in favor of buying a home. If you are an EPFO subscriber and if you have a substantial amount in your EPF account, you could consider buying over renting.
Continual reduction in home loan interest rates is also encouraging people to buy rather than rent. Home Loan interest rates used to hover around 10 to 11 percent in 2012-2013, but now they have come down substantially to around 8.5% in 2017. However, the choice between renting and buying will still depend on various variables described above and your specific needs. You need to keep these factors in mind prior to finalizing your decision for renting or buying.