When it comes to having a Pizza at a restaurant, I am very particular, because I don't end up enjoying them at most of the places. I don't fancy the well known and popular pizza chains either, because for me sometimes the base is too thick, or the toppings are not up to the mark, and the biggest challenge is to find that perfect cheesy pizza. What's a pizza without that quintessential cheese pull. But thank god for Davide's Pizzeria, I won't be able to complain anymore. Its hands down the best pizza place in town.
Nestled in a quaint and beautiful garden and an indoor bar, even in the hustle bustle of a tourist swarming place like Candolim, this place has its sense of calmness. As per Davide, it was one of the prerequisites. The place is very tastefully decorated with a minimalistic approach and has a perfectly inviting ambiance. Its a place where you can sit back, relax, enjoy a good meal and spend some quality time with family or friends. Play a game of Ludo, UNO, Chess or Scrabble which occupy a tiny space on each table and have been kept to add a fun quotient and also I feel its a great idea to put your mobiles away for some time and just focus on some intimate time, talking, playing and of course enjoying food with your loved ones. Also feel free to take your four-legged companions with you, since its a pet-friendly restaurant and both Davide and his partner Alciela are pet lovers.
Coming to food, trust me its as authentic as it can be. Given the fact that about 80-85% of the ingredients are imported from Italy, the quality of ingredients used is very high. They also depend on homegrown organic veggies and local produce and all the pizzas and bread are baked in house.
To begin with, I wanted to try the classic garlic bread (Crostino' All Aglio) since that's a favorite for both me and my son. On Davide's recommendation, we also had the Focaccina Bianca, which was a crispy bread topped with some sauce, rosemary, garlic, and rock salt. I wish words could justify the taste and flavors we experienced while indulging in the buttery garlic bread and the crispy focaccina. Both of them were simply amazing. Gorging on these delicious bread, sipping a chilled coke over a game of Ludo with my sonny boy made for a perfect lunch time indulgence.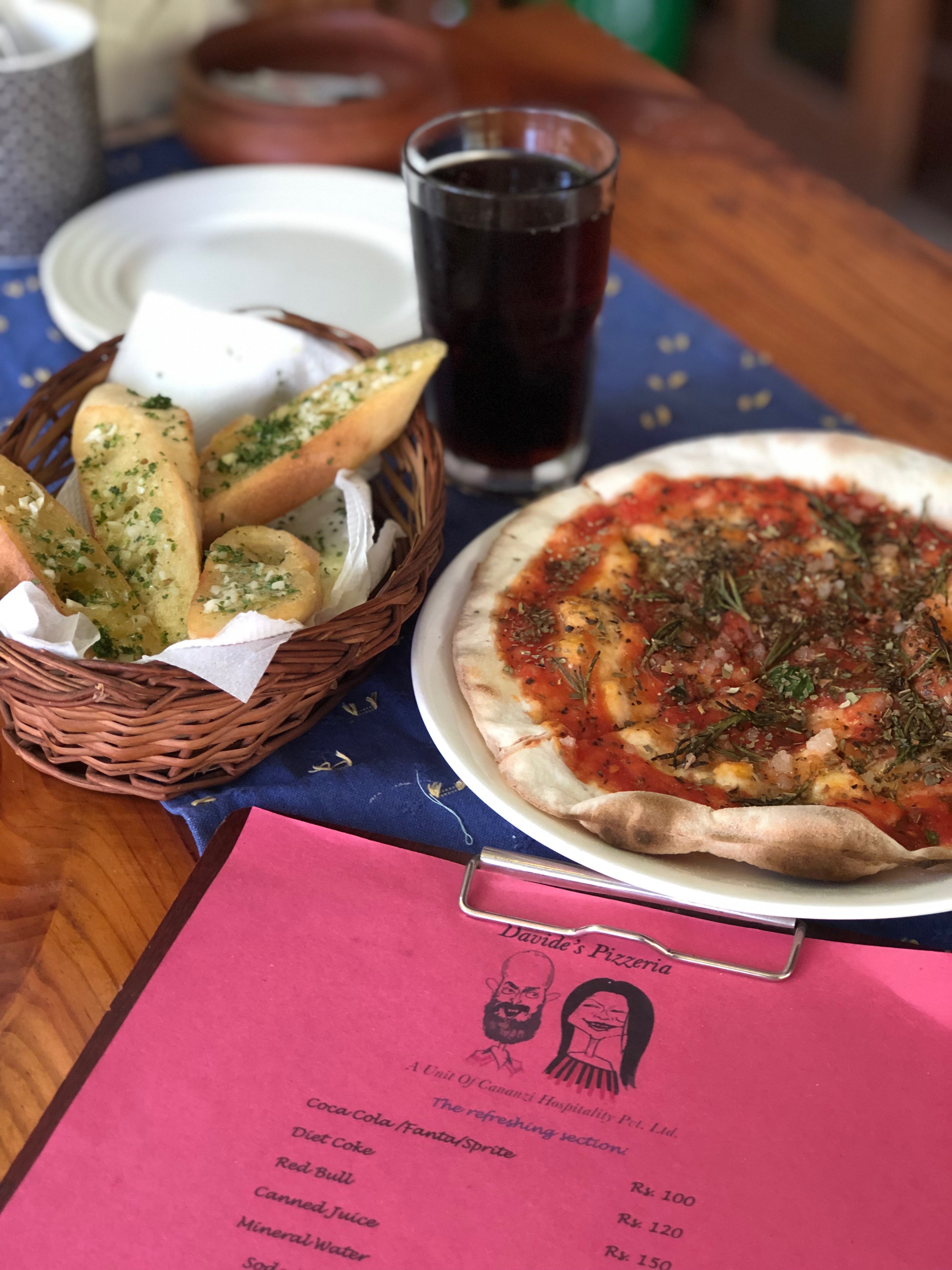 We were already full with these starters, but obviously, we came for a Pizza, and we had to have one. So we gave ourselves a break of a few minutes and were caught up in a beautiful chit chat with the warm couple hosts Davide and Alciela. Right from their caricatured logo, to the tasteful decor, to the style of cooking and personal attention, everything at this place reflects their personality. Both of them are so loving, passionate and friendly, that you cannot ignore the personalized charm that they bring to the place. Davide's Pizzeria is definitely about the excellent food they serve, but it is also about the people behind it.
Oh yes, and now about the Pizza, all I can say is that I haven't eaten a better Pizza than this in a long long time and I think I am already spoilt for my choice. I don't think I will be easily able to like Pizza at any other place now. The dough's freshness could be smelled, the crispiness was perfect and the main thing, cheese. Oh My God, the cheese pull was so so good that you have to try it to believe it. I had the Al Pollo Pizza which had tomato, mozzarella, chicken, garlic, chili flakes, and parsley.
I honestly had no place in my stomach and was all ready to leave, when Alciela mentioned the desserts and I could not refuse and I am so glad I didn't because then I would have missed the best possible Tiramisu ever. A tiramisu so perfect has been almost impossible to find, a tiramisu without that overload of cream, a tiramisu which was super moist, cakey and had the perfect dash of coffee. But this Tiramisu, a recipe shared by Davide's mother is as close to as Tiramisu is supposed to be. The banana cake was another exemplary dessert that should be given a try, but Tiramisu, dont miss it at any cost.
Well, to conclude, Davide's Pizzeria is one my list of most recommended restaurants to visit in Goa and I highly recommend it.
Phone number
+91 9021936350

Cuisines
Italian, Pizza
Average Cost
₹1,200 for two people (approx.) Exclusive of applicable taxes and charges, if any, Cash and Cards accepted
Address
Ford Aguada Road, Sinqueri, Candolim, Goa
You can also read my latest review on the Sunday Brunch by Double Tree By Hilton Panaji or read more Restaurant Reviews