Some places are not just about food, but the wholesome experience you get in terms of food, presentation, drinks, service, ambience, hospitality and everything else. I have been thinking since long of visiting Masala Library but somehow it never worked out. But recently during Shivratri holiday, me and my son headed out to ML to experience the best.
The ambience is as classy as it can be, totally top notch and a perfect fine dining place.
We decided to settle for the Chef's tasting menu because we felt that way we would get to try a variety of things and I think it was one of the best decisions we made.
Our culinary extravaganza of 19 course meal began with Amuse Bouche, which had mango pulp with coconut water and was supposed to be gulped down in one shot, and it was really nice, but more intriguing was the way it was presented, like yolk in eggs that too on a nest.
Up next was Madur Vada with Clear Rasam, an absolute delight, both in presentation and taste, loved the miniature vada and the way rasam was supposed to be drunk. Just wonderful!
The next set of snacks included Pirada Cheese Poee, Deconstructed Samosa, Charcoal Bhajiya, Nadir Churma and Farmer's Staple. Out of these minus the cheese, which I didn't like too much, everything else was fantabulous. The Deconstructed Samosa went to become one of the best things I have tasted ever. Charcoal Bhajiya was great too, and because of its charcoal black colour my son ended up eating an onion bhajiya which he normally doesn't. Nadir Chruma was another dish, which he polished off because he didn't come to know its made of lotus stem and had a spread of hung curd with raddish. The Farmer's Staple was a millet paratha stuffed with caramelised onions and it was truly mind blowing. Not just the taste and presentation, but the whole experience of the way these dishes are served and one of the team members comes and explains the dishes, its just amazing. It feels everytime a new cultural story is unfolding.
The next set of dishes intrigued me even more, as the presentation and textures were superlative. It included a Mushroom Chai, Galauti Kebab and Sheermal, Curry Leaf Prawns with Thayir Satham and Cubed Chicken Tikka. The Mushroom Chai was simply fabulous and so was the Curry Leaf Prawn, these both tasted awesome. The Cubed Chicken in three different textures, a chicken tikka, a chicken papad and chicken crumble was great, but the winner here was the Galauti Kebab, which didn't look like a kebab at all, in fact it appeared as a spread of small noodles on the bed of a fluffy sheermal. This truly was an outstanding preparation.
Up next was a Lamb Champ with maple and kokum glaze and it was amazing, the sweetness of maple was perfectly balanced with sourness of kokum, which made this champ sweet, sour, tangy and extremely tasteful. After this Tawa Keema with Pickled Bitter Gourd was served, very tasty and amusing to find bitter gourd that wasn't so bitter, but tangy.
The Sorbet which came as a refreshing palette cleanser, was like a deja vu to childhood, as it had the flavours of anardana, hajmola, kala-khatta etc., it was really nice.
Mizo Stew, followed by Tawa Boti, Curry, Breads and Fermented Pakodi Dal made for the last set of main course dishes. By the time I reached this stage I was already so full, eating bite sized foods one doesn't even realise they would be so filling, but they indeed are. Out of this entire course I loved the stew and the tawa boti the most.
[easy-image-collage id=9644]
And now an elaborate dessert menu awaited us, and it truly was a treat. Dense Dark Chocolate Mousse, Bhappa Doi, Chenna Payesh, Ashen Kulfi and Jalebi Caviar, doesn't your mouth starts watering just reading these names.. I am sure it does.. at least mine does..No words can explain the taste of these desserts as you can only savour them and let your taste buds linger, all I can say is that each one of them was better than the other. The final touch was given with a dark chocolate truffle presented with a magnetic levitation, which was great to watch and greater to taste.
Last but not the least a candied orange tree for mouth freshener brought our amazing culinary journey to an end. It truly was the most unique fooding experience I have ever had.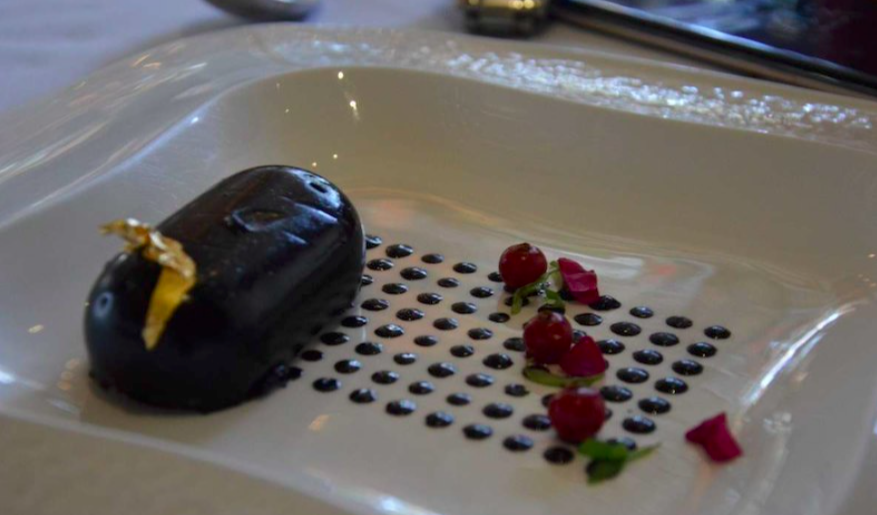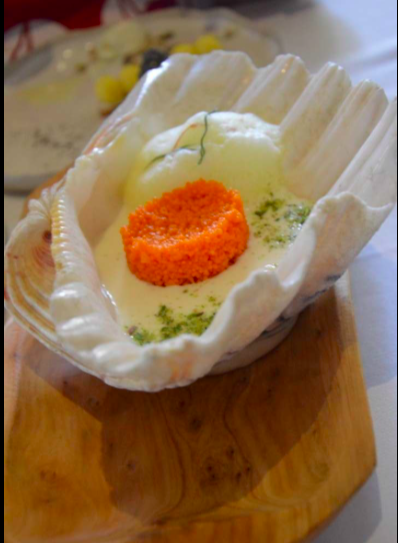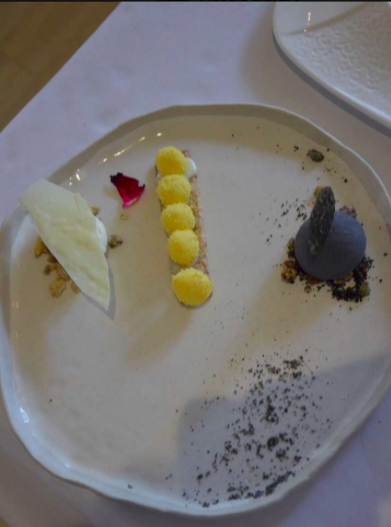 A wide variety of Wine can enhance your meal experience at Masala Library as they have a full fledged Wine Cellar and an in house expert to help you with the selection of wines. As for me I gave wines a skip and settled for a Cherry Cobbler to go with my food.
It was an overwhelming experience for me and I loved it every bit. This is one of those places that has to come in anyone and everyones must visit, so please do go and give yourself a culinary treat!